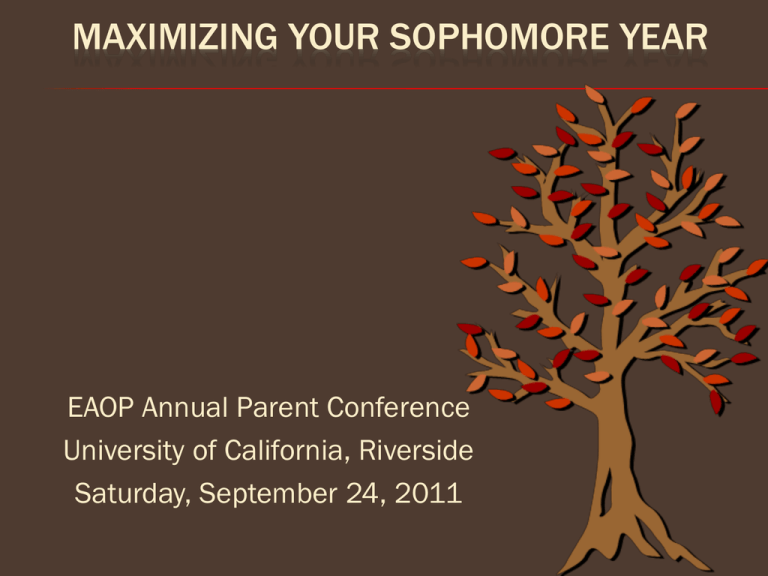 MAXIMIZING YOUR SOPHOMORE YEAR
EAOP Annual Parent Conference
University of California, Riverside
Saturday, September 24, 2011
HS Graduation Requirements VS College Admission Requirements
Grade Point Average (GPA) Calculation
Four Segments of Higher Education
College Entrance Exams
Extracurricular Activities
UNIVERSITY OF CALIFORNIA
(10 )
UC BERKLEY
UC RIVERSIDE
UC DAVIS
UC SAN DIEGO
UC IRVINE
UC SAN FRANCISCO
UC LOS ANGELES
UC SANTA BARBARA
UC MERCED
UC SANTA CRUZ
CALIFORNIA STATE UNIVERSITY (23)
CALIFORNIA COMMUNITY COLLEGES (112+)
Admission to any of California's 112
community colleges is simple. You will
be admitted to the community college of
your choice if you meet at least one of
the following conditions:
You are 18 years of age or older, with or
without a high school diploma
You are a high school graduate
You have the equivalent of a high school
diploma
http://www.californiacolleges.edu/admissions/california-community-colleges/admission-requirements.asp
CALIFORNIA INDEPENDENT COLLEGES AND UNIVERSITIES (75+)
There are over 75 nonprofit,
independent colleges and
universities in the state. Every
nonprofit, independent college and
university has a unique character.
Unlike the University of California or
the California State University
systems, each California nonprofit,
independent college and university
has its own governing board and
admission requirements. This
independence allows for a diverse
set of college opportunities in
California.
http://www.californiacolleges.edu/explore-colleges/about-california-independent-colleges.asp
HS GRADUATION REQUIREMENTS VS. UNIVERSITY ELIGIBILITY
HIGH SCHOOL GRADUATION REQUIREMENTS:
COURSES AND M INIMUM GPA REQUIRED TO GRADUATE HIGH
SCHOOL DETERMINED BY INDIVIDUAL SCHOOL
COLLEGE/UNIVERSITY ADMISSION ELIGIBILTY:
COURSES, GPA AND TEST SCORES REQUIRED TO MEET THE
MINIMUM ELIGIBILTY FOR ADMISSION TO A COLLEGE AND/OR
UNIVERSITY
SUBJECT REQUIRMENT
Complete a minimum of 15 college-preparatory courses ("a-g" courses), with at least 11
finished prior to the beginning of your senior year.
A – G SUBJECT AREA
REQUIREMENT
a. HISTORY/SOCIAL SCIENCE
2 YEARS
b. ENGLISH
4 YEARS
c. MATHEMATICS
3 YEARS (4 YEARS RECOMMENDED)
d. LABORATORY SCIENCE
2 YEARS (3 YEARS RECOMMENDED)
e. LANGUAGE OTHER THAN ENGLISH
2 YEARS (3 YEARS RECOMMENDED)
f. VISUAL PERFORMING ARTS
1 YEAR
g. COLLEGE PREPARATORY ELECTIVE
1 YEAR
Earn a grade point average (GPA) of 3.0 or better
(3.4 if you're a nonresident) in these courses with no grade lower than a C.
San Bernardino High School
San Bernardino City Unified
Sandra Rodriguez, Principal
Street Address: 1850 North "E" Street, San Bernardino, CA 92405
Mailing Address: 1850 North "E" Street, San Bernardino, CA 92405
ATP/CEEB code: 052797
CDS code: 36 67876 3635844
School Governance: Public
Primary School Type: Comprehensive HS (classroom
based)
Secondary School Type: Comprehensive HS
Phone: (909) 881-8217
Web Site:
Special Program(s): Career Pathways/Academies; Magnet
Program
Course Contact: Santford Summers
Course Contact Phone: (909) 881-8049 Ext:
Term Type: Semester
Note: (San Bernardino USD)
School Accreditation (WASC) Status: Yes, Full Accreditation (through 2013)
School Demographic Information Last Updated: 4/18/11 7:50 PM
Course List Last Updated: 3/30/11 12:50 AM
Course List for 2011-12
The following courses meet requirements for admission to the University of California.
denotes courses that have been approved for extra honors credit: a=5, b=4, c=3.
denotes courses that cannot be used to fulfill the "g" elective requirement.
The 'category' column represents the specific subject requirement fulfilled by the course.
Click the year link to go to the course list for that year
All available course lists for this school: 2003-04 2004-05 2005-06 2006-07 2007-08 2008-09 2009-10 2010-11
2011-12
a - History / Social Science - 2 years required
Two years of history/social science, including one year of World History, Cultures or Geography; and one year of US History or one-half year of US History
and one-half year of American Government/Civics.
Course Title
Transcript Abbreviation (s)
Category
Honors Type
Course Notes
American Government
AM GOV C P, am gov c p
American Government/Civics
Semester
American Government CL
am gov clp p
American Government/Civics
Semester
AP European History
AP Eur Hist
World History/Geography/Cultures
AP
AP Government and Politics United States
am gov ap p
American Government/Civics
AP
AP United States History
USHISAP AP, USHISAP, USHIST
AP P, ushisap ap, ushisap bp
U.S. History
AP
U.S. History C
USHST C P, USHST CAP,
USHST CB P, us hst cb p
U.S. History
U.S. History CL A/B
USHIS CL P. USHISCLP,
ushiscla p, ushisclbp
U.S. History
World Geography A/B (H)
W GEO H P, w geo hap w geo
hb p
World History/Geography/Cultures
World Geography A/B C
W GEO C P, w geo cap, w geo
cb p
World History/Geography/Cultures
World Geography A/B CL
W GEO CL P, w geo clap, w geo
clb p
World History/Geography/Cultures
World History A/B (H)
W HST H P, w hst hap, w hst
hb p
World History/Geography/Cultures
World History C
W HST C P, w hst cap, w hst cb
p
World History/Geography/Cultures
Semester
GPA CALCULATION
GPA CALCULATED FROM 10TH & 11TH GRADE COURSE WORK IS WEIGHTED BY A MAXIMUM
OF 8 SEMESTERS OF UC- APPROVED HONORS GRADE POINTS.
Un-Weighted
A=4
B=3
C=2
D=1
F=0
Weighted Honors/AP/IB
A=5
B=4
C=3
D=1
F=0
COURSE
GRADE
VALUE
Geom B P
A
4
W Geog
A
4
Wld Hist
B
3
English 2H
C
2
French 2A
A
4
Algebra 2 A P
A
4
Chem 1C A P
A
4
GPA
25 /7=3.57
EXAMINATION REQUIREMENT
Meet the examination requirement
by taking the ACT with Writing or
the SAT Reasoning Test by
December (preferably Spring) of
your senior year.
The UC no longer requires SAT
Subject Tests, but certain programs on
some campuses recommend them,
and you can use subject tests to
satisfy the "a-g" requirements listed in
the previous slide.
ACT . SAT
ACT
SAT
The ACT covers four areas: English,
mathematics, reading, and science. The
ACT Composite score is used for
admission to the CSU. The ACT also
offers, as an option, the Writing Test.
The CSU does not require the score
from the Writing Test for admission
purposes.
The SAT consists of three sections:
Critical Reading, Math, and Writing.
Scores from Critical Reading and Math
are added and used for admission to
the CSU. Scores from the Writing
section will not be used for admission
purposes to the CSU.
For more information about the ACT and
to register for the test and send scores,
please go to www.act.org.
Visit www.collegeboard.com to learn
more about the SAT tests and to
register online to take the SAT test.
Criteria For Admissions
GRADE POINT AVERAGE
TEST SCORES
COURSES COMPLETED/PLANNED
HONORS COURSES
ELIGIBILITY IN THE LOCAL CONTEXT (ELC)
QUALITY OF SENIOR YEAR PROGRAM OF STUDY
ACADEMIC OPPORTUNITIES IN CALIFORNIA HIGH SCHOOLS
PERFORMANCE IN ACADEMIC SUBJECT AREAS
ACHIEVEMENTS IN SPECIAL PROJECTS
IMPROVEMENT IN ACADEMIC PERFORMANCE
SPECIAL TALENTS, ACHIEVEMENTS, AND AWARDS
PARTICIPATION IN EDUCATIONAL PREPARATION PROGRAMS
ACADEMIC ACCOMPLISHMENT WITHIN LIFE EXPERIENCES
GEOGRAPHIC LOCATION
10TH GRADE COLLEGE CHECK LIST
Take the most challenging courses possible. They're worth it.
Start thinking about your dream career. Collect information in a file.
Talk to people with interesting jobs and ask lots of questions. Go to Career
Day at your school or elsewhere.
 Talk to your high school counselor about college.
Create a college admissions plan.
Talk to your parents about saving for college.
Talk to your high school counselor about financial aid.
Get involved, participate in extracurricular activities.
Volunteer for community service projects.
Sign up for summer enrichment programs and other programs that focus on a
particular subject, such as science or math.
Participate in summer programs ie., Summer Academy, Community College
Enrollment, Academic Enrichment Courses.

http://hs.houstonisd.org/reaganhs/bpa%20website2/CollegBound/Organizing%20High%20School/9th-12th%20Grade%20College%20Checklist.pdf
QUESTIONS ????