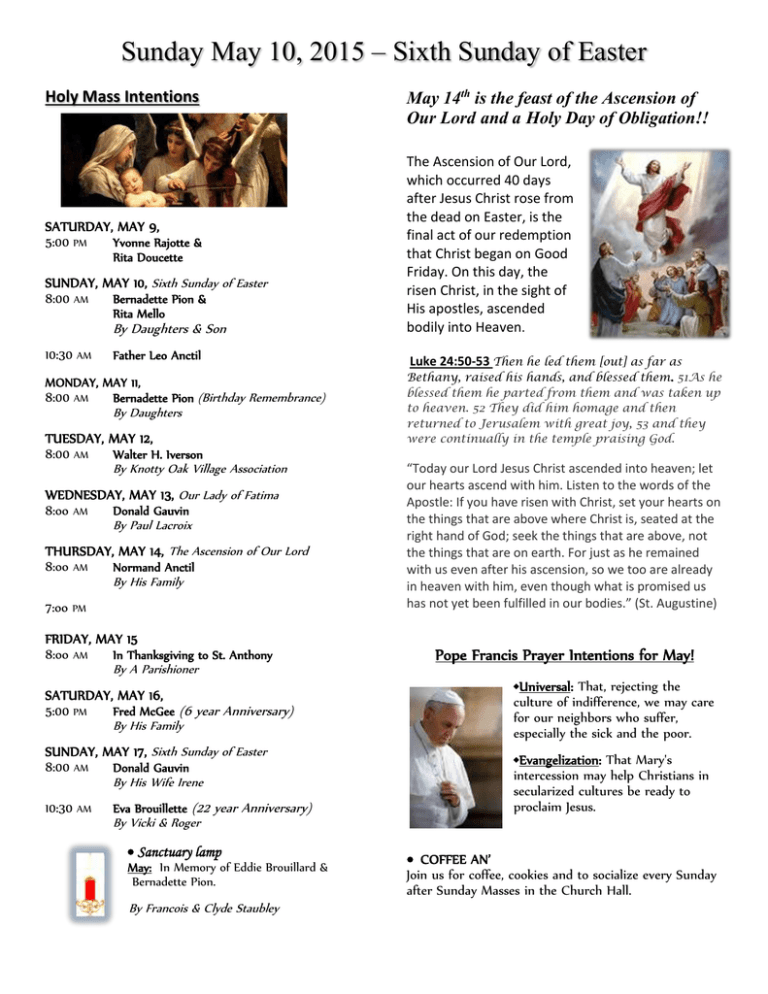 Sunday May 10, 2015 – Sixth Sunday of Easter
Holy Mass Intentions
SATURDAY, MAY 9,
5:00 PM
Yvonne Rajotte &
Rita Doucette
SUNDAY, MAY 10, Sixth Sunday of Easter
8:00 AM
Bernadette Pion &
Rita Mello
By Daughters & Son
10:30 AM
Father Leo Anctil
MONDAY, MAY 11,
8:00 AM
Bernadette Pion (Birthday Remembrance)
By Daughters
TUESDAY, MAY 12,
8:00 AM
Walter H. Iverson
By Knotty Oak Village Association
WEDNESDAY, MAY 13, Our Lady of Fatima
8:oo AM
Donald Gauvin
By Paul Lacroix
THURSDAY, MAY 14, The Ascension of Our Lord
8:oo AM
Normand Anctil
By His Family
7:oo PM
FRIDAY, MAY 15
8:oo AM
In Thanksgiving to St. Anthony
By A Parishioner
SATURDAY, MAY 16,
5:00 PM
Fred McGee (6 year Anniversary)
By His Family
SUNDAY, MAY 17, Sixth Sunday of Easter
8:00 AM
Donald Gauvin
By His Wife Irene
10:30 AM
Eva Brouillette (22 year Anniversary)
May 14th is the feast of the Ascension of
Our Lord and a Holy Day of Obligation!!
The Ascension of Our Lord,
which occurred 40 days
after Jesus Christ rose from
the dead on Easter, is the
final act of our redemption
that Christ began on Good
Friday. On this day, the
risen Christ, in the sight of
His apostles, ascended
bodily into Heaven.
Luke 24:50-53 Then he led them [out] as far as
Bethany, raised his hands, and blessed them. 51As he
blessed them he parted from them and was taken up
to heaven. 52 They did him homage and then
returned to Jerusalem with great joy, 53 and they
were continually in the temple praising God.
"Today our Lord Jesus Christ ascended into heaven; let
our hearts ascend with him. Listen to the words of the
Apostle: If you have risen with Christ, set your hearts on
the things that are above where Christ is, seated at the
right hand of God; seek the things that are above, not
the things that are on earth. For just as he remained
with us even after his ascension, so we too are already
in heaven with him, even though what is promised us
has not yet been fulfilled in our bodies." (St. Augustine)
Pope Francis Prayer Intentions for May!
•Universal: That, rejecting the
culture of indifference, we may care
for our neighbors who suffer,
especially the sick and the poor.
•Evangelization: That Mary's
intercession may help Christians in
secularized cultures be ready to
proclaim Jesus.
By Vicki & Roger
 Sanctuary lamp
May: In Memory of Eddie Brouillard &
Bernadette Pion.
By Francois & Clyde Staubley
 COFFEE AN'
Join us for coffee, cookies and to socialize every Sunday
after Sunday Masses in the Church Hall.
Altar Guild of the week: Lea Charron, Adelaide
Marsocci, Corinne Conde, Jeanne-Marie Smith
Collection Totals:
Weekly May 3th
Monthly
$3260.30
$1486.50
*It's Yard Sale Time Again*
SVP LADIES GUILD WILL BE
HAVING A YARD SALE NEXT
WEEK, SATURDAY MAY 16TH FROM
6:30AM TIL NOON. PLEASE
CONTINUE TO DROP OFF YOUR
DONATIONS AT THE RECTORY
DURING REGULAR OFFICE HOURS.
2015 CATHOLIC CHARITY APPEAL
So far we have reached $toward our goal of
$25,608!
Ladies Guild
THE NEXT SVP LADIES GUILD MEETING WILL BE ON MAY 14 TH
IN THE SCHOOL AUDITORIUM AT APPROXIMATELY 7PM. Our
SOCIAL COMMITTEE MEMBERS THAT EVENING WILL BE
CLAUDETTE BAUGHAN, CECILE BLAIS, IRENE BLOOMER AND
VICKI BROUILLETTE. IF YOU ARE NOT ABLE TO ATTEND THE
MEETING THAT EVENING AND ARE ON THE SOCIAL
COMMITTEE, PLEASE GIVE LEAH HOOKS A CALL 826-7061.
THANK YOU!
• Alpine Nursing Home
There will be Holy Mass at the Alpine Nursing Home on
Thursday, May 21, at 1:30.
 Holy Name Society
There will be a meeting for the Holy Name Society on
Thursday, May 21, at 6:30 in the School.
 Saint Vincent de Paul Society
There will be a meeting of the Saint Vincent de
Paul Society on Tuesday, May 19, at 7:00pm
 Novena to the Holy Spirit
May 15th is the first day of the Novena to the Holy
Spirit which leads to the celebration of Pentecost.
Parishioners will be praying the Novena prayers
after each of the 8am daily masses. On Saturday
the novena will be prayed after the 5pm mass and
on Sunday after the 8am masses. Holy Spirit
Novena flyers will be in the back of the church for
anyone who would like to join us or take a copy
home to pray on your own.
Father LaPorte's Golden Anniversary
On Sunday, June 21st our Parish Family will celebrate the
50th anniversary of Father Paul LaPorte's ordination.
Please join us to make this a very special day for him.
We will begin at the 10:30 Holy Mass followed by a light
lunch in the school auditorium. If you attend a different
Holy Mass, plan on coming to the school around 11:30.
There will be no charge for this luncheon but we need to
know how many people will attend therefore a sign-up
sheet is in the back of the church. If you would like to be
involved in helping us with this event, our next meeting
will be on Tuesday, May 19th, at 6:00pm in the rectory. If
you have any pictures of Father LaPorte which you are
willing to share with us please bring them to the rectory
during regular office hours or leave them in the special
envelope in the back of the church.
OOPS!! So sorry for the mistake in
last week's bulletin. We are
republishing the names of the students
who received their Confirmation last
weekend at the Cathedral. Two
students were incorrectly listed while two others
were mistakenly left off the list. Congratulations
and Gods Blessings to the following:
Joseph Cataldo
Melissa Cole
Shelia O'Connell
Janelle Chamberland
Seth Merritt
Zachary Moffitt
 The Knights of Columbus Msgr. Peter E. Blessing
Council #5273 will be conducting their annual Campaign
for People with Intellectual Disabilities Drive known as "The
Tootsie Roll Drive" Here at Saint Vincent de Paul Church
today May 9th & 10th after the Holy Masses. The Knights will
be at the doors of the church collecting donations and in
appreciation; the donor will be given a
tootsie roll. All money collected will go
straight to local programs that benefit
people with intellectual disabilities.
Your support will be greatly appreciated.
May Breakfast
Church of Christ the King,Church Hall
124 Legris Avenue
West Warwick, Rhode Island
Sunday, May 17, 2015
7:30am – 11:30am
Tickets:
Adults $ 7.00
Children 6-12 $ 4.00
Children (5 and under) – Free
Menu Includes:
Fresh Fruit Cup, Texas French Toast, Scrambled Eggs, Ham,
Pork Sausage,
Corned Beef Hash, Beans, Home Fries, Dessert, Coffee, Tea
and Juice
Join us for Great Food and Great Company!!