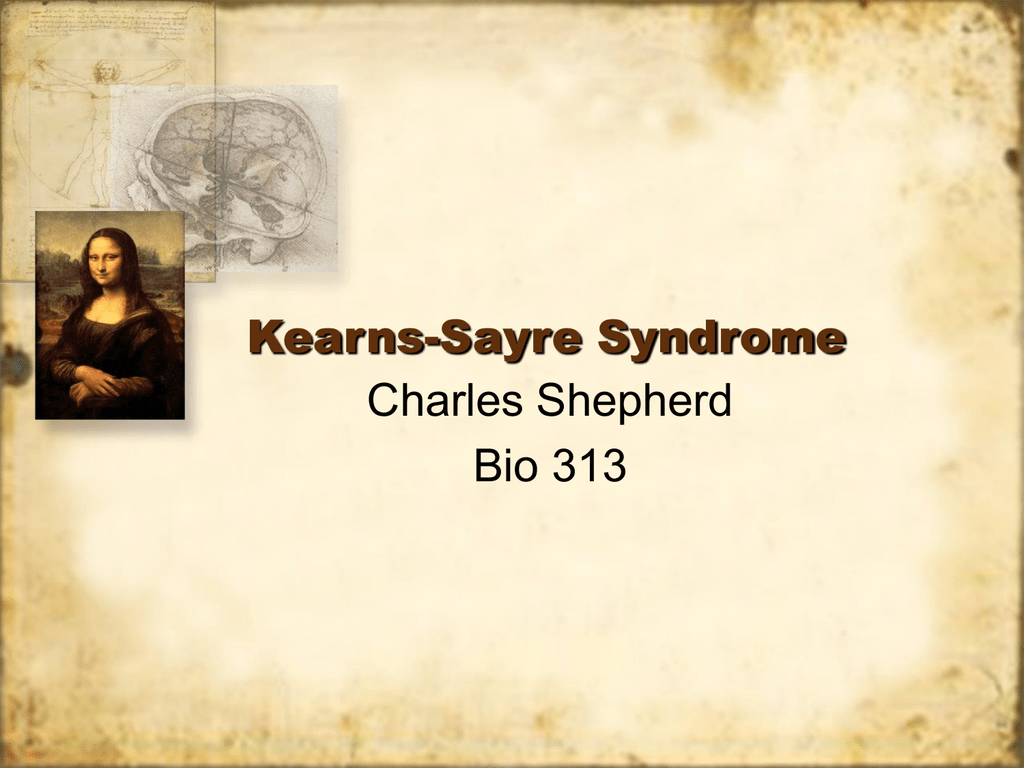 Kearns-Sayre Syndrome
Charles Shepherd
Bio 313
Background
•
Rare neuromuscular disorder
•
•
Effects mitochondria
•
•
•
Large duplications or deletions in mitochondrial DNA
(>1000bp) results in under or over production of
mitochondrial gene products
1/3 cases 4977bp deletion
Randomly effects people
•
•
Only 226 cases reported in literature
only isolated reports of any kind or inheritance pattern
Prognosis
•
•
Depends on severity
Severe cases 85% muscle mitochondrial genome
affected
Symptoms
•
Onset before 20 and includes
•
•
•
•
•
•
•
•
•
•
Immobile or limited eye movement
Abnormal pigment in eyes
Cardiac problems or congestive heart failure
Muscle and skeletal weakness
Short stature
Hearing
Ataxia (coordination problems)
Diabetes
Dementia and other mental illnesses
Affects systems with higher energy requirements
most
Diagnosis
•
Southern Blots using samples taken from
affected tissue
–
Isolate mitochondrial DNA from affected tissue
•
•
•
•
16.5 kb = normal
Additional larger or smaller bands found by probes =
duplication or deletion
Accumulation of symptoms
Check the protein and lactate levels in the
cerebrospinal fluid
•
if present, the levels are elevated.
Treatment
•
Supportive
•
•
•
Syndrome becomes worse with time
inevitably fatal
Symptomatic
•
•
•
•
•
•
Heart
Muscle
Hearing
Diabetes
Vision
Drugs
Noticed Anomalies in lab studies
•
Changes in grey and white matter levels in
various parts of the brain
•
•
Many help explain dementia seen in some individuals
Abnormally large irregularly shaped
mitochondria in heart and skeletal muscle
References
•
•
•
http://www.ninds.nih.gov/disorders/kearns_s
ayre/kearns_sayre.htm
http://www.emedicine.com/ped/topic2763.ht
m
Pasternak, J. J. An Introduction to Human
Molecular Genetics: Mechanisms of
Inherited Diseases. 2nd ed. New Jersey:
Wisley, 2005.