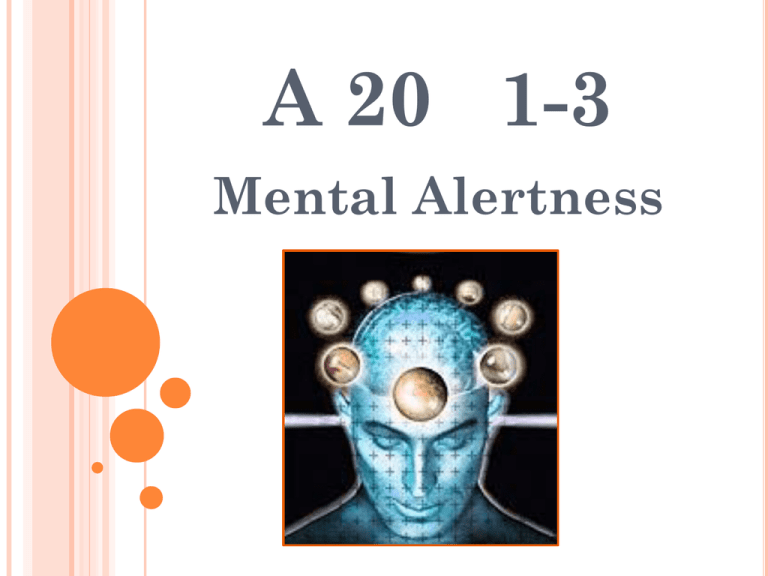 A 20 1-3
Mental Alertness
WHAT IS AN IRONMAN TRIATHLON?

•
•
A competition where you swim 2.4 miles,
followed by a 112 mile bike ride,
then run 26.2 miles
A person from Fortville competed in one. It took him 15
hours, he burned 15,000 calories, while eating only a sixinch sub sandwich and a few dozen salt tablets.
Have you ever trained hard for something?


To perform well in athletics it takes practice and
hard work.
To perform well in "mental fitness":
1. Choose behaviors that promote a healthy
mind (eat right, sleep, exercise, don't do drugs).
2. Develop good character (do the right thing).
A 23 CHARACTER TRAITS
Honesty: Telling the truth to the best of your
knowledge. Play by the rules, don't cheat.
 Respect: Treat others with dignity, as you would like to
be treated. Be considerate of others' feelings and
tolerant of people's differences and beliefs. Never
make fun of people!
 Fairness: Show equal respect and courtesy to
everyone; treat everyone the same.
 Caring: Feel empathy for those who are in pain or
distress. Try to help others who are in
trouble if you can.
 Citizenship: Obey the laws and do your part
to make your community a better place.
Responsibility: accountable for your actions;
No Excuses!

MENTAL ALERTNESS QUIZ
1.
Why won't a man living in Boston be buried
west of the Mississippi?
2.
If a Dr. gave you 3 pills and told you to take one
every half hour, how long would the pills last?
3.
How many animals did Moses take on the ark?
4.
How many outs in an inning?
5.
Some months have 30 days, some months have
31 days, how many months have 28 days?
 These
trick questions show the
importance of mental alertness.
 Mental
Alertness: ability to think
clearly, to reason, to solve problems.
 These
behaviors help promote a healthy
mind.
 "If
you don't use it, you will lose it"!
 What
activities help promote a healthy
mind to keep it sharp?

Personality: blend of physical, mental, and
social traits.

Pessimist: sees the negative side of things.

Optimist: sees the positive side of things.
"When Life hands you lemons, make lemonade."
 Journal: Write down one thing that has
happened to you and what you did to "Make
Lemonade out of Lemons".


Journal: Write down 5 personality traits that
describe you. Ex. Funny, caring, outgoing, shy,
energetic, athletic, polite, musical, thoughtful, positive,
etc.
POSITIVE MENTAL HEALTH SURVEY – Y OR N
1
2
3
4
5
6
7
8
9
I feel comfortable with myself.
I do not push people around or allow myself to be pushed
around by others.
I set realistic goals for myself.
I am able to think for myself and make my own decisions.
I am able to express love and show interest in others.
I can laugh at myself.
I am able to deal with most situations that come my way.
I put my best effort into what I do and get satisfaction
from what I do.
I accept my responsibilities and am responsible.
2 THINGS THAT INFLUENCE YOUR PERSONALITY
1. Heredity: traits you inherited from your
parents
ex. Hair, eyes, nose, body build, musical or
athletic ability, intelligence, etc.
2.
Environment: your surroundings and
experiences you have (external things)
ex. Home, school, people around you
SELF-RESPECT: TAKE PRIDE IN YOURSELF, YOUR
APPEARANCE, BEHAVIOR. TRY TO DO THE RIGHT THING
10 Ways to Improve Your Self-Respect
1.
2.
3.
4.
5.
6.
7.
8.
9.
10.
Set goals and plans to reach them.
Develop a skill or talent.
Make a list of things you do well.
Work to do your best in school.
Get involved in school clubs & activities.
Develop a trusting relationship with at least 1
adult.
Choose friends who encourage you to do your
best.
Spend time with friends and adults who are
supportive.
Volunteer to help another person.
Keep a neat appearance.
IT'S IMPORTANT TO HAVE FRIENDS WHO
ENCOURAGE AND SUPPORT YOU, WHO HELP YOU
BELIEVE IN YOURSELF.






Journal Activity:
Draw a large box in your journal where you have
at least half a page to write in.
Write your name on top of the box so people will know
who's journal they are writing in.
You will rotate around the room, writing positive
comments in each person's journal. Even if you don't
know them very well, think of something positive to
say.
Keep it short, then sign your name.
Ex. Good basketball player, good at guitar,
Pretty eyes, nice hair, great smile, smart, athletic,
nice, sense of humor, fun, good listener, etc.
If someone already wrote a comment, try to write
something different.
Some kids choose harmful ways to feel good. They try
to feel good without working hard and training. Just
like athletes who try to cheat and take shortcuts,
some kids try to take "shortcuts" for quick highs but
then this causes them to feel bad about themselves –
no self-respect.
Addictive behavior: repeated and difficult to stop.

Compulsive: irresistible urge to repeat behavior;
feel compelled to do it, can not stop!
COMMON ADDICTIVE BEHAVIORS IN TEENS

Money addiction:
You buy things you can't afford
You buy things you don't need
 You shop when you're stressed
 You shop to relieve boredom


Gambling addiction
• Have the "urge" to gamble
• Buy lottery tickets, even though illegal for minors
Perfectionism
• Think you must be perfect to be OK
• Are never satisfied
• Get stressed when you can't do everything perfectly
• Might have an eating disorder to stay
"perfect" weight
Exercise addiction:
* Feeling like you can't exercise enough
* Neglecting friends, family, and school in
order to exercise.
Relationship Addiction:
• Feeling obsessed about another person
• Ignoring friends and family to be with a person
• Doing whatever another person tells you to do
Addiction to cigarettes, alcohol, & drugs
•
•
•
•
Trying to change mood by using harmful substances
Smoking when you feel stressed
Having a drink to relax
Taking pills whenever you feel depressed

Some people are drawn to people with addictive behaviors
or maybe this is the type of environment you are used to.
Enablers: people who support or allow addictive
behaviors to continue. Ex. Elvis, MJ, L Lohan
Formal Intervention: action people take to get help for
addicts, they come up with a plan…..
- individual, group, or family therapy
- counseling
- rehabilitation
Relapse: the return to addictive behavior
MENTAL ALERTNESS QUIZ
1. Ability to think clearly, reason, solve problems.
2. See the positive side of things.
3. See the negative side of things.
4. Blend of physical, mental, and social traits.
5. Your surroundings and experiences you have.
6. When you behave responsibly & feel good about yourself.
7. Behaviors that are difficult to stop.
8. The irresistible urge to repeat behavior – can't stop!
9. People who allow/support harmful behaviors.
10 .The return to an addiction.
11. Action taken by people to get help for addicts.
12. Character trait where you show empathy.