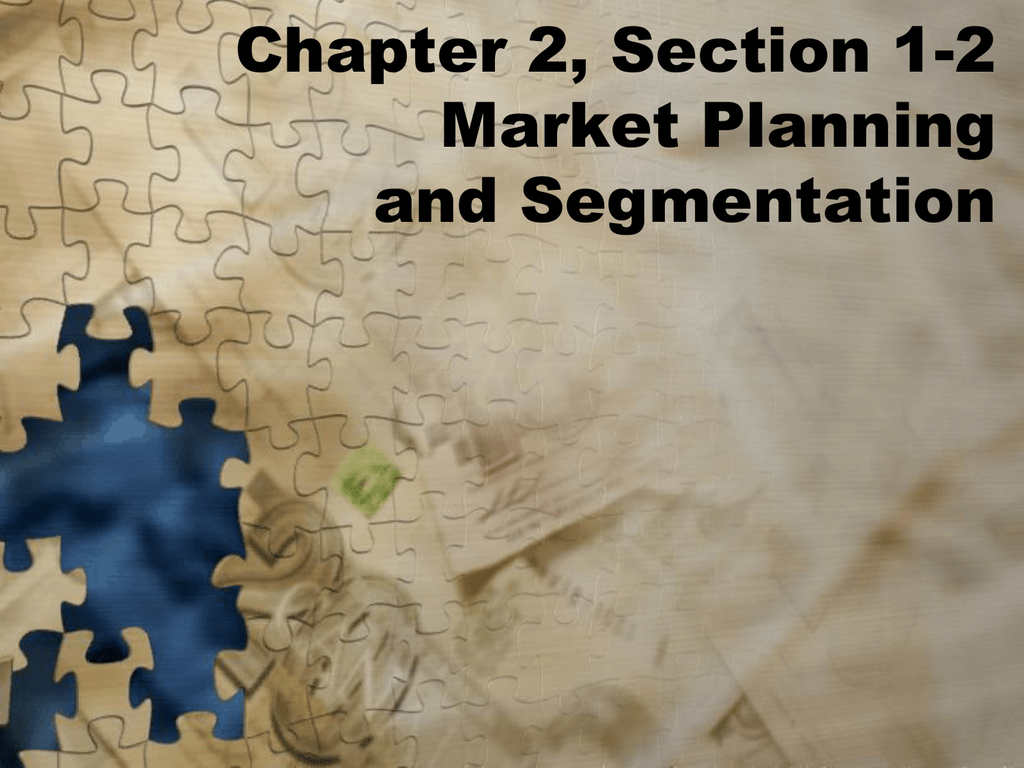 Chapter 2, Section 1-2
Market Planning
and Segmentation
S.W.O.T Analysis
A company's planning efforts begin with a
critical look at itself and the market in
which it operates
– Strengths
– Weaknesses
– Opportunities
– Threats
Internal factors
Company
Customer
Competition
External factors
Competition
Environmental Scan (PEST)
Analyzing Markets
Market segmentation
is a way of analyzing a
market by specific
characteristics in order
to create a target
market
Types of Segmentation:
•
•
•
•
Demographics
Psychographics
Geographics
Behavioral
Demographics
statistics that describe a population
in terms of personal characteristics.
• Age
– Baby Boom Generation
– Generation X
– Generation Y
• Gender
Income
Disposable income
Money left after
taking out taxes
Discretionary income
Money left after
paying for basic
living necessities
such as food,
shelter, and clothing
Marital Status
Ethnic Background
U.S. Trend – The percentage of the
Caucasian population is declining,
while other ethnic populations
increase.
Psychographics
Involves grouping people with
similar lifestyles, as well as shared
attitudes, values, and opinions.
– Activities
– Attitudes
– Personality & Values
Music teachers,
dancers, and other
music lovers would
be one category of
people who share
psychographic
characteristics.
Geographics –
Segmentation based on
where people live
Behavioral Segmentation
Looking at the benefits desired by
consumers, shopping patterns, and usage
rate. Market benefits, not just the physical
characteristics of a product
Behavioral Segmentation
80% of a company's sales are
generated by 20% of its loyal customers.
Mass Marketing Vs
Segmentation
• Mass marketing is not as popular as it
once was.
• Niche marketing (the current trend) –
markets are narrowed down and defined
with extreme precision.
On the customer profile you completed last
class period, label each item as
demographic, geographic, psychographic,
or behavioral.
Conduct a SWOT analysis on yourself.
What are your strengths and weaknesses?
What outside opportunities and threats
may impact your personal goals?
Write your analysis on the back of your
customer profile.
Turn in your profile and analysis.