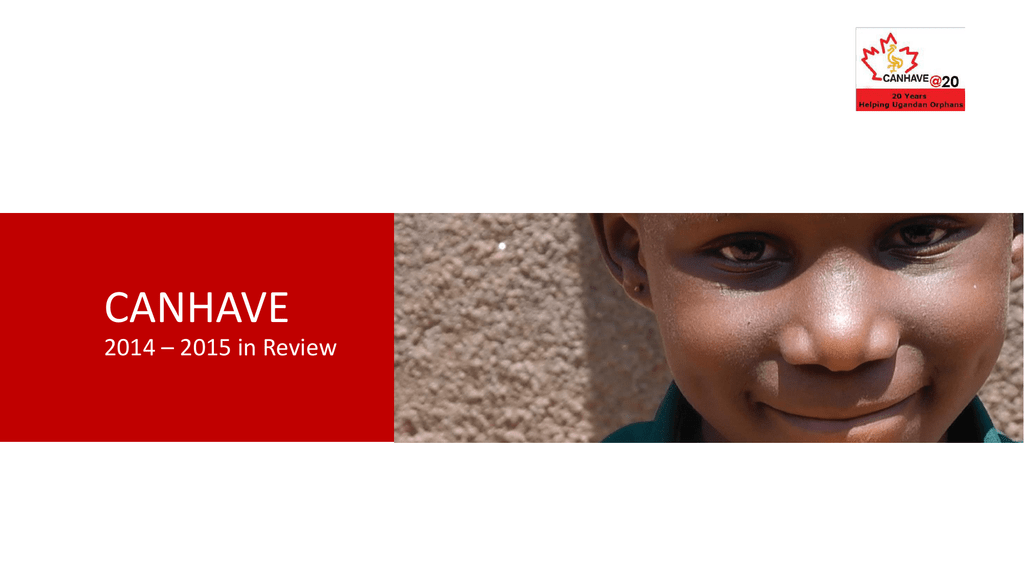 CANHAVE
2014 – 2015 in Review
CANHAVE
2014 – 2015 in Review
Uganda
Why is CANHAVE working so
hard, and why should you help?
What drives us?
CANHAVE
2014 – 2015 in Review
Memorandum of Understanding
Developed following the 2012 AGM & signed in December 2012
Objectives
Formalize the partnership between CANHAVE CANADA and CANHAVE UGANDA
Further strengthen the Children's Programme in providing the basic literacy
skills of reading, writing and arithmetic to primary school children; and
Establish a pathway to financial sustainability of the Vocational School
so that it may become financially independent within three years
"Next Steps" for the Board
Last year we identified these "Next Steps" for the Board
CANHAVE
2014 – 2015 in Review
"Next Steps" for the Board
• Work with the Ugandan Children's Programme Board to monitor progress, to develop criteria
and to create a mechanism to track pupils
• Continue to develop policies with the Ugandan Board of Trustees as agreed to in the MOU
• Focus on governance issues and questions
• Expand Canadian fundraising activities
• Empowering AIDS/HIV orphaned Ugandan girls through quality secondary education
• Develop an evaluation design for implementation at the end of the three year agreement period
CANHAVE
2014 – 2015 in Review
Milly Baino
The Children's Programme
CANHAVE
2014 – 2015 in Review
We will reach 100 pupils by Jan 2016
- 5 Focal Persons monitoring the pupils
- reduction of geographical area
- discussion of additional pupils in Boarding Schools
CANHAVE
2014 – 2015 in Review
Vocational School Programme
CANHAVE
2014 – 2015 in Review
STATISTICS FOR TERM 1 AND 2 OF 2015
TOTAL NUMBER OF STUDENTS
BOARDING
DAY
PROGRAM
Carpentry and Joinery
Catering and Hotel Management
Hair Dressing and Beauty
Tailoring Fashion and Design
Computer Studies
Domestic Electrical Installation
Agriculture
TERM 1 (JAN-APRIL)
75
50
25
TERM 2 (MAY-AUG)
80
49
31
NUMBER OF STUDENTS
Term 1
Term 2
2
3
17
17
31
31
16
18
all students
all students
8
9
1
2
Next Steps for 2015-2016
- complete evaluation of current MOU
- monitor the Children's Programme once we reach the goal of 100
- prepare to face expected new legislation coming for Ontario NGOs
- prepare to develop the next Memorandum of Understanding
- continue with partnerships
CANHAVE
2014 – 2015 in Review
- The School is working towards self-sustainability
- Supports community development.
Thank you!
We really appreciate your ongoing support.
Your generosity has changed the lives of these children.
We are relying on your future contributions.
Together we can continue to change lives.
I give you flowers.