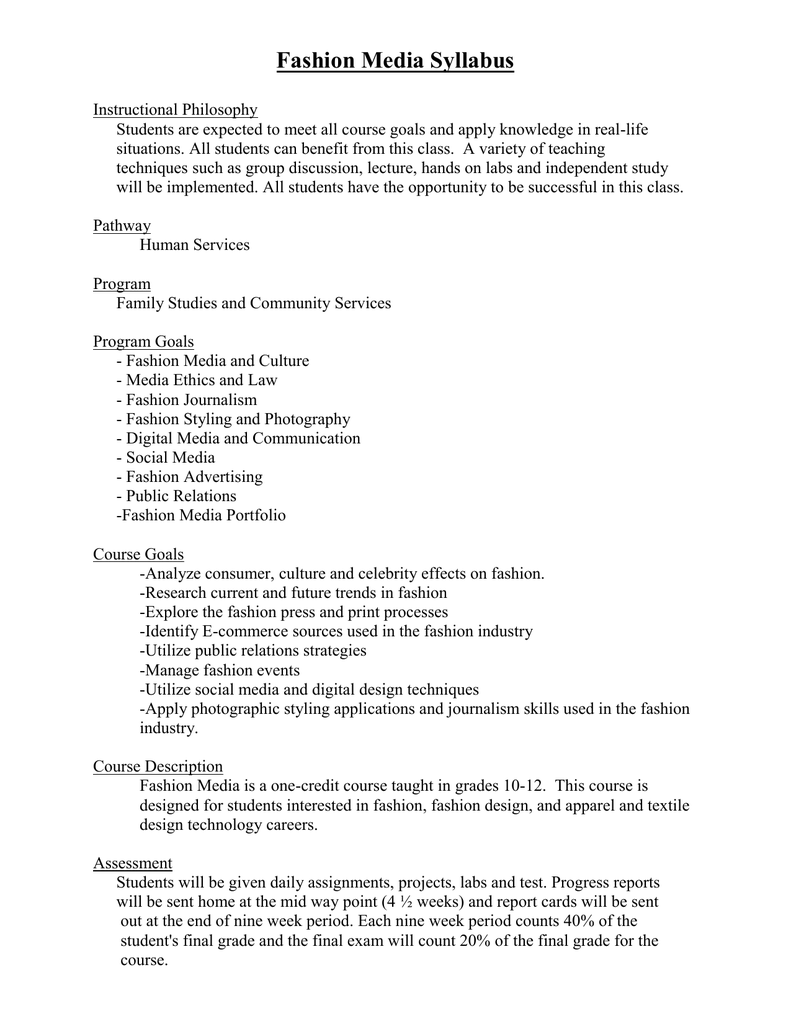 Fashion Media Syllabus
Instructional Philosophy
Students are expected to meet all course goals and apply knowledge in real-life
situations. All students can benefit from this class. A variety of teaching
techniques such as group discussion, lecture, hands on labs and independent study
will be implemented. All students have the opportunity to be successful in this class.
Pathway
Human Services
Program
Family Studies and Community Services
Program Goals
- Fashion Media and Culture
- Media Ethics and Law
- Fashion Journalism
- Fashion Styling and Photography
- Digital Media and Communication
- Social Media
- Fashion Advertising
- Public Relations
-Fashion Media Portfolio
Course Goals
-Analyze consumer, culture and celebrity effects on fashion.
-Research current and future trends in fashion
-Explore the fashion press and print processes
-Identify E-commerce sources used in the fashion industry
-Utilize public relations strategies
-Manage fashion events
-Utilize social media and digital design techniques
-Apply photographic styling applications and journalism skills used in the fashion
industry.
Course Description
Fashion Media is a one-credit course taught in grades 10-12. This course is
designed for students interested in fashion, fashion design, and apparel and textile
design technology careers.
Assessment
Students will be given daily assignments, projects, labs and test. Progress reports
will be sent home at the mid way point (4 ½ weeks) and report cards will be sent
out at the end of nine week period. Each nine week period counts 40% of the
student's final grade and the final exam will count 20% of the final grade for the
course.