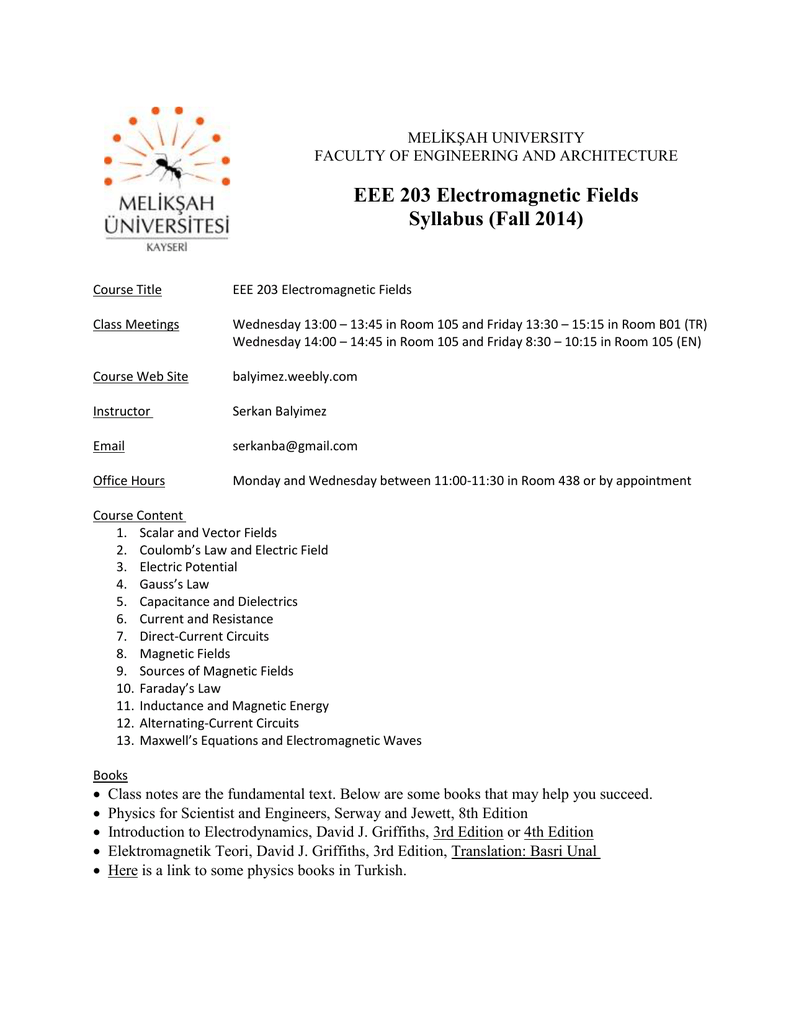 MELİKŞAH UNIVERSITY
FACULTY OF ENGINEERING AND ARCHITECTURE
EEE 203 Electromagnetic Fields
Syllabus (Fall 2014)
Course Title
EEE 203 Electromagnetic Fields
Class Meetings
Wednesday 13:00 – 13:45 in Room 105 and Friday 13:30 – 15:15 in Room B01 (TR)
Wednesday 14:00 – 14:45 in Room 105 and Friday 8:30 – 10:15 in Room 105 (EN)
Course Web Site
balyimez.weebly.com
Instructor
Serkan Balyimez
Email
[email protected]
Office Hours
Monday and Wednesday between 11:00-11:30 in Room 438 or by appointment
Course Content
1. Scalar and Vector Fields
2. Coulomb's Law and Electric Field
3. Electric Potential
4. Gauss's Law
5. Capacitance and Dielectrics
6. Current and Resistance
7. Direct-Current Circuits
8. Magnetic Fields
9. Sources of Magnetic Fields
10. Faraday's Law
11. Inductance and Magnetic Energy
12. Alternating-Current Circuits
13. Maxwell's Equations and Electromagnetic Waves
Books





Class notes are the fundamental text. Below are some books that may help you succeed.
Physics for Scientist and Engineers, Serway and Jewett, 8th Edition
Introduction to Electrodynamics, David J. Griffiths, 3rd Edition or 4th Edition
Elektromagnetik Teori, David J. Griffiths, 3rd Edition, Translation: Basri Unal
Here is a link to some physics books in Turkish.
Grading Policy
 Homework
 Midterm 1
 Midterm 2
 Final
20%
20%
20%
40%
Student Responsibility
 Review the class material before coming to class
 Attend the class
 Take notes
 Do the homework on time
 Observe the honor code
 Ask help if necessary
Homework
Homework will be assigned at the course webpage. Some test problems will be
very similar or identical to the homework problems. Each student should study the homework problems to
succeed in this course. Although students are encouraged to discuss homework problems with their
classmates, each student should submit their own work. Cheating will not be tolerated. Late homework will
not be accepted.
Classroom Etiquette
Please turn off all cell phones before entering the classroom. Private chatter during
lecture is not allowed. Questions in lecture are always good. Be respectful to your fellow classmates.
Condescending or insulting remarks cannot be tolerated.