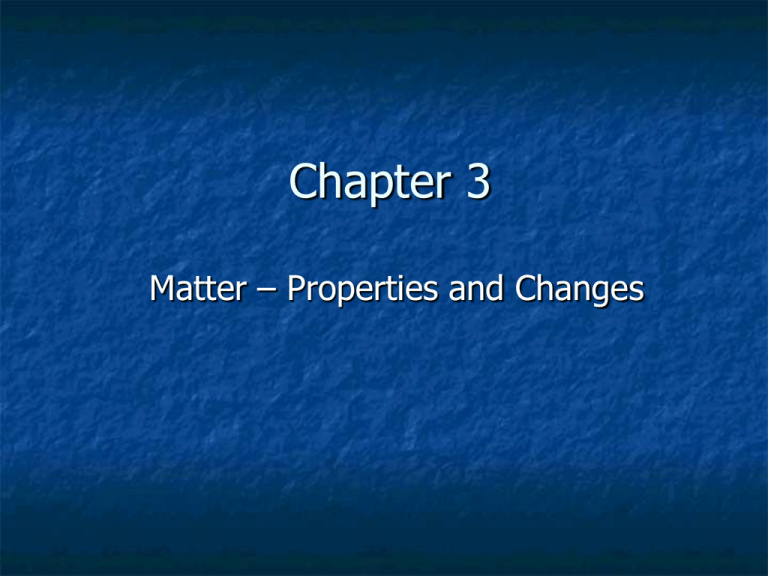 Chapter 3
Matter – Properties and Changes
Section 3.1:
Properties of Matter
Objectives



Identify the characteristics of a
substance.
Distinguish between physical & chemical
properties.
Differentiate among the physical states
of matter.
Organization of Matter
Matter
Substance
Element
Compound
Mixture
Homogeneous
Heterogeneous
Substances


Matter (anything that has mass & takes up
space) that has a uniform and unchanging
chemical composition is called a substance or
a pure substance.
Examples:



Water (H2O)
Salt (NaCl)
NOT saltwater!
Physical Properties



A physical property is a characteristic that
can be observed without changing the
chemical composition of a sample of matter.
Because substances have an unchanging
composition, the physical properties of
substances are constant from one sample to
another. Some of them may be used to
identify the substance.
Examples: color, shape, mass, odor, taste,
hardness, density, state, solubility, melting
point, boiling point.
Extensive or Intensive?



Extensive physical properties are
dependent on the AMOUNT of substance
that is present. Mass and length are
examples.
Intensive physical properties are
independent of the amount of substance
present. The density of a substance does not
depend on how much is present.
PRACTICE: Classify the physical properties
listed previously as extensive or intensive.
Practice Problem - List the physical
properties of the following:
Observing Properties
PHYSICAL PROPERTIES
•Appropriate observations
would include:
•White color
•Small, crystalline particles
•Particles are lustrous;
long rectangular shape.
•Inappropriate observations:
•Looks like salt
Chemical Properties

A chemical property is a property of a
substance that cannot be observed unless
the substance has changed its chemical
composition.


Chemical reactivity or the ability/inability of a
substance to react with another substance is
a chemical property.
Other chemical properties are the
ability/inability to oxidize (combine with
oxygen), & flammability (the ability to ignite).
Observing Properties
CHEMICAL PROPERTIES
 Appropriate observations
include:



Inappropriate observations:

Calcium
Combines readily with
oxygen
Reacts vigorously with water

Rusts
Dissolves in water
Observing Properties

Important note:


The properties that are observed will depend
on environmental conditions. For example,
water is a liquid at certain temperatures and a
solid or gas at others.
Therefore, it is necessary to record the
temperature & pressure of the environment
when observations of properties are made.
States of Matter



The physical state of a substance is one of
its physical properties.
Matter can exist in one of 4 physical
forms: solid, liquid, gas, or plasma.
Plasma occurs naturally on Earth only in
lightning.
Distinguishing States of Matter
State
Shape
Volume
Solid
Has its own
shape; a
definite shape
Has a definite Very close
together; not
volume
Liquid
Distance
between
particles
compressible
Takes the shape Has a definite Less closely
packed, able to
of its container; volume
flow, still
indefinite shape
incompressible
Gas
Takes the shape Takes the volume
of its container; of its container;
indefinite volume
indefinite shape
Very far apart;
easily
compressed
Gas vs. Vapor



These words do not mean the same
thing.
A gas is a substance that exists naturally
in the gaseous state at room
temperature.
A vapor is a substance in the gaseous
state that is naturally a solid or liquid at
room temperature.

Steam is a vapor. It is often simply called
water vapor.