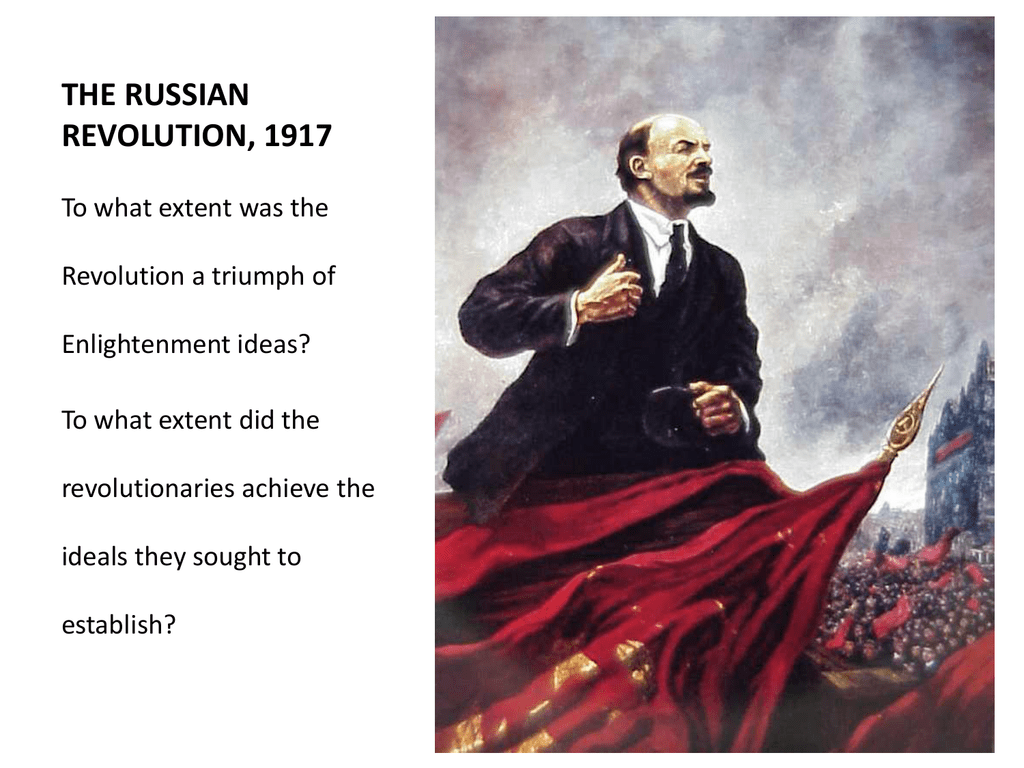 THE RUSSIAN
REVOLUTION, 1917
To what extent was the
Revolution a triumph of
Enlightenment ideas?
To what extent did the
revolutionaries achieve the
ideals they sought to
establish?
According to Crane Brinton's Theory on Revolutions, Phase I:
What was wrong with Czar Nicholas' government? [The Old Regime]
Social
Political
Economic
Phase II: "The Trigger" -- What actually started the
Revolution?
Women textile workers strike in Petrograd. How did this lead to Revolution?
III. A MODERATE PHASE
The March Revolution
A. MODERATES SEIZE POWER AND ATTEMPT REFORMS
Ex. The Mensheviks seized power and made these reforms:
•
•
•
Broad civil liberties
Amnesty for political prisoners
End of religious persecution – Who is setting the agenda? Who is
benefitting from these reforms?
Much disagreement in this new government:
LEFT / RADICALS
Bolsheviks:
believed in a small,
disciplined group to
instruct and lead
the rest in Marxist
revolution
CENTER /MODERATES
Social Revolutionary
Party / Mensheviks:
wanted more radical
reforms; wanted to
win WW I; willing to
cooperate with other
parties
RIGHT
/CONSERVATIVES
Cadets: republic;
democracy; land
distribution with
compensation to
owners
Alexander Kerensky –
Head of the
Provisional Gov't.
B. Counter-revolutionaries & foreign countries oppose
these moderates, often by invading
• Germans arranged to send Lenin by sealed
train back to Russia to agitate and undermine
the Russian war (WW I) effort
• Lenin's plan: Bolsheviks should gain control of
the Soviets and thus the government so that
Russia could join in the international
revolution of communism (where the Soviets
would represent the proletariat)
C. Lower classes have
rising expectations and
want similar reforms
• April 1917 – Lenin's
return led to more
Bolsheviks in the
Soviets
• July 1917 – Bolsheviks
led a coup against
Kerensky – failed; many
Bolsheviks arrested –
Lenin fled to Finland
• Strikes in cities; looting,
burning and killings in
countryside (like the
Great Fear in French
Rev. – how so?)
D. A TURNING POINT OCCURS
• Sept. 1917 – Military leads a coup against Kerensky's
government
• Kerensky asked the Soviets' (mostly Bolsheviks') to help
resist the coup, thus freeing many Bolsheviks from prison
• Bolshevik propaganda, slogan "Bread, Land & Peace" led
to their control of the Soviets in Moscow and Petrograd –
Why would this help the Bolsheviks gain control?
• Provisional government left "alone" (without support) in
Petrograd (city)
IV. FEARFUL THAT ALL GAINS WILL BE LOST,
RADICALS/EXTREMISTS
SEIZE
RADICALS / EXTREMISTS
RADICALS USE FORCE
& CONTROL
A BLOODBATH FOLLOWS
SEIZE CONTROL OF THE
GOV'T.
• NOV. 6 – RED GUARDS,
SAILORS & SOLDIERS
CAPTURED THE WINTER
PALACE ; LENIN SEIZED
POWER AT CONGRESS OF
SOVIETS (NOV. 7)
• FIRST COMMUNIST
GOV'T. IS ESTABLISHED:
TERROR VS "ENEMIES OF
THE REVOLUTION"
• ONE ASSEMBLY
ELECTION: NOV. 1917:
BOLSHEVIKS 25%; OTHER
SOCIALISTS 60%; OTHERS
15%>>Which group really
won?
• ASSEMBLY ADJOURNED /
DISMISSED (WHY?)
LENIN'S RATIONALE:
"DICTATORSHIP OF THE
PROLETARIAT" – WHY IS
A DICTATORSHIP
"NECESSARY"?
AND MANY LEADERS ARE
ELIMINATED
• REIGN OF TERROR:
SECRET POLICE – CHEKA
AND REVOLUTIONARY
TRIBUNALS ORDERED
THE CONFISCATION OF
PROPERTY; LOSS OF
RIGHTS AND EXECUTIONS
OF THOUSANDS
• Russia plunges into Civil
War after Lenin signs the
Treaty of Brest-Litovsk
(see map on next page)
• "WAR COMMUNISM" –
ADOPTED TO WIN THE
CIVIL WAR LED TO
BOLSHEVIK / LENIN
VICTORY IN CIVIL WAR
AGAINST THE WHITES
In what way is this similar to the Jacobins and the C.O.P.S. of the French Revolution?
Russia – before and after the Treaty of Brest-Litovsk
Russia at the beginning of WW I
Why would the Treaty of Brest-Litovsk be
detrimental (hurtful) to the Allied powers?
Russia after the Treaty
Russia lost Poland, Finland, Belorusia, Don
Cossac, Lithuania, Ukraine and Georgia – Why
would it agree to that? Does it fully explain why
there would be civil war afterwards?
Bolsheviks' / Lenin's policies
Initial Policies: How did Lenin go about changing
the society, government and economy of Russia?
VLADIMIR LENIN
V. POWER VACUUM
A. CHAOS & CORRUPTION
RESULT FROM MASS HYSTERIA
B. PEOPLE DESPERATELY SEEK
ORDER, A NEW GOV'T OR LEADER
• "WAR COMMUNISM" MADE THE
COMMUNIST PARTY VERY
POWERFUL
• BANDITS / CHAOS IN RURAL
AREAS;
• CITIES ABANDONED;
• MILLIONS IN EXILE; MILLIONS
DEAD;
• FOREIGN TRADE CEASED;
MANUFACTURING DROPPED;
• THREAT OF FAMINE
•




•



LENIN'S N.E.P. [NEW ECONOMIC
POLICY
PEASANTS COULD PAY A TAX RATHER
THAN REQUISITIONS
SMALL PRIVATE BUSINESS ALLOWED
NATIONALIZED INDUSTRIES COULD
BE LEASED TO FOREIGN CO.'S TO
TRAIN RUSSIANS IN BUS. METHODS
STABLE CURRENCY
OTHER POLICIES (not NEP):
EDUCATION: MASSES
COOPERATIVES/TRADE UNIONS
ORTHODOX CHURCH ALLOWED TO
FUNCTION (UNDER SUPERVISION)
Lenin died in 1924. Who would replace him?
Leon Trotsky – had a global / international
vision of communism
Josef Stalin – had a domestic vision of
Communism (focused on one country)
How did Stalin's dictatorship affect the
USSR and its people? Globe?
What does the image suggest about Stalin's role vis-à-vis (in relation to) the people
of the USSR?
Crane Brinton's Theory: Phase VI.
DICTATORSHIP
A. SICK OF REVOLUTION, MASSES
ACCEPT A STRONG LEADER
B. THE STRONG LEADER ABUSES HIS
POWER AND DICTATORSHIP FOLLOWS
• LENIN DIED AFTER A YEAR OF
ILLNESS
• IN A LETTER, LENIN HAD
ASSESSED TWO LIKELY LEADERS:
TROTSKY (TRADITIONAL VISION
OF GLOBAL COMMUNIST
REVOLUTION) AND STALIN ("A
REVOLUTION IN ONE COUNTRY")
• STALIN GOT THE SUPPORT OF THE
POLITBORO; TROTSKY
SUPPORTERS FORCED TO RECANT
OR EXPELLED FROM POLITBORO;
TROTSKY EXILED/DEPORTED
GOALS:
• TO CREATE A SOCIALIST ECONOMY
• TO CREATE A TOTALITARIAN REGIME
UNDER THE COMMUNIST PARTY
METHODS:
• FIVE-YEAR PLANS: COLLECTIVIZATION;
TAXATION; NATIONALIZATION AND
RATIONING
• TERROR / VIOLENCE: KULAKS / GREAT
PURGE
• MASS ORGANIZATION;
• SOCIAL DISCIPLINE REPLACED
REVOLUTIONARY FERVOR
• SOCIALIST REALISM
• WOMEN'S RIGHTS RESTRICTED
• MASS PROPAGANDA (ART & LITERATURE)
Socialist Realism: How do these
images serve as propaganda?
Who is the suited man in the center? What is he probably speaking about? To whom?
How does this promote Stalin's communist agenda?