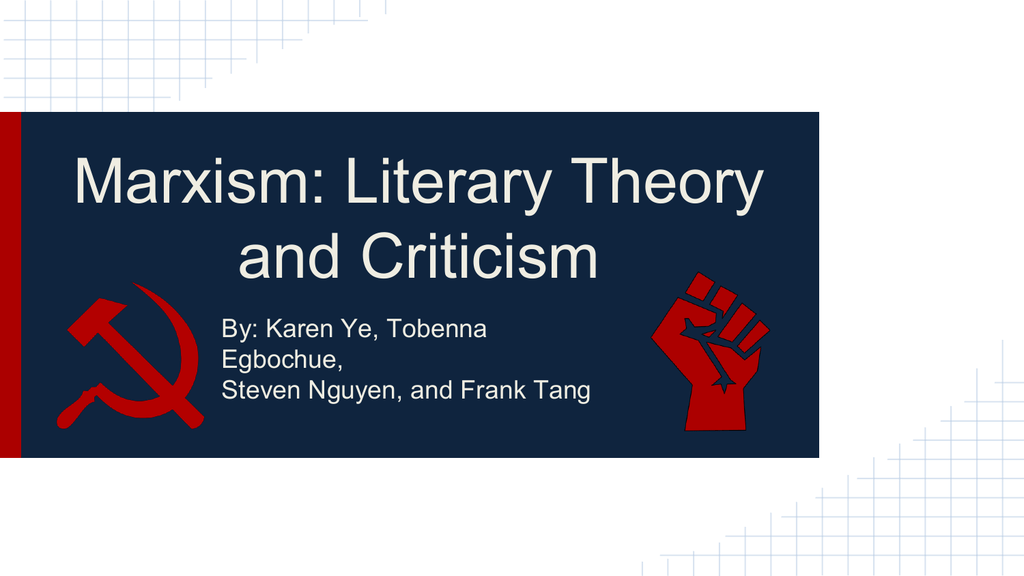 Marxism: Literary Theory
and Criticism
By: Karen Ye, Tobenna
Egbochue,
Steven Nguyen, and Frank Tang
What is Marxism?
Marxism started approximately around the 1930's and
continues in a few countries across the world.
● Most prominent during the Bolshevik Revolution
of Russia
○ Fell out of favor with private property ideals
and market-exchange system
● Marxism today is mainly found in areas with
contemporary communism, such as China,
Vietnam, North Korea, Cuba, etc.
Founders and Critics
● Founded by Karl Marx and Friedrich Engels
o
Founded under his dislike for the exploitation of
proletariats by capitalism
● Critics would be Vladimir Lenin
o
Formed Leninism and Marxism - Leninism from
Marxism
● Today, several countries practice a degree
of Marxism
o
o
Countries like China, Vietnam, and Cuba
A handful of young workers around the world
support Marxism as well
The Values of Marxism
● Alienation
○
State or experience of isolation from a
group or activity
● Labor theory of value - the amount
of production you accomplish will
determine your worth
○
Example: (top to bottom in wealth and
importance)
● Factory worker
● Agriculture Worker
● Construction worker
● Office worker
● Congressman
guys where the heck am i
why wasn't i invited to the party
Frank
Tang
Tobenna
Egbochue
Steven
Nguyen
Factory
Workers
Office Workers
Congressmen
President Jack Gayle
The Values of Marxism (cont.)
● Materialist concepts - physical items (materials) contain
more worth than spiritual items
○ Items hold more value to Marxists than people
○ This also means that the product that workers produce are worth more
than the people producing it.
■ As long as a person continues to produce product, they are
allowed to live, as people are worthless
Authors Associated w/ Marxism
●
Karl Marx - (with Friedrich Engels) The Communist Manifesto, 1848; Das
Kapital, 1867; "Consciousness Derived from Material Conditions" from The
German Ideology, 1932; "On Greek Art in Its Time" from A Contribution to
the Critique of Political Economy, 1859

Karl Marx wrote a lot; obviously he was the founder
●
Leon Trotsky - "Literature and Revolution," 1923
●
Georg Lukács - "The Ideology of Modernism," 1956
●
Louis Althusser - Reading Capital, 1965
●
Frederick Jameson - Marxism and Form, The Political Unconscious, 1971
Marxism in Literary Criticism
● Discusses the themes (briefly)
● Focuses primarily on class
warfare of the characters in the
story.
o Oppression of characters
o Giving power to the oppressed
 eg. How the woman in the story
asserts control instead of always
listening to the man
Questions to Ask
●
Whom does it benefit if the work or effort is accepted/successful/believed, etc.?
●
What is the social class of the author?
●
Which class does the work claim to represent?
●
What values does it reinforce?
●
What social classes do the characters represent?
●
How do characters from different classes interact or conflict?
●
How do the character's social classes reflect his or her oppression or entitlement?
Bibliography
http://public.wsu.edu/~delahoyd/marxist.crit.html
Delahoyde, Michael. "Marxist Criticism." Marxist Criticism. N.p., n.d. Web. 04 Mar.. 2015.
https://www.marxists.org/archive/marx/works/1880/05/parti-ouvrier.htm
"The Programme of the Parti Ouvrier." Programme of the French Worker's Party. N.p., n.d. Web. 04
Mar. 2015.
http://www.nyu.edu/projects/ollman/docs/what_is_marxism.php
Ollman, Bertell. "What Is Marxism? A Bird's-Eye View." What Is Marxism? A Bird's-Eye View. N.p.,
n.d. Web. 04 Mar. 2015.
http://www.iep.utm.edu/literary/#H4
Brewton, Vince. "Internet Encyclopedia of Philosophy." Internet Encyclopedia of Philosophy. N.p., n.d.
Web. 04 Mar. 2015.
http://plato.stanford.edu/entries/marx/
Wolff, Jonathan. "Karl Marx." Stanford University. Stanford University, 26 Aug. 2003. Web. 04 Mar.
2015.