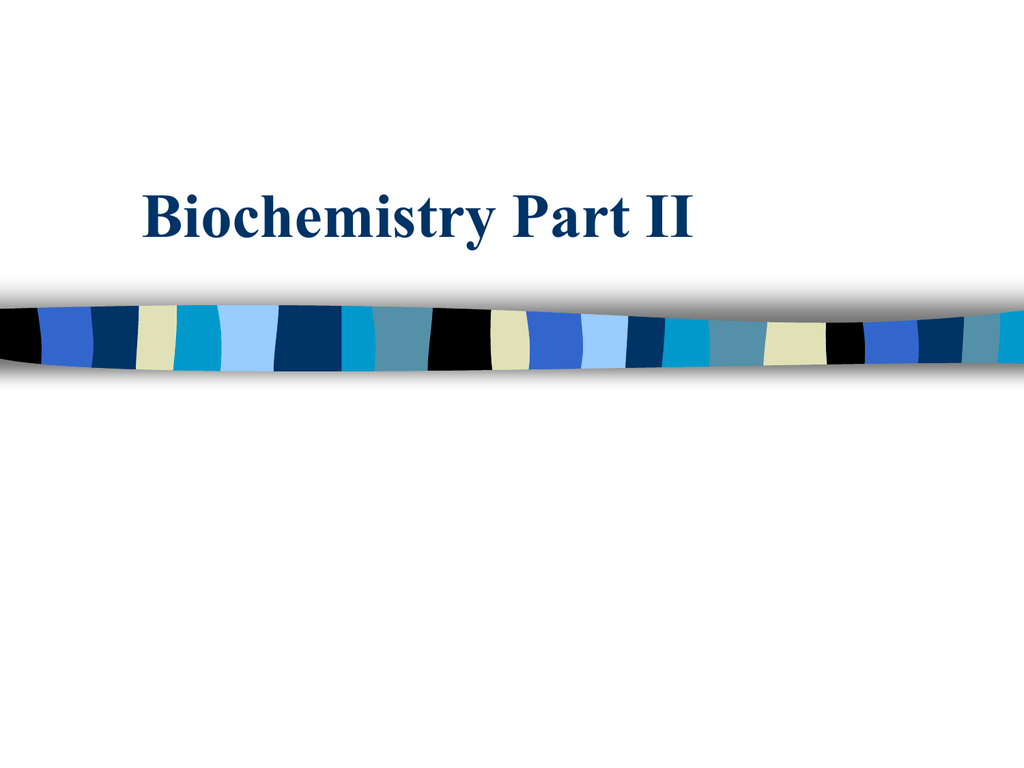 Biochemistry Part II
Biochemistry
• The study of the chemicals
associated with living things
• How living things "work" on a
molecular level
•
•
•
•
4 Basic Groups of Organic
Compounds in Living Things
Carbohydrates
Lipids (fats, oils & waxes)
Proteins
Nucleic Acids (DNA, RNA)
Carbohydrates
• Simple Sugars…the sweet stuff.
Carbohydrates
• Complex carbohydrates…
• Include starch, cellulose
Carbohydrate functions???
What do you know about this?
• Sugars and starches provide shortterm energy storage…
• Cellulose provides structure in
plants.
Carbohydrate Chemistry
• General formula = CH2O…what
does this mean?
• Made of Carbon, Hydrogen and
Oxygen… 1:2:1
Glucose is a carbohydrate
Monomer or Monosaccharide
• You will see this simple sugar
many times…so lets learn its
formula now.
• Glucose = C6H12O6
Glucose structure
• Do you see six carbon atoms?
• Can you describe the shape?
Complex Carbohydrates are
polymers…
Glucose + Fructose = Sucrose
(table sugar; disaccharide)
Polysaccharides:
• How do
carbohydrate
polymers form?
• Water is
removed from
the 2 molecules
by an enzyme
to form a
covalent bond!
• This reaction to join monomers
is called DEHYDRATION
SYNTHESIS!
• Animation:
• http://nhscience.lonestar.edu
/biol/dehydrat/dehydrat.html
Carbohydrates, cont.
• How does our body use
complex carbohydrates?
• Enzymes break the covalent
bonds in the polymer (starch,
glycogen) to release the
MONOMERS (glucose) to use for
energy
What do you do when you add
water to your body? Hydrate!
• This type reaction is called
HYDROLYSIS!!
• http://nhscience.lonestar.edu
/biol/dehydrat/dehydrat.html
KEY TERMS!
• Use your notes to define the
KEY TERMS on the board to
use for the…
MATCHING GAME!