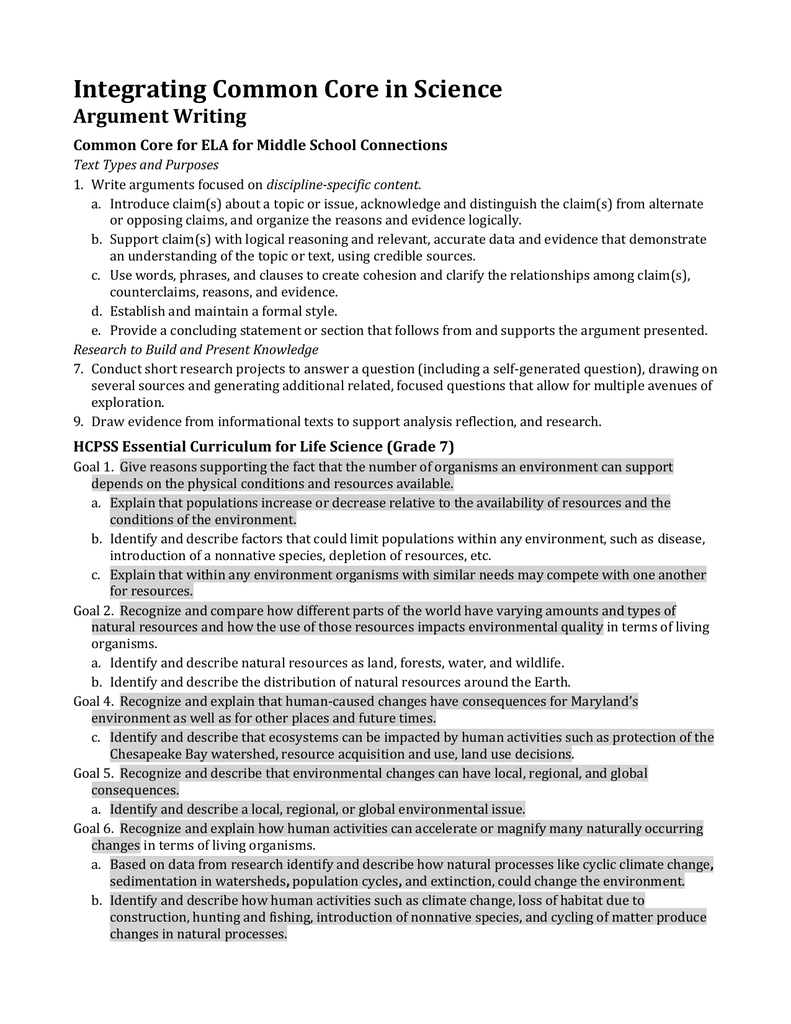 Integrating Common Core in Science
Argument Writing
Common Core for ELA for Middle School Connections
Text Types and Purposes
1. Write arguments focused on discipline-specific content.
a. Introduce claim(s) about a topic or issue, acknowledge and distinguish the claim(s) from alternate
or opposing claims, and organize the reasons and evidence logically.
b. Support claim(s) with logical reasoning and relevant, accurate data and evidence that demonstrate
an understanding of the topic or text, using credible sources.
c. Use words, phrases, and clauses to create cohesion and clarify the relationships among claim(s),
counterclaims, reasons, and evidence.
d. Establish and maintain a formal style.
e. Provide a concluding statement or section that follows from and supports the argument presented.
Research to Build and Present Knowledge
7. Conduct short research projects to answer a question (including a self-generated question), drawing on
several sources and generating additional related, focused questions that allow for multiple avenues of
exploration.
9. Draw evidence from informational texts to support analysis reflection, and research.
HCPSS Essential Curriculum for Life Science (Grade 7)
Goal 1. Give reasons supporting the fact that the number of organisms an environment can support
depends on the physical conditions and resources available.
a. Explain that populations increase or decrease relative to the availability of resources and the
conditions of the environment.
b. Identify and describe factors that could limit populations within any environment, such as disease,
introduction of a nonnative species, depletion of resources, etc.
c. Explain that within any environment organisms with similar needs may compete with one another
for resources.
Goal 2. Recognize and compare how different parts of the world have varying amounts and types of
natural resources and how the use of those resources impacts environmental quality in terms of living
organisms.
a. Identify and describe natural resources as land, forests, water, and wildlife.
b. Identify and describe the distribution of natural resources around the Earth.
Goal 4. Recognize and explain that human-caused changes have consequences for Maryland's
environment as well as for other places and future times.
c. Identify and describe that ecosystems can be impacted by human activities such as protection of the
Chesapeake Bay watershed, resource acquisition and use, land use decisions.
Goal 5. Recognize and describe that environmental changes can have local, regional, and global
consequences.
a. Identify and describe a local, regional, or global environmental issue.
Goal 6. Recognize and explain how human activities can accelerate or magnify many naturally occurring
changes in terms of living organisms.
a. Based on data from research identify and describe how natural processes like cyclic climate change,
sedimentation in watersheds, population cycles, and extinction, could change the environment.
b. Identify and describe how human activities such as climate change, loss of habitat due to
construction, hunting and fishing, introduction of nonnative species, and cycling of matter produce
changes in natural processes.
Engagement
Students will:
1. Brainstorm what they already know about wolves and moose.
2. Examine the wolf-moose population graph. Identify information that they can get from the graph.
Describe trends noticed in the graph.
3. Make a CLAIM about the relationship between the size of the moose population and that of the wolf
population. Identify the EVIDENCE on which the CLAIM is based.
Exploration
Ecology Predator/Prey Game (Different versions exist, adapted to different grade levels and time):
Structured card game in which students take on roles from different niches in an ecosystem, such as
predator, top predator, herbivore, decomposer, etc. Resource cards, such as food sources, water
access, and territory and event cards, such as injury, drought, and predation, are distributed. Students
play through rounds of the game, tracking who survives and with what resources.
1. Play several rounds of the game, enough for individual players to fail to survive.
2. Keep track of survival statistics from each round. Then predict the results for the next several rounds.
3. After playing those rounds, compare the predictions to the actual outcomes.
4. Explain similarities and differences between their predictions and the actual results. Highlight trends
in resource availability and its impact on populations.
5. Revisit the CLAIMS made about wolves and moose. Clarify the EVIDENCE on which claims were based.
6. Read the research conducted on the wolves and moose on Isle Royale
(http://en.wikipedia.org/wiki/Wolves_and_moose_on_Isle_Royale is a good resource).
7. Brainstorm roles and resources in an ecosystem. Weigh these roles and resources and make a general
ranking of the importance of each in survival of both an individual and a population.
Explanation
Using the data collected during the ENGAGEMENT and EXPLORATION phases, students participate in
guided discussions to construct understanding. PowerPoint or Prezi presentations can be used along with
the fishbowl or expanding panel discussion strategies. Students clarify definitions of key terms, such as
niche and limiting factor. Students construct personal graphics to demonstrate food web relationships
and interactions between food webs and environmental limiting factors.
Extension
Applying what they have learned about ecological niches and the impact of population changes on
resource usage, students will:
 examine historical data, including catch records, uses of menhaden, general weather trends, etc.
http://www.chesbay.org/articles/latest2.asp
 interpret data about population level and environmental factors such as salinity, turbidity, pollution.
 make a CLAIM about the future of Chesapeake Bay menhaden population.
 list EVIDENCE used to make their claim, especially those pieces previously encountered in the earlier
phases of the learning cycle and identify each as strong, weak, or possibly counter.
 craft research questions to further explore their CLAIM, paying particular attention to resolving weak
or counter EVIDENCE.
Evaluation
Students assume roles in "Selection Committees". Each committee will review a set of the proposed
research questions. They will evaluate each proposal for merit using a rubric developed by the class and
then write an argument for why their selection should be the one funded. The argument will be evaluated
for its strength as an argument and the demonstrated understanding of ecological systems.