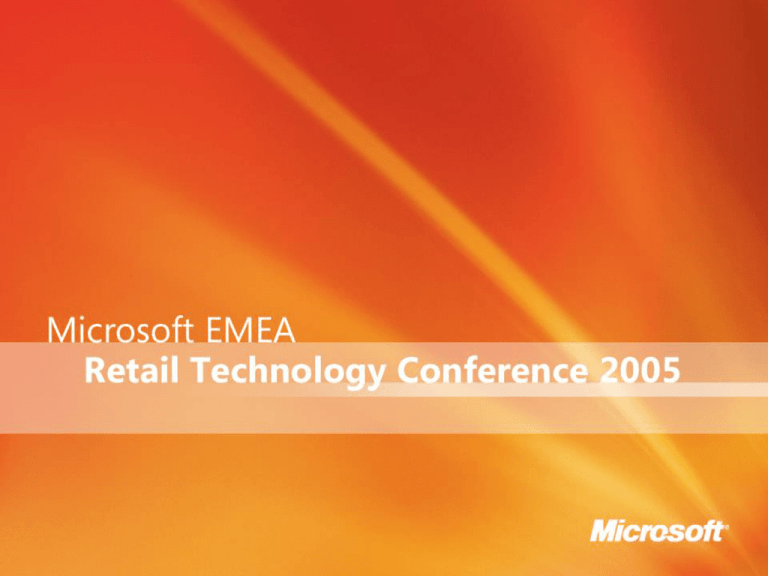 Supply Chain Management
Jan de Jong
Microsoft
Worldwide Industry Manager Retail
jandej@microsoft.com
Agenda
 Retail
Industry Background

Improving the Supply Chain

Microsoft Strategy for Improving the Supply Chain

Impact of GDS/RFID in Optimizing Supply Chain
Oracle Beats Out SAP For Retek: Now It's About Retailers
With a clearer landscape, retailers will accelerate spending
to address their enterprise
"
application replacement strategies only if vendors work to increase value, improve core
functionality, and raise the level of merchant thinking in their products.
The Takeaway: The software vendor that figures out how to blend merchant thinking
(the blend between functionality, workflow, demand intelligence, and usability oriented
toward how a retail merchant works day-to-day) with the right level of core functionality
will be the successful leader of this changing market.
Scott Landon, AMR research, March 22, 2005
"With Oracle still busy integrating PeopleSoft and JD Edwards, and
with Oracle management emphatic in stating that this purchase
would be tiny compared to that effort, existing users will be faced
with the same challenges they had before Retek went in play: The
upgrade path from existing to new Retek releases won't get
easier any time soon; the core application remains difficult
and expensive to install."
Paula Rosenblum, Aberdeen Group, March 2005
Retailers are going to spend on technology—or they will die against those
that do.… Scott Landon, AMR Research, March 22, 2005
Keep the Business
Running
Manage Costs
Deliver
Business Value
Meet the Strategic Business
Objectives
But driving down the operational costs allows focus on
new capabilities
Agenda

Retail Industry Background
 Improving
the Supply Chain

Microsoft Strategy for Improving the Supply Chain

Impact of GDS/RFID in Optimizing Supply Chain
IT Spend for Supply Chain
Continuing the investment
Supply Chain Inv Vis
12%
Supplier Relationship M gt
12%
Procurement Systems
Warehous M gt Systems
10%
10%
13%
7%
Private Label/ Supply Planning
6%
RFID
6%
0%
11%
11%
10%
19%
10%
Will start this year
20%
30%
Will start within 2 years
Source: 15th Annual Retail Technology Trends Survey conducted by RIS News and Gartner, March 2005
Supply
Chain
Business Environment
Chain
Complexity
 Supply
 Demand
variability
 Supply inefficiencies
 Uncertainty
 Security
 Shrinkage
 Returns, Recalls, Recycling
 Collaborative
 Global
Supply Chain Standards
Data Synchronization
 CPFR
 Food
safety standards
 OPOS & RFID
 The
majority (67%) of retail systems are home
grown legacy systems in Tier 1 retailers
 The data that is captured by these systems
is required in critical customer facing applications
Source: Accenture Analysis, March 2004
The CPG and Retail industry is about to bridge internal and external
collaboration
Efficiency Inside the Organisation
Efficiency Outside the Organisation
Collaborative
CRM
e-business
B2B
ERP
Productivity
Collaborative
Supply Chain
CRM
SCM
RFID /
intelligent Tagging
Re-engineering
MRP
Quality Circles
85
95
00
05
08
10
Manual
Process
Islands
Connected
Processes
Smart
Processes
Agenda

Retail Industry Background

Improving the Supply Chain
 Microsoft

Strategy for Improving the Supply Chain
Impact of GDS/RFID to Optimizing Supply Chain
Focus on Integration of legacy and packaged based solutions
as well as vendor collaboration
Data Warehouse
Supply chain and
merchandising
systems
Web Services
With Vendors
Legacy
Applications
ERP Systems
Merchandising and Supply Chain Systems supporting in-store systems
delivering an End-to-End Microsoft solution
Microsoft and Partners provide Business Solutions
Product Company
MS Sales Teams
without
Enterprise Partners
Solutions Company
MS Sales Teams
with
Enterprise Partners
Smarter Retailing Architecture – Integration Of The Partner Solution
Store
Enterprise
Development Tools
Applications and
Services
Platform
Partner Solution
Partner Solution
Microsoft Store
Platform
Microsoft
Enterprise
Platform
Systems Management
Hardware and Networks
Partnership With JDA
http://verticalcontent\retail\videos
1. SCM JDA_MEIJER_MGB_2000K.wmv
JDA & Microsoft EMEA
Eric Brambilla
JDA EMEA
JDA: integrated software and services
1300
for
theRetail
retailCustomers
demand chain
$240
Millions
Retail Top 100 Market Share
JDA
Non-JDA
Revenue
$220
$200
$180
$160
$140
$120
$100
$80
$60
$40
$20
$0
1999
61%
2000
Maintenance
2001
Licenses
2002
2003
2004
Services
3400 Demand Chain Customers
EMEA
CPG Market Share
Long term strategy since 1989 (UK)
Global but localized approach
Empowered and knowledgeable team
JDA
Non-JDA
35%
22% of 2004 revenues
770 customers - 165 associates
United Kingdom · Netherlands · Norway · France · Spain · Italy · Dubai · South Africa
JDA: a 7 year lead in consolidating
and integrating BoB solutions
BoB
Integrated
Best of Breed Point Solution Acquisitions
ARTHUR
INTACTIX
INTELLECT
E3
SMART - IPP Programs
Portfolio Synchronized
Synchronized Integrated Releases
PortfolioEnabled
Integrated & Best of Breed
2002
2005
Strong
retail market footprint
Product Category
JDA
EMEA customers
+370 retail customers in 4 years
Customers
Merchandise Management
527
Store Operations
253
Merchandise and Assortment
Planning & Allocation
495
Forecasting and Replenishment
610
Category Management &
Space Planning
3,606
BLOKKER – BOOKER – BRICO – CISALFA – COOP – ICELAND – LAURA ASHLEY – LEROY MERLIN –
MANOR – MATALAN – NORGESGRUPPEN – OFFICE DEPOT – RIVER ISLAND – SAFEWAY –
SOMERFIELD – STAPLES – THE BOOTS COMPANY – VOMAR - WORLD DUTY FREE
GUCCI
France
Spain
CE
France
Spain
Spain
CE
France
Redcats
World
Conforama
Castorama
Castorama
B&Q
JDA & Microsoft partnership
Enabling the Agile Enterprise
Industry Specific
Solutions
Scalable
Performance
Expertise and
experience
Interoperability
& Integration
Together, Microsoft
and JDA transform
decision making
throughout the
demand chain for
retailers and their
suppliers with agile,
real-time, integrated
solutions
JDA Portfolio
Retail #1 integrated suite on .Net
Microsoft
JDA
JDA
Casino story

"I strongly believe that ERP is a mistake in retail because these systems
favor data integration to the disadvantage of flexible processes.
Maybe one day big companies like SAP will get the knowledge and
expertise to deliver solutions that support the fast pace of retail, but
I don't see it in the short term and certainly not today"
J.L. Galzi – President of IT – Casino Group
PRO Project
• Everyone from the store to the warehouse will be in synch
with a single demand forecast based on sales
• Processes across the enterprise will be globalize to enable
more precisely drive inventory replenishment decisions and
strengthen the connection of the retailing disciplines
Enabling Customer Value
with Partners
Strategic
Partnerships
Systems & infrastructure
expertise
Sizing & benchmarking
Change
Management
Consulting and
Implementation
Partnerships
VAR
Integration
UCS Solutions
Smolan Group
Demand Soft
Strategix
Solteq
New markets
Geographic
Expansion
SAP for Retail
SAP Runs Real Time Retailing on SQL 2005
SAP Installations and Customers Q4 2004
Installation Growth
(Retail & Wholesale Distribution)
5.500
5.101
5.000
Customers
4.500
Installations
4.000
3.500
Productive
Installations
3.000
2.500
2.000
1.500
1.000
500
2.290
2.140
1.825 1.943
1.723
2.991
2.824
2.599
2.428
4.725
4.312
3.999
3.736
3.411
3.171
2.443
1.984
2.205
1.853
1.706
1.433
1.573
1.358
1.282
1.456 1.499
1.405
1.178
1.315
1.804
1.229
1.646
1.130
1.675
1.468
1.472
1.571
1.367 1.427
1.483
1.274 1.306
1.200
1.115 1.158
1.225
1.081
0
Q1 Q2 Q3 Q4 Q1 Q2 Q3 Q4 Q1 Q2 Q3 Q4 Q1 Q2 Q3 Q4
/01 /01 /01 /01 /02 /02 /02 /02 /03 /03 /03 /03 /04 /04 /04 /04
Source: ISP/CIS
reporting, not incl.
are the customer
types SAP internal, partner, -hardware
partner and -logo
partner.
SAP
An example of full integration:
Exposing SAP Process through Microsoft Office
Manhattan Product Overview
Manhattan Supported Platform
Current Platform
Future Platform
Warehouse Mgmt for
.NET / SQL / Windows
.NET / Windows 2003-2005/
Windows
2003
Webservices
IBM iSeries
Written in RPG, running on
Written in RPG, running on iSeries, OS/400,
iSeries, OS/400, B2/400
B2/400 – No change
J2EE-based largely
J2EE-based largely written in Java ported
written in Java with
back to DB2, Oracle, Yukon
Open Systems
some C++ ported back
to DB2, Oracle, SQL
Manhattan has embraced the .NET platform
Agenda

Retail Industry Background

Improving the Supply Chain

Microsoft Strategy for Improving the Supply Chain
 Impact
of GDS/RFID on optimizing Supply Chain
Industry: Moving Beyond Hype…
 Continued
momentum in
Retail/CPG
 Other industries following
 Progress on HW side:
Gen 2 ratification
 EPCGlobal as Int'l
Standard
 Getting
into Execution
"RFID, or radio-frequency
identification tags, has reduced outPhase
of-stock merchandise by 16 percent at the company's stores
that have begun to use the technology over the past 12 months,
Linda Dillman, WalMart's chief information officer, said at the
company's annual analyst meeting Wednesday. WalMart has
been able to restock RFID-tagged items three times as fast as
non-tagged items ... "
Why is RFID so Compelling ?
Operational Efficiencies
Total Supply Chain Visibility
Shrinkage, counterfeit
Wal-Mart - cases have to be
read 100 percent of the
time at 540 feet per minute
Security, Regulations
Right items
Right place
Right time
Key Scenarios for Retailers
Shrinkage and theft reduction
Eliminating out of stock situations
Promotions management
Vendor managed inventory
Fresh item management
Returns management …..and many more!
Retail Partners
Agenda
Summary
Retailers
are implementing
Microsoft
platform…..
JDA new
portfolio solutionon
at Meijer,
Casino
and HEB
SAP on SQL at Zale's Jewelry
House of Fraser, vendor managed inventory
RFID solution at Marks & Spencer
Ahold Global Data Synchronization
Delhaize Product Information Manager
Tesco-in-a box, complete SCM package
Ann Taylor USA – Merchandise management (Torex)
© 2005 Microsoft Corporation. All rights reserved.