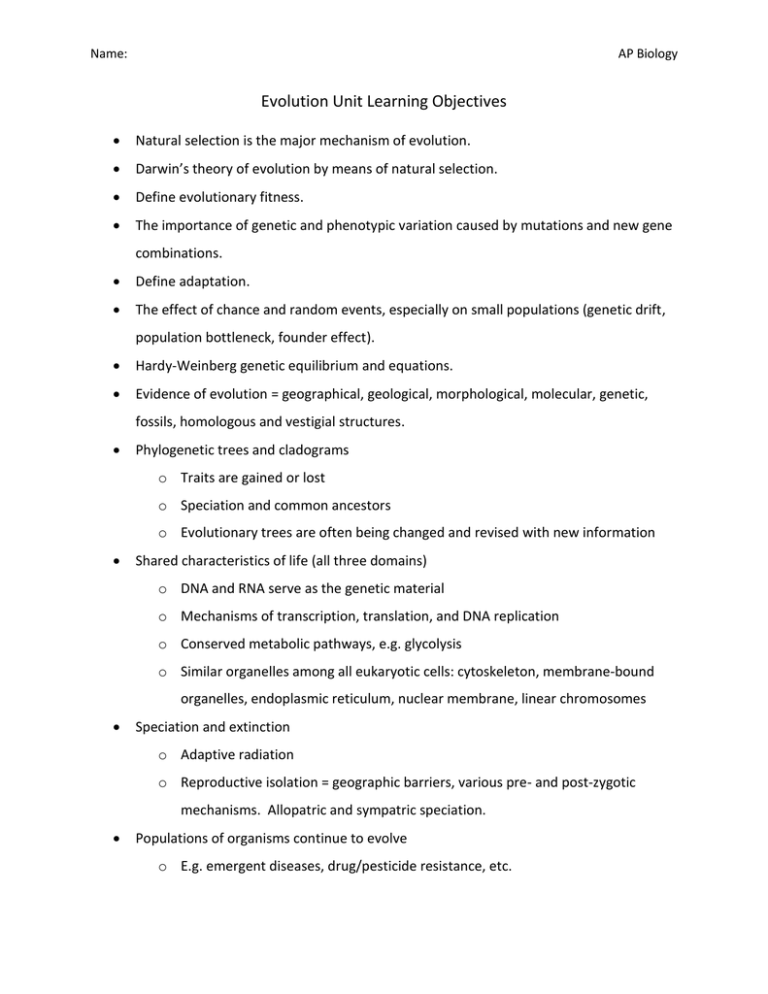 Name:
AP Biology
Evolution Unit Learning Objectives

Natural selection is the major mechanism of evolution.

Darwin's theory of evolution by means of natural selection.

Define evolutionary fitness.

The importance of genetic and phenotypic variation caused by mutations and new gene
combinations.

Define adaptation.

The effect of chance and random events, especially on small populations (genetic drift,
population bottleneck, founder effect).

Hardy-Weinberg genetic equilibrium and equations.

Evidence of evolution = geographical, geological, morphological, molecular, genetic,
fossils, homologous and vestigial structures.

Phylogenetic trees and cladograms
o Traits are gained or lost
o Speciation and common ancestors
o Evolutionary trees are often being changed and revised with new information

Shared characteristics of life (all three domains)
o DNA and RNA serve as the genetic material
o Mechanisms of transcription, translation, and DNA replication
o Conserved metabolic pathways, e.g. glycolysis
o Similar organelles among all eukaryotic cells: cytoskeleton, membrane-bound
organelles, endoplasmic reticulum, nuclear membrane, linear chromosomes

Speciation and extinction
o Adaptive radiation
o Reproductive isolation = geographic barriers, various pre- and post-zygotic
mechanisms. Allopatric and sympatric speciation.

Populations of organisms continue to evolve
o E.g. emergent diseases, drug/pesticide resistance, etc.