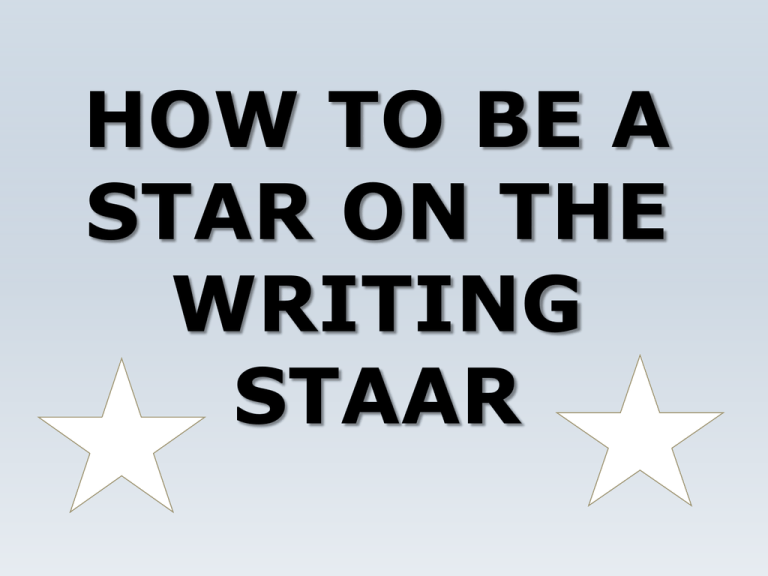 HOW TO BE A
STAR ON THE
WRITING
STAAR
HOW A STAR PREPARES FOR
STANDARDIZED TESTING
1. Get a good night's rest.
2. Eat a healthy breakfast.
3. Be positive.
4. Look over tips or notes at home.
5. Arrive early or on time to the testing
room.
TIPS FOR REVISING/EDITING
MULTIPLE-CHOICE SECTION
READ
ALL DIRECTIONS
Highlight key words, if needed.
ALL THE REVISING PASSAGES
Revising involves understanding
meaning.
ALL THE QUESTIONS
Punctuation is small, so look
carefully.
ALL THE ANSWER OPTIONS
Even if you like the first answer
option, make yourself read all of
them before making a choice.
FOCUS
ON YOUR WORK
Try to avoid looking around at
others.
ON EACH PASSAGE & ?s, then take break
Take a minute to have some water
or a nibble of snacks.
PACE
YOURSELF! It's a long test.
Plan 2 hours for revise/edit multiplechoice and 2 hours for the essay.
Watch the on-line timer projected in
your testing room. Take at least one
bathroom break to get your body
moving.
BUBBLE
AS YOU GO.
It is easier to make transfer errors
when you are doing all your
answers at one time. It is much
better to carefully bubble each
answer as you choose it instead of
waiting until the end.
DARKLY & NEATLY.
Make sure to not make stray
marks on the answer document
and to bubble each circle
completely.
EVERY ANSWER.
When you finish, take a sheet of
scratch paper and lay it
horizontally across the bubble
section. Carefully check, line by
line, to see that you have bubbled
an answer for every question.
TIPS FOR STAAR ESSAYS
READ THE PROMPT CAREFULLY.
Highlight the mode of writing:
Expository or Personal Narrative.
Then, highlight everything after the
word WRITE.
PLAN YOUR ESSAY OF GLORY.
Think of ideas (list, Quick Write,
sketch) and create a simple graphic
organizer.
DRAFT AN ESSAY.
Write your rough draft in the blank
spaces in the test booklet or on the
lined scratch paper.
REVISE/EDIT
YOUR ESSAY USING REFERENCES.
Use strategies to improve and correct
your draft while using a dictionary and
thesaurus.
PUBLISH
YOUR FINAL DRAFT IN THE 26-lined BOX.
Make sure to match up your
essay to the correct 26-lined
box. Do not skip lines. Write
your essay only in the box.
IN YOUR NEATEST PRINT OR CURSIVE.
What to Bring for
After the Test
You will remain in your testing room for a full four
hours. You will only leave for bathroom breaks or lunch.
Students must remain quiet and seated until the testing time
has finished. You are only allowed to do two things after you
turn in your test:
1. sleep
2. read
So, you should bring a
BOOK.
You should NOT BRING
A CELL PHONE OR OTHER ELECTRONICS.
THESIS STATEMENTS
1. State your topic and your point/opinion
about the topic.
2. Work best in the introduction.
3. Are used in expository and persuasive
writing.
4. Relate to the prompt.
Example:
Michael Jordan is a powerful role model
for me because of his accomplishments on
and off the court.
HOW TO CRAFT CONCLUSIONS
OF GLORY!
Thoughts. What are your thoughts on the
topic?
Reflection. What can you learn from this
information?
Importance. Why is the information
important?
Change. How could the information change
your future?
Knowledge. What is the benefit of knowing
this information?
EXPOSITORY
-WRITTEN AS AN ESSAY
TO INFORM & EXPLAIN
PERSONAL
NARRATIVE
-WRITTEN AS A STORY
TO SHARE AN
EXPERIENCE AND
CONNECT TO THE
READER
• Decorate and personalize your
test-tips booklet, and then turn
it into the appropriate drawer.
I will be returning the booklet
to you by Friday so that you
may look at it over the
weekend.
• It is a test-grade, so please pay
attention to the details.