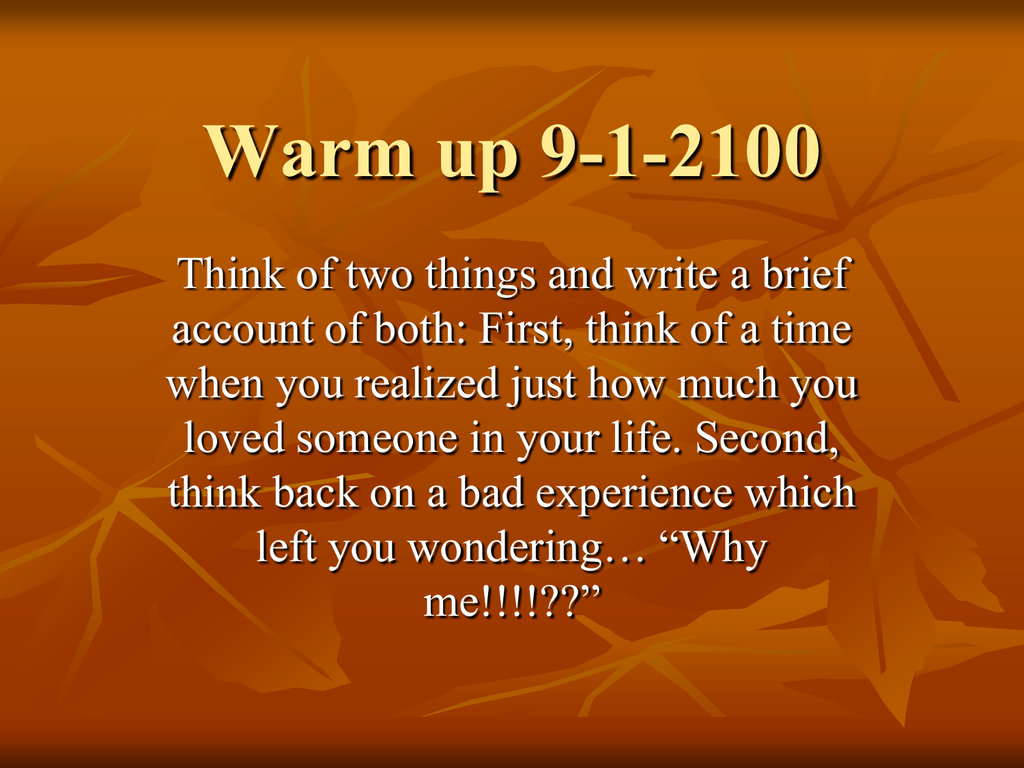 Warm up 9-1-2100
Think of two things and write a brief
account of both: First, think of a time
when you realized just how much you
loved someone in your life. Second,
think back on a bad experience which
left you wondering… "Why
me!!!!??"
Warm Up 9-2-2011
Looking back on your journal entry
from Tuesday, is it possible that one
supreme being could be responsible
for inspiring such different emotions?
Let's SALSA!





*Show actions that facilitate learning for the
self and others
*Actively participate and be cognitively
present
*Learn to be open to new learning
*Study even when you don't think you need to
study
*Act with a positive attitude
Some vocab you need &
Definitions

inverted syntax: reversal of the expected order of words.

iambic pentameter: a common meter in poetry
consisting of an unrhymed line with five feet or accents,
each foot containing an unaccented syllable and an
accented syllable (samples coming up)

archaic language: words that were once commonly used
in the past but are now considered old-fashioned
Guiding Question
How much do material things mean to
you?
Bradstreet Poetry



Author p76 and Background
"To My Dear and Loving Husband" is an
example of the Puritan belief that domestic
bliss was a blessing that came from God.
"Upon the Burning of our House" reveals
Bradstreet's struggle to reconcile herself
with a devastating material loss.
First, we need to discuss iambic pentameter
Iambic pentameter



Shakespeare's sonnets are written predominantly in a
meter called iambic pentameter, a rhyme scheme in
which each sonnet line consists of ten syllables. The
syllables are divided into five pairs called iambs or
iambic feet.
An iamb is a metrical unit made up of one unstressed
syllable followed by one stressed syllable. An
example of an iamb would be good BYE. A line of
iambic pentameter flows like this:
baBOOM / baBOOM / baBOOM / baBOOM /
baBOOM.
Here are some examples from the
sonnets:

When I / do COUNT / the CLOCK / that TELLS /
the TIME (Sonnet 12)

When IN / dis GRACE / with FOR / tune AND /
men's EYES/ I ALL / a LONE / be WEEP / my
OUT/ cast STATE (Sonnet 29)

Shall I / com PARE/ thee TO / a SUM / mer's
DAY?/ Thou ART / more LOVE / ly AND / more
TEM / per ATE (Sonnet 18)
Now, let's read Upon the burning
of Our House….
Now, read To My Dear and Loving
Husband, discuss with your
neighbor questions 6-8 on pg 80
then look back here for your
assignment.
Personal Poem

You will write a poem addressing the experiences
covered in Thursday's journal.

Choice A: This poem will be a minimum of 12
lines long, in iambic pentameter, as a tribute to
someone important in your life.

Choice B: The second poem will be a minimum of
12 lines long, written in iambic pentameter,
attempting to explain a bad experience.
Closure
Let's discuss the importance of using
literature to help explain what often seems
to be an incomprehensible concept: the
belief that one God can be responsible for
both good and bad things in one's life.
Homework


Complete poetry assignment
Due on Tuesday, September 6, 2011!