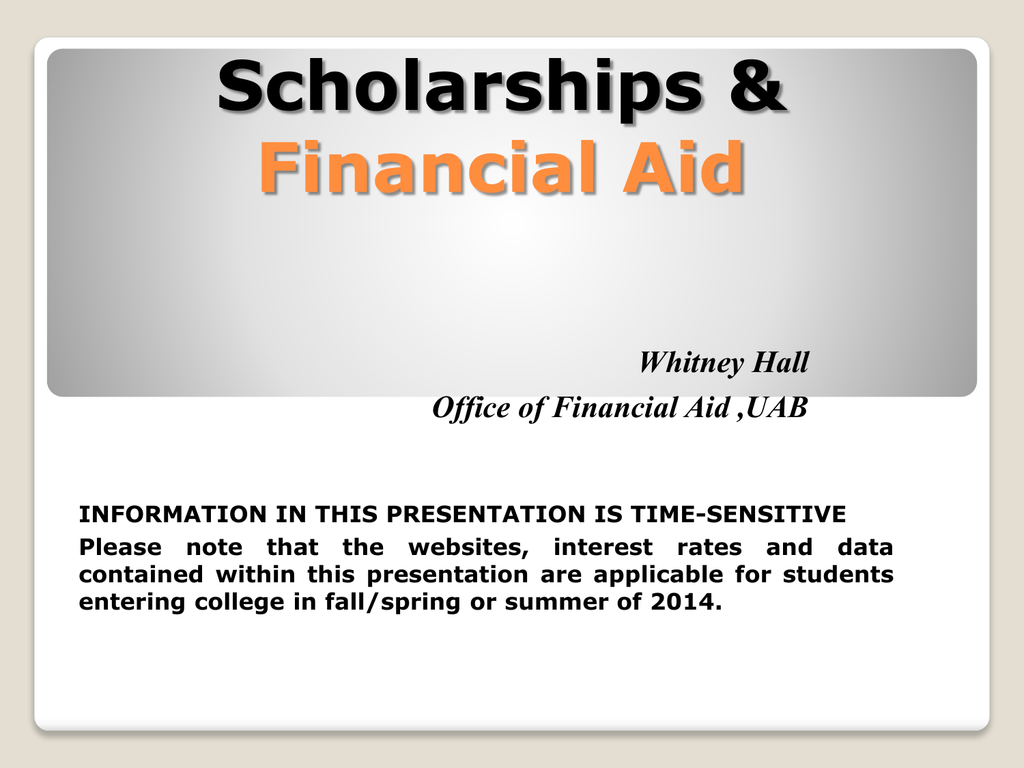 Scholarships &
Financial Aid
Whitney Hall
Office of Financial Aid ,UAB
INFORMATION IN THIS PRESENTATION IS TIME-SENSITIVE
Please note that the websites, interest rates and data
contained within this presentation are applicable for students
entering college in fall/spring or summer of 2014.
SHOW ME THE MONEY!
 Where
should I look for
scholarships?
 What is Financial Aid?
 What is the FAFSA?
 What are the different types of
aid?
 Who can I talk to?
Start By Researching!
 Know EACH individual institution's scholarship
and financial aid criteria.
 Know about the scholarship/financial aid
deadlines for EACH school you apply to.
 Know the cost of attendance (COA) for EACH
institution.
 Know what you can afford.
Research (continued)

Outside scholarships sites:
FastWeb.com
CollegeBoard.org
Petersons.com
CollegeScholarships.org





Local scholarships and loans
Ask your guidance counselor
Check with student and parent employer(s)
Civic Organizations
Credit Unions (they sometimes have very
competitive interest rates on loans)
Research (continued)

Research scholarships and loans nationally.
Special Interest Funds (i.e. Diabetes
Scholars Fund, Food Allergy and
Anaphylaxis Network, Coca-Cola
Foundation, Bill & Melinda Gates
Foundation)
AmeriCorps– offers funding in exchange
for community service
Federal Student Aid
USE GOOGLE (wisely)!!
Scholarships at UAB

Entering freshman are automatically
considered for all university-wide
academic scholarships as soon as they're
admitted.

To be eligible for an academic scholarship
at UAB, you must be admitted by
December 1st of the prior year.
What is the FAFSA?
To be eligible for Federal Financial Aid
(Pell Grant, SEOG, Perkins, Direct
Stafford Loans and work-study), you
MUST complete a FREE APPLICATION
FOR FEDERAL STUDENT AID (FAFSA)
Every FAFSA applicant is assigned an "EFC" or
"Expected Family Contribution" by the Department of
Education for Colleges/Universities to use when
awarding Pell.
What is the FAFSA ? (continued)
Complete a FAFSA every year, even if
you think you don't qualify for federal aid.
 Upon completion, you will later receive an
award letter from the college(s) listed on
your application, giving amounts and
types of loans/grants in your package.


If necessary, you can make changes to an
already submitted FAFSA by going back to the
website.
What is the FAFSA? ( continued)
For the 2013-2014 school year, online
applications must be submitted by June
30, 2014.
 For the 2014-2015 school year, you may
begin completing a FAFSA as early as
February, 2014.
 The IRS Data Retrieval Tool is available for
students and parents who have filed a
2013 federal income tax return.

FAFSA
4Caster
Not ready to complete the REAL thing just
yet? FAFSA4Caster is available for anyone
who is not ready to file a FAFSA but would
like to get an estimate of eligibility in
financial aid.
 FAFSA4Caster is a FREE planning tool,
NOT an actual application.
 www.federalstudentaid.ed.gov

Different Types of Aid

Loans
◦ Direct Subsidized Stafford loans
The interest on a subsidized loan is paid by the
government while you are in school and in periods
of deferment . Interest rate is fixed at 3.86%
◦ Direct Unsubsidized Stafford Loans
An Unsubsidized Stafford Loan is a federal loan
that is not based on financial need. Interest will
accrue from the time the loan is disbursed to the
school. You do not have to make interest or
principal payments until six months after
graduation, or six months after you drop below a
half time status. Interest rate is fixed at- 3.86%
(accrues monthly).
Different Types of Aid

Direct Plus Loan ( Parent Plus loan)
◦ Direct Plus Loans are low-interest loans for students and
parents to help pay for the cost of education. The
interest rate is fixed at 6.41%.

Private Loan
◦ Private loans are offered by private lenders and there are
no federal forms to complete. Eligibility for private
student loans often depends on your credit score.

Institutional Loan
◦ Loans offered by the College or University you attend
(Perkins). There are no loan fees for Perkins loans.
Different Types of Aid

Pell Grants
Most families do not qualify for PELL grants.
Students with a low EFC (estimated family
contribution) are eligible for Pell. Do not be
discouraged if you do not qualify for the Pell grant.
 Minimum PELL award amount to receive in a
year is $605
 Maximum PELL award amount is $5645
Different Types of Aid

SEOG Grants

Work Study
Supplemental Educational Opportunity Grant (SEOG) is
also a need-based program; priority for SEOG funds
goes to students who also qualify for Pell.
Federal Work Study provides part-time employment for
eligible undergraduate and graduate students. Federal
Work-Study is based on "demonstrated need" Why??
Because the salary is paid by both federal government
sources (75%) AND from college/university resources
(25%)
Loan Re-payment & Deferment
Repayment on BOTH types of Stafford
loans begins 6 months after the student
is no longer enrolled at least ½ time or
upon graduation.
 The standard repayment plan is a fixed
monthly payment for up to 10 years.
 Other repayment options are listed at
www.direct.ed.gov.

Loan Re-payment & Deferment

A deferment is a postponement of payment on
a loan, during which interest does not accrue if
the loan is subsidized.

Most student are automatically in deferment
while enrolled at least half time at a eligible
postsecondary school or studying full time in a
graduate fellowship program or an approved
disability rehabilitation program; unemployed or
meet certain criteria for economic hardship
(limited to 3 years).
Who Can I Talk To?

Your High School Guidance Counselors…Mrs.
Berryhill, Mr. Keel, and Ms. Knight! 

An Admissions Counselor at the college of
choice.

A Financial Aid Counselor at the college of
choice.

Your PARENT(S)!
Websites to Remember
www.fafsa.gov
www.direct.ed.gov
www.federalstudentaid.ed.gov
QUESTIONS???