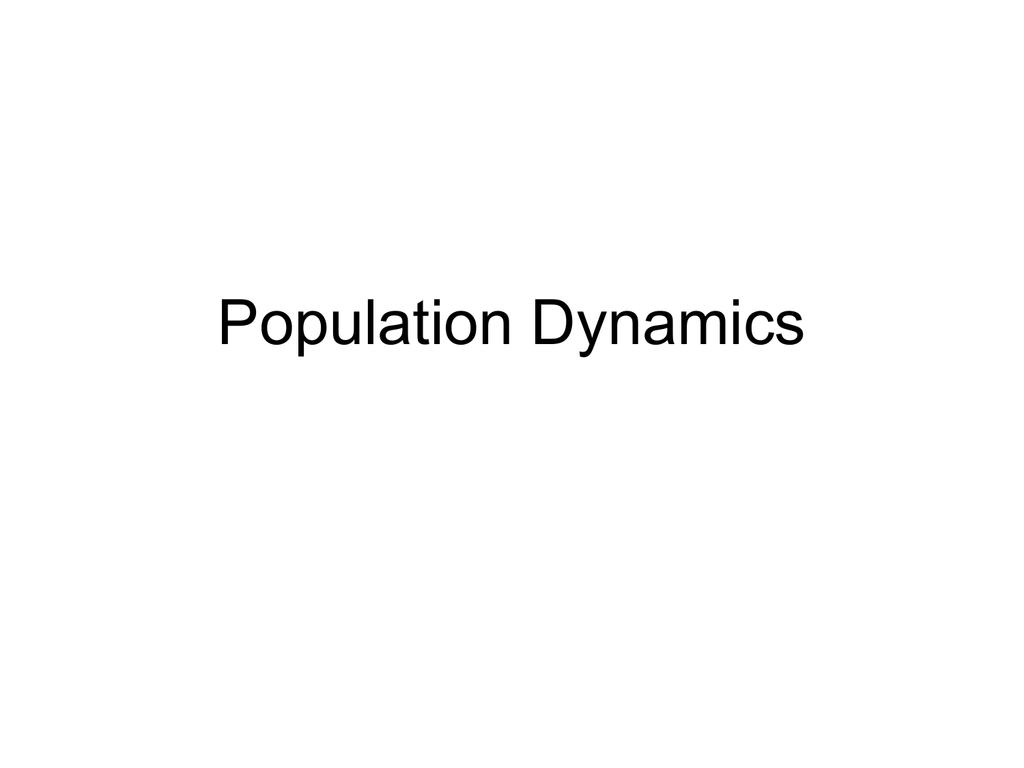 Population Dynamics
Population Dynamics
• Review: What is a population?
Group of organisms of the same
species that occupy the same
geographic place at the same time
Populations are described by density,
distribution, and growth rate
• Population Density: number of organisms
area
per unit ________
NASA 1994
Spatial Distribution
spacing of a
• Dispersion: the pattern of _________
population within an area
• 3 types
– Uniform: Organisms equal distance apart
– Clumped: Organisms gathered in a certain area
– Random Organisms appear to be spaced out at
random
Growth Rate- explains how fast a given
population grows
• Factors affecting the size of a population
– Births:
– Deaths:
New organisms are produced
End of an organism's life
– Immigration:
– Emigration:
into a
Movement of individuals ______
population from another population
out of a
Movement of individuals _____
population and into another
population
• When a population is declining, what two
factors are likely outpacing the other two
factors?
Emigration and Death
Population Growth is based on
available resources
• When resources are abundant, a
population has the opportunity to grow
rapidly
_________
• This is called
exponential
__________
growth
J-shaped curve
resources
• Most populations face limited _________
logistic
and show _________
growth
• Carrying Capacity is the
number of individuals
that the resources in
the _____________
environment
can normally support
S-shaped curve
Reproductive Patterns
• Other factors need to be considered such
births
as number of ________
per reproductive
cycle, ______
age reproduction begins, _____
life
span of the organism,…
• Plant and animals are placed into groups
based on their __________
reproductive factors
r-strategists
K-strategists
Life span
short
Long
# of offspring
many
Few
Body size
small
Large
Development
short
Long
Reproduction
begins
Early in life
Late in life
Survivorship curves tell
___________
us something about how
long individuals survive
in a population
Type I survivorship curves are for
species that have a high survival
rate of the young, live out most of
their expected life span and die in
old age. Humans are a good
example of a species with a Type
I survivorship curve.
Type III survivorship curves are found in
species that have many young, most of
which die very early in their life. Plants,
oysters and sea urchins are examples of
species that have Type III survivorship
curves
Type II survivorship curves are for
species that have a relatively
constant death rate throughout
their life span. Death could be
due to hunting or diseases.
Examples of species exhibiting a
Type II survivorship curve are
coral, squirrels, honey bees and
many reptiles.