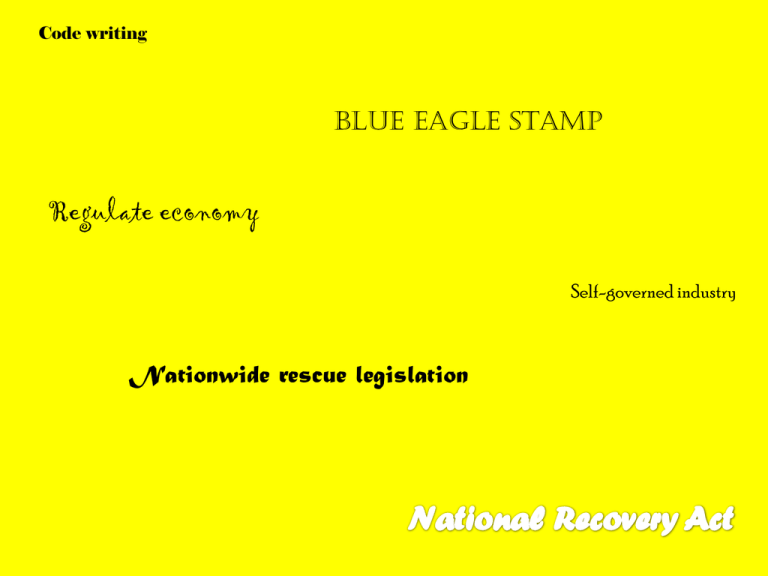 Code writing
Blue Eagle Stamp
Regulate economy
Self-governed industry
Nationwide rescue legislation
National Recovery Administration
TWO GOALS: Create fair practices in industry by:
1. Setting prices of goods.
2. Setting minimum wages for workers.
CONTROVERSIAL: Violated the Free-Enterprise
System.
Business owners abused it.
Civilian Conservation Corps
Work Camps
Young Men
Reforestation
Road
Construction
Unemployment
Relief
Civilian Conservation Corps
3 million men between the ages of
18-25.
WORK DONE: Plant trees, build roads,
build parks, build bridges, flood
control.
Overwhelming SUCCESS: Improving
the lives of workers and fixing the
environment.
• Federally Owned
• Modernize Agrarian Society
• Very Controversial
• Electricity
• Dams, Energy Plants
TVA, Tennessee Valley Authority
Tennessee Valley Authority
WHY? Half of the people in the Tennessee Valley
were in poverty. Deforestation and flooding had left
the land infertile.
What did this do? Would produce and sell cheap
electric power, control floods, replant forests, etc.
OVERWHELMING SUCCESS, but controversial
because critics said it "reeked of Socialism."
What Am I?
Immediate Relief
Rose Prices
Destroyed Goods
Parity Pricing
Farmers
Agricultural Adjustment
Administration
Agricultural Adjustment Act
The AAA sought to raise crop prices by lowering
production.
Overproduction- The government paid farmers to NOT
farm land, and to plow over crops.
Falling prices- By decreasing the surplus of farm
goods, the government raised the prices of goods
sold.
Provide Jobs
Economic Stimulus
American Industry
Public Welfare
Public Construction
Public Works Administration
Public Works Adminstration
WORK DONE: Large scale engineering projects,
like highways, bridges, power plants, and dams.
ACCOMPLISHMENTS: Golden Gate Bridge, Hoover
Dam, Grand Coulee Dam.
DIFFERENCES: THE CWA was all about relief and
getting money in peoples' pockets. The PWA was
about providing work and ALSO helped encourage
recovery.
Critics speak…
American Liberty League "You've gone too far."
Rev. Townsend - "Needy people still aren't being helped."
Huey Long – "Let's take money from the wealthy and
divide it amongst everybody."
Upton Sinclair and Huey Long getting their way
Employers and employees working together
Excluded farmers and domestic workers
Unemployment help- better lose a job first
Old age pension
SSA (Social Security Act)
Social Security Act
• Senior Citizens
• Unemployed People
• Families with dependent children
"Old Age Insurance" Half from workers and Half from employers
Unemployment checks come from a tax on Employers.
•
•
•
•
•
Glass-Steagall Act
Government oversight
Trust in banks
Insured money
Banking Act
Federal Deposit Insurance Corporation
FDIC
The government will insure any bank accounts up to $5,000 then and
$100,000 now.
Hoped to boost the confidence people had in banks and encourage
them to get their money back in the banks.
1.
2.
3.
4.
5.
1935
Magna Carta for labor
Trade union
Collective bargaining
AKA Wagner Act
National Labor Relations Act
The Wagner Act is the most significant law ever passed
in the history of the Labor movement.
Government backing of your ability to join a union AND
bargain with your boss for improvements.
1. Commerce
2. Employee
3. Time-and-a-half
4. Child Labor
5. Minimum Wage
Fair Labor Standards
Act
The Fair Labor Standards Act creates Federal laws
that provide better working conditions for most
laborers in the country.
OVERTIME, LIMITED HOURS, MINIMUM WAGE.