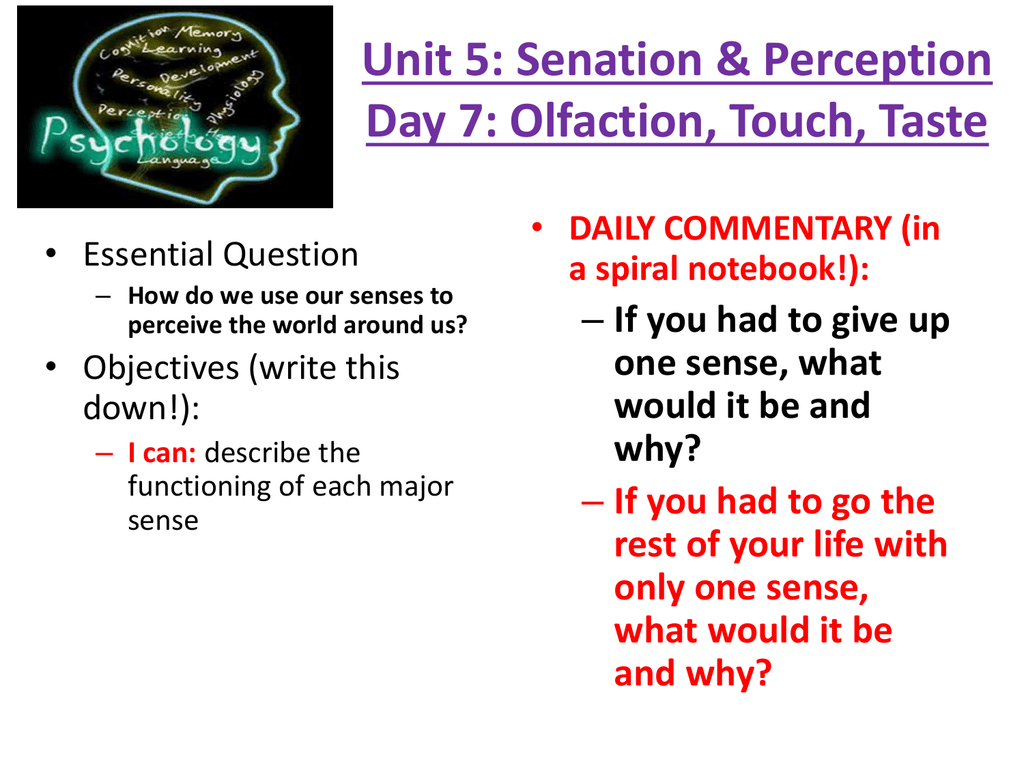 Unit 5: Senation & Perception
Day 7: Olfaction, Touch, Taste
• Essential Question
– How do we use our senses to
perceive the world around us?
• Objectives (write this
down!):
– I can: describe the
functioning of each major
sense
• DAILY COMMENTARY (in
a spiral notebook!):
– If you had to give up
one sense, what
would it be and
why?
– If you had to go the
rest of your life with
only one sense,
what would it be
and why?
Unit 5: Senation & Perception
Day 7: Olfaction, Touch, Taste
• Today:
– DC
– Notes
– Discovering Psycholgy
Video
– Work Time
• SUBMIT:
– RJ 5.5, 5.6, 5.7; and any
late work
• Over the Break:
– Finish Sensation Book
– Sensation/Perception
vocab cards
– RJ 5.8
Skin Senses
Only pressure has identifiable receptors. All other
skin sensations are variations of pressure, warmth,
cold and pain.
Pressure
Burning hot
Vibration
Vibration
Cold, warmth and pain
3
Pain
Pain tells the body that something has gone wrong.
Usually pain results from damage to the skin and
other tissues. A rare disease exists in which the
afflicted person feels no pain.
AP Photo/ Stephen Morton
Ashley Blocker (right) feels neither pain
nor extreme hot or cold.
4
Gate-Control Theory
Melzak and Wall (1965, 1983) proposed that our
spinal cord contains neurological "gates" that
either block pain or allow it to be sensed.
Gary Comer/ PhototakeUSA.com
5
Pain Control
Pain can be controlled by a number of therapies
including, drugs, surgery, acupuncture, exercise,
hypnosis, and even thought distraction.
Todd Richards and Aric Vills, U.W.
©Hunter Hoffman, www.vrpain.com
6
Taste
Traditionally, taste sensations consisted of sweet,
salty, sour, and bitter tastes. Recently, receptors for
a fifth taste have been discovered called "Umami".
Sweet
Sour
Salty
Bitter
Umami
(Fresh
Chicken)
7
Smell
Like taste, smell is a chemical sense. Odorants
enter the nasal cavity to stimulate 5 million
receptors to sense smell. Unlike taste, there are
many different forms of smell.
8
Smell and Memories –
Olfactory Memory
The brain region for
smell (in red) is closely
connected with the
brain regions involved
with memory (limbic
system). That is why
strong memories are
made through the sense
of smell.
9
Sensory Interaction
When one sense affects another sense, sensory
interaction takes place. So, the taste of strawberry
interacts with its smell and its texture on the
tongue to produce flavor.
10
Age, Gender, and Smell
Ability to identify smell peaks during early
adulthood, but steadily declines after that. Women
are better at detecting odors than men.
11
Body Position and Movement
The sense of our body parts' position and
movement is called kinesthesis. The vestibular
sense monitors the head (and body's) position.
Bob Daemmrich/ The Image Works
http://www.heyokamagazine.com
Whirling Dervishes
Wire Walk
12
Discovering Psychology Video
•
•
•
•
Take notes
3 things you learn from the video
2 questions you have
1 thing that surprised you
Develop a Free Response Question
• Work with a partner
– Must use 6-8 terms from this unit
– Must include instructions for the FRQ
– Must include a grading rubric that explains what
information must be included in order for students to
score the point for each term
• Google: "AP Psychology free response questions"
to get a model of what the rubric should look like
Exit Pass (in DC notebook)
• What is olfactory memory and why does it
happen?