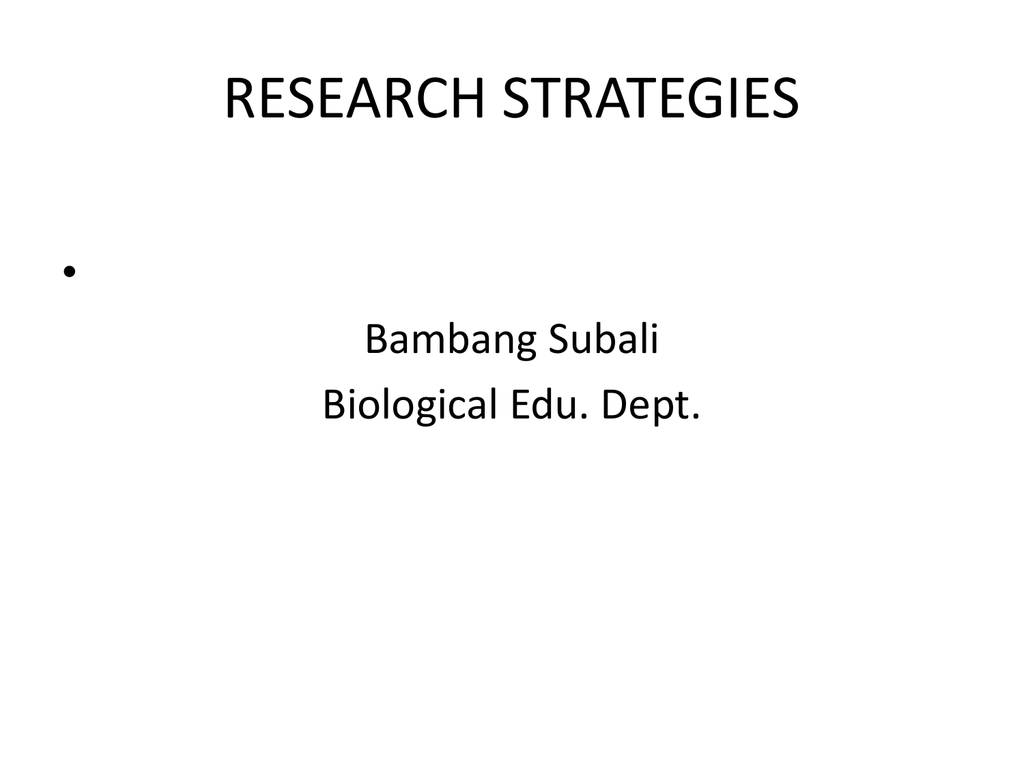 RESEARCH STRATEGIES
•
Bambang Subali
Biological Edu. Dept.
Research purposes
(Kirk, R,E (1995). Experimental design: Procedures for the behavioral
sciences. Pacific Grove: Brooks Cole Publishing Company)
•
•
•
•
To explore
To describe or classify
To establish relationship, and
To establish causality
Research strategies
1. Survey  rely on the technique of self-report
to obtain information about such variables 
as people's attitudes, opinions, behaviors, and
demographic characteristics
The data are collected by means of an
interview or a questionnaire.
Biology  only in applied biology).
2. Case study
In social science  observes selected aspects of a subject's
behavior over a period of time. often the subject possesses an
unusual or noteworthy condition. (example: Jean Piaget's
theory of intellectual development, evolved from his intensive
observation of his own three children. He presented tasks in a
nonstandard manner to one child at a time in informal settings
and observed the child's verbal and motor responses. Piaget did
not attempt to systematically manipulate preselected
independent variables nor did he focus on just one or two
dependent variables. Instead, his approach was quite flexible,
which allowed him to alter his procedures and follow up on
new hypotheses.. His flexible case study approach uncovered
knowledge about children's cognitive development that might
not have been discovered by a more rigid experimental
approach
In biology?
3. Naturalistic observation
* involves observing individuals or events in
their natural setting without using
manipulative intervention s or measuring
techniques that might intrude on the setting.
* a passive form of research in the sense that
the individual being observed determines the
events that are available to be recorded 
an unobtrusive recorder of the ongoing event.
* focus on only a finite number of event and
decisions must be made concerning the
events that will be observed.
Example:
• Charles Darwin's voyages on the HMS Beagle
as compiled the data that led to the theory of
evolution
• Jane Goodall's (1971, 1986) study of
chimpanzees in their natural habitat in
Tanzania, which gave us a new appreciation
for this highly social animal.
4. EX POST FACTO:
* AFTER –THE-FACT-STUDY  REFERS TO ANY
NONEXPERIMENTAL RESEARCH STRATEGY IN WIHICH
SUBJECTS ARE SINGLED OUT BECOUSE THEY HAVE
ALREADY BEEN EXPOSED TO A PARTICULAR
CONDITION OR BECAUSE THE EXHIBIT A PARTICULAR
CHARACTERISTIC.
* DOESN'T MANIPULATE THE INDEPENDENT VARIABLE
OR ASSIGN THE RESEARCH UNIT TO THE
EXPERIMENTAL CONDITIONS.
A. RETROSSPECIVE STUDIES
1. HISTORICAL COHORT STUDIES  HISTORICAL
RECORDS TO LOOK BACKWARD IN TIME  ONE IND.
VAR AND MORE THAN ONE DEP. VAR
2. CASE-CONTROL STUDIES OR CASE-REFERENCE
GROUP  RECORDS ARE USED TO IDENTITY TWO
GROUPS OF SUBJECTS: THOSE WHO HAVE AND
THOSE WHO HAVE NOT BEEN EXPOSED TO THE
INDEPENDENT VARIABLE  THOSE WHO EXHIBIT
EVIDENCE OF THE DEPENDENT VARIABLE, CALLED
CASES, AND THOSE WHO DO NOT, CALLED
CONTROLS  MANY IND.VAR AND ONE DEP. VAR
Example of Retrospective cohort study/a historical
cohort study
Health effect of ionizing radiation came from studying
person exposed to the World War II bombings of
Hiroshima & Nagasaki
McMichael, Spirtas, and Kupper's (1974) study of
workers in the rubber industry. Employment records
were used to identify 6678 workers who were alive on
January r, rs6a. The mortality experience of these
workers over the following nine-year period, compared
with the mortality experience of persons in the same age
and sex categories in the U.S. population  found that
the rubber workers had much higher death rates from
cancer of the stomach, prostate, and hematopoietic
tissues
EXAMPLE OF CASE-CONTROL STUDIES OR CASEREFERENCE GROUP
• IDENTIFY THE KIND OF FACTORS INFLUENCE
ON THE GROUND VEGETATION
PERFORMANCE AT THE FOREST FLOOR OF
SOME STAND
• IDENTIFY FACTORS INFLUENCE ON THE
GRASS COMMUNITY PERFORMANCE AT
SOME LAND BASED ON ITS SOIL TYPE
b. PROSPECTIVE STUDIES
1. FOLLOW-UP STUDIES ATAU LONGITUDINAL
STUDIES ATAU COHORT STUDY  STUDI
TERHADAP AKIBAT YANG AKAN DITIMBULKAN
SETELAH ADA OBJEK YANG
TERPAPAR/TEREKHIBISI OLEH SUATU KEADAAN
 DIVERSITY LEVEL OF GRASS COMMUNITY
AFTER MERAPI ERUPTION
2. CROSS-SECTIONAL STUDIES  STUDI TERHADAP
KELOMPOK-KELOMPOK YANG MENGALAMI
PERBEDAAN EKHIBISI UNTUK DILIHAT
DAMPAKNYA KEMUDIAN  DIFFERENT OF
DIVERSITY LEVEL ON SOME LOCATION AFTER
MERAPI ERUPTION
B. PROSPECTIVE STUDIES
1. PROSPECTIVE STUDY, A FOLLOW-UP STUDY, OR LONGITUDINAL
STUDY, OR COHORT STUDY : THE INDEPENDENT AND
DEPENDENT VARIABLES ARE OBSERVED AFTER THE ONSET OF
THE INVESTIGATION. THE TERM LONGITUDINAL STUDY REFERS
TO THE SAME INDIVIDUALS ARE OBSERVED AT TWO OR MORE
TIMES. USUALLY THE TIME INTERVAL BETWEEN OBSERVATIONS
IS FAIRLY LONG. FOR EXAMPLE, IN THE FRAMINGHAM STUDYMENTIONED EARLIER, SUBJECTS WERE EXAMINED AT TWOYEAR INTERVALS FOR MORE THAN 30 YEARS IN AN ATTEMPT
TO IDENTIFY FACTORS RELATED TO CARDIOVASCULAR DISEASE.
2. A CROSS-SECTIONAL STUDIES  TWO OR
MORE COHORTS ARE OBSERVED AT THE SAME
TIME. AS USED HERE, A COHORT DENOTES A
GROUP HAVE EXPERIENCED A SIGNIFICANT
EVENT DURING A GIVEN TIME INTERVAL-SAY, A
CALENDAR YEAR OR A DECADE. THE
NEWBURGH-KINGSTON CARIES-FLUORINE STUDY
MENTIONED EARLIER INVOLVED SEVERAL
COHORT COMPARISONS: CHILDREN LIVING IN
NEWBURGH VERSUS THOSE LIVING IN KINGSTON
AND 6– TO 9- YEARS-OLDS VERSUS OLDER OLDER
CHIIDREN.
EXPERIMENT
• TO TEST A HYPOTESIZED RELATIONSHIP BETWEEN
AN INDEPENDENT VARIABLES AND A DEPENDENT
VARIABLE BY MANIPULATING THE INDEPENDENT
VARIABLE.
• CHARACTERIIED BY THE (1) MANIPULATION BY THE
RESEARCHER OF ONE OR MORE INDEPENDENT
VARIABLES, (2) USE OF CONTROLS SUCH AS THE
RANDOM ASSIGNMENT OF SUBECTS TO
EXPERIMENTAL CONDITIONS TO MINIMIZE THE
EFFECTS OF NUISANCE VARIABLES, AND (3)
CAREFUL OBSERVATION OR MEASUREMENT OF ONE
OR MORE DEPENDENT VARIABLES
• TRUE EXPERIMENT: PERMITS A HIGH DEGREE OF
CONTROL OF NUISANCE VARIABLE.
.