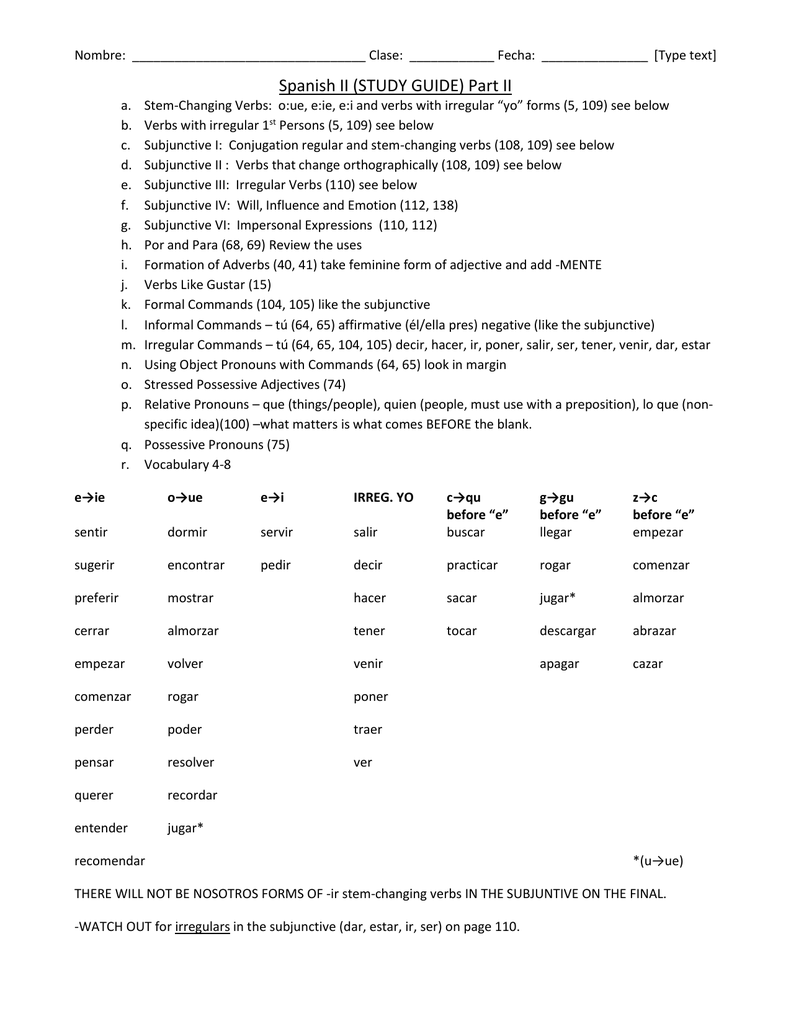 Nombre: _________________________________ Clase: ____________ Fecha: _______________ [Type text]
Spanish II (STUDY GUIDE) Part II
a.
b.
c.
d.
e.
f.
g.
h.
i.
j.
k.
l.
m.
n.
o.
p.
Stem-Changing Verbs: o:ue, e:ie, e:i and verbs with irregular "yo" forms (5, 109) see below
Verbs with irregular 1st Persons (5, 109) see below
Subjunctive I: Conjugation regular and stem-changing verbs (108, 109) see below
Subjunctive II : Verbs that change orthographically (108, 109) see below
Subjunctive III: Irregular Verbs (110) see below
Subjunctive IV: Will, Influence and Emotion (112, 138)
Subjunctive VI: Impersonal Expressions (110, 112)
Por and Para (68, 69) Review the uses
Formation of Adverbs (40, 41) take feminine form of adjective and add -MENTE
Verbs Like Gustar (15)
Formal Commands (104, 105) like the subjunctive
Informal Commands – tú (64, 65) affirmative (él/ella pres) negative (like the subjunctive)
Irregular Commands – tú (64, 65, 104, 105) decir, hacer, ir, poner, salir, ser, tener, venir, dar, estar
Using Object Pronouns with Commands (64, 65) look in margin
Stressed Possessive Adjectives (74)
Relative Pronouns – que (things/people), quien (people, must use with a preposition), lo que (nonspecific idea)(100) –what matters is what comes BEFORE the blank.
q. Possessive Pronouns (75)
r. Vocabulary 4-8
e→ie
o→ue
e→i
IRREG. YO
salir
c→qu
before "e"
buscar
g→gu
before "e"
llegar
z→c
before "e"
empezar
sentir
dormir
servir
sugerir
encontrar
pedir
decir
practicar
rogar
comenzar
preferir
mostrar
hacer
sacar
jugar*
almorzar
cerrar
almorzar
tener
tocar
descargar
abrazar
empezar
volver
venir
apagar
cazar
comenzar
rogar
poner
perder
poder
traer
pensar
resolver
ver
querer
recordar
entender
jugar*
recomendar
*(u→ue)
THERE WILL NOT BE NOSOTROS FORMS OF -ir stem-changing verbs IN THE SUBJUNTIVE ON THE FINAL.
-WATCH OUT for irregulars in the subjunctive (dar, estar, ir, ser) on page 110.