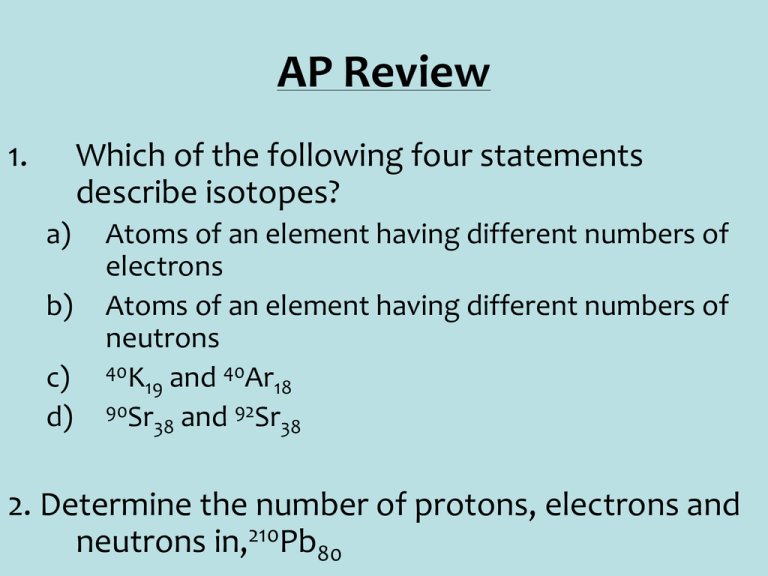 AP Review
1.
Which of the following four statements
describe isotopes?
a)
b)
c)
d)
Atoms of an element having different numbers of
electrons
Atoms of an element having different numbers of
neutrons
40K and 40Ar
19
18
90Sr and 92Sr
38
38
2. Determine the number of protons, electrons and
neutrons in,210Pb80
AP Review
3. Neon has three isotopes of masses 22, 21 and
20. If the isotopes have the abundance 8%, 2%
and 90% respectively, what is the average
relative atomic mass of neon?
Review
4. What are the formulae for the following ionic
compounds?
a)
b)
c)
d)
e)
f)
Ammonium nitrate
Copper (II) bromide
Copper (I) bromide
Zinc hydrogensulfate
Aluminum sulfate
Sodium perchlorate
Review
5. Write formula or names for the following
molecular compounds.
a)
b)
c)
d)
e)
Dinitrogen tetroxide
N2O5
PCl3
Phosphorous pentachloride
SF6
Review
6. Write the electronic configuration of the
following elements using the noble gas
core method.
a)
b)
Cu
Ca 2+
Review
7. A hydrocarbon (a compound containing only
hydrogen and carbon) has the following
composition by mass, hydrogen 7.69% and
Carbon 92.31%. Calculate its empirical
formula.
8. The same compound as in question 7 has a
molar mass (RMM) of 26, what is the
molecular formula?
Review
9. A 8.512g sample of copper (II) sulfate pentahydrate
is dissolved in 500mL of water. A 25mL portion
completely reacts with 20cm3 of a 0.1702 M
solution of iodide ions. In what ratio do Cu2+ and lreact?
10. Calculate the molality of a sulfuric acid solution
containing 48.8 g of sulfuric acid in 1980 g of
water.
11. Calculate the volume of 3.25M nitric acid that must
be diluted with water to produce 500mL of 1.25M
nitric acid.
Review
• 12. When caffeic acid is analyzed by combustion
analysis, a 0.300 g sample produces 0.6595 g CO2 and
0.1200 g H2O. Caffeic acid contains only carbon,
hydrogen, and oxygen. What is the empirical formula
of caffeic acid?
• 13. Nitrobenzene contains C, H, N and O. A 0.286 g
sample gives 0.614 g CO2 and 0.105 g H2O when
combusted. In another experiment, 0.358 g sample of
nitrobenzene yields 0.0495g of NH3. What is the
molecular formula of nitrobenzene? (Assume RMM of
nitrobenzene is 123 g/mol and in the second
experiment all nitrogen present in the nitrobenzene is
converted to NH3).
Review
14. Samples of the following hydrates are
weighed, heated to drive off the water of
crystallization, cooled and reweighed until
constant mass is achieved. Calculate the
values of a-c.
a) 8.69g of CuSO4.aH2O left a residue of 5.56g
b) 11.73g of CoCl2.bH2O left a residue of 6.41g
c) 18.86g of CaSO4.cH2O left a residue of
14.92g
Review
15. 5.9g of aspirin, C9H8O4, are made from
5.0g of 2-hydroxybenzoic acid, C7H6O3, and
7.5g of ethanoic anhydride, C4H6O3. The
reactants react in a 1:1 ratio to form 1 mole of
aspirin. Calculate the percentage yield of
aspirin.
Review
• 16. Predict if a reaction takes place between
the following solutions. If it does, write a net
ionic equation for the reaction.
• LiOH(aq) + MgCl2(aq)
• BaS(aq) + NiSO4(aq) 
• (NH4)2SO4(aq) + ZnCl2(aq)
• AlCl3(aq) + NaOH(aq)
Review
17. What is the oxidation number of each of
the atoms listed in the following species?
a)
b)
c)
d)
e)
Carbon in CO2
Oxygen in NaO2
Nitrogen in NH4+
Barium in BaF2
Aluminum in AlF63-
Review
18. Write half-equations for the following
redox reactions and use them to balance
the full equations.
•
IO3- + I-  I2
Review
19. 3.335g of iodine and some potassium
iodide were dissolved in 200cm3 of water.
(The iodide ions are there simply to help the
iodine dissolve—they are not involved in the
reaction at all). A 20.0 cm3 portion of this
solution is reacted with 17.7 cm3 of sodium
thiosulfate solution. Calculate the
concentration of the thiosulfate solution.
2Na2S2O3(aq) + I2(aq)  2NaI(aq) + Na2S4O6(aq)
Review
20. Consider the following successive ionization energies
(kJ/mol) of element X.
1st
737
2nd
1450
3rd
7732
4th
10540
5th
13360
6th
17995
What is the most likely formula of X's chloride?
Why is the value for the 2nd ionization energy greater than the
1st?
Review
21.Arrange the following species in order of
increasing size.
Ar, K+, Ca2+, S2-, Cl-
Review
22. Draw Lewis structures clearly indicating the
arrangement of outer electrons, the
overall shape and the bond angles of the
following species:
• PCl6• ICl3
• BrF5
Review
23. Calculate the standard enthalpy change in
the reaction below, given the standard
enthalpies of formation of lead (II) oxide,
carbon monoxide and carbon dioxide are
-219, -111 and -394kJmol-1, respectively.
PbO(s) + CO(g)  Pb(s) + CO2(g)
Review
24. Use Bond energies to calculate the standard
enthalpy of the reaction
CH2=CH2 + H2  CH3CH3
25. 7.82g of compound Y in 299g of benzene causes
its freezing point to drop by 1.05ºC. What is the
RMM of Y given Kf for benzene = 5.12ºC/m?
26. At 25ºC the osmotic pressure of a 0.01M solution
of a compound is 0.466atm. Calculate the van't
Hoff factor.