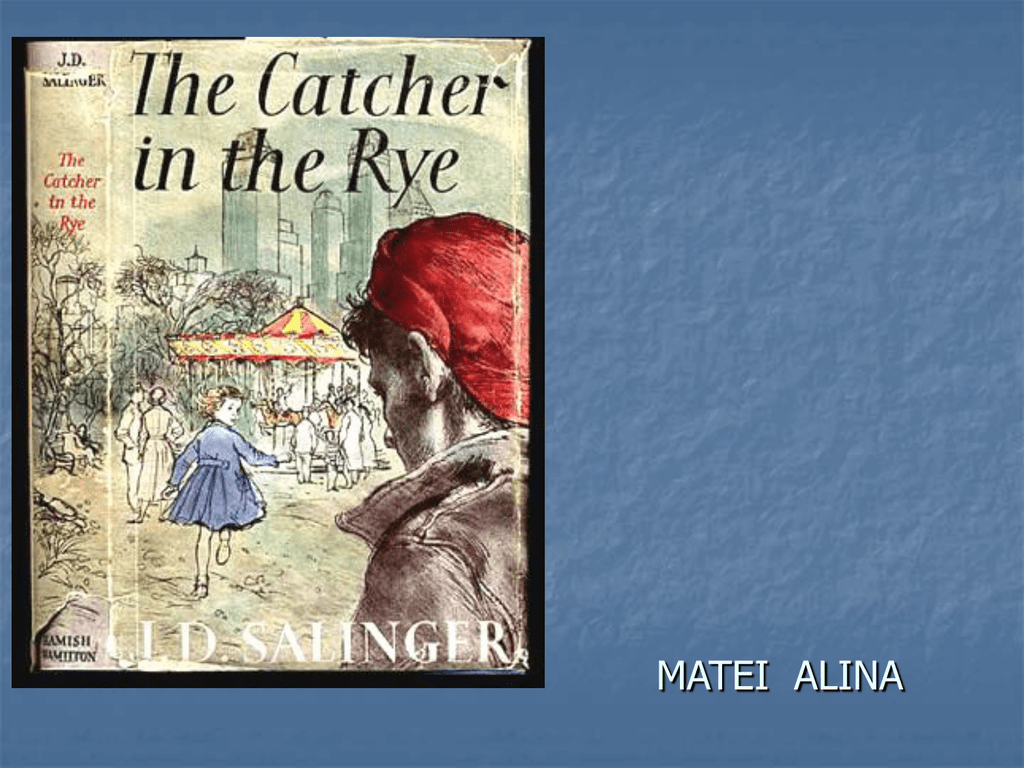 MATEI ALINA
J.D. Salinger

Jerome David
Salinger, was an
American writer who
established his reputation
on the basis of a single
novel, The Catcher in
the Rye, whose principal
character, Holden
Caulfield, epitomized the
growing pains of a
generation of high school
and college students.
The Book

One of the most
influential and very
controversial book in the
twentieth century was
The Catcher in the Rye
by J.D Salinger. The
book's main protagonist,
Holden Caulfield has been
subject to much criticism
and analysis.


To
really
understand
who
Holden
represented, we must look into the novel itself
find the life story of its mysterious author.
Was The Catcher in the Rye just a book
written to entertain? Or was it put on paper to
serve some greater purpose or to prove some
major point?

The novel's
protagonist, Holden
Caulfield, has become an
icon for teenage rebellion
and defiance. Written in
the first person, The
Catcher in the Rye
follows Holden's
experiences in New York
City in the days following
his expulsion from Pencey
Prep, a college
preparatory school.
Conflicts
Holden vs. himself.
Holden vs. society.

Holden is the storyteller in Salinger's novel.
He tends to have rebellious manner as reflected
his isolation and solitude from society. Holden
does not have any friends and cannot keep
relationships. These is because he finds and
exaggerates any negative aspect of all the people
he knows or meet.


Young readers see
in Holden Caulfield a
little bit of what they
are, while older
readers see in Holden
a bit of what they
once were.
Ultimately, we all
know that in some
way, Holden is one of
us.
Some Values & Themes in Catcher
in the Rye



The need for inner direction and commitment to
action
The ability to feel compassion and to expect
justice for all
The recognition of superficial standards of
behavior; the challenge of seeking positive
change in one's moral environment

The novel offers realism
in its use of language, its
use of social criticism
where it is due, and its
presentation of real
problems which
adolescents face in the
process of achieving
maturity. The book also
offers romanticism in its
view of the innocence of
childhood, its quest for
truth, idealizing the past,
and its emphasis on
individual discovery and
growth.