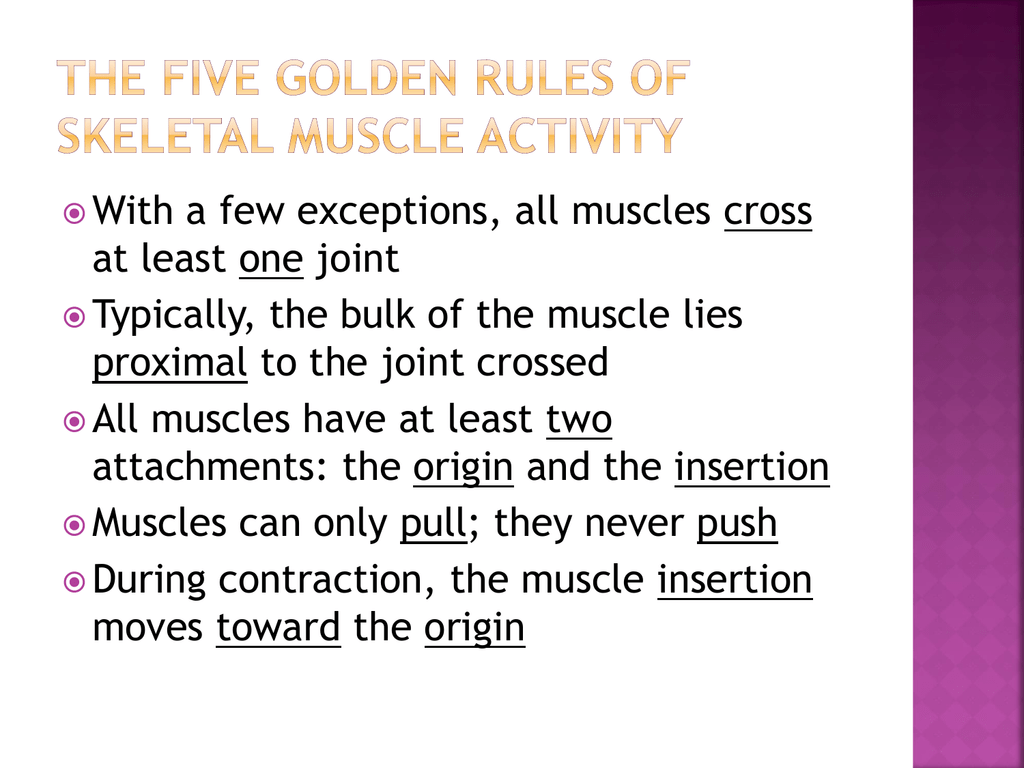  With
a few exceptions, all muscles cross
at least one joint
 Typically, the bulk of the muscle lies
proximal to the joint crossed
 All muscles have at least two
attachments: the origin and the insertion
 Muscles can only pull; they never push
 During contraction, the muscle insertion
moves toward the origin
 Origin
– place of attachment
on the bone that is
considered to be immovable
or less movable
 Insertion – place of
attachment on the movable
bone
 Remember, the insertion
moves toward the origin
during contraction
 Prime
Mover – the muscle that has the
major responsibility for causing a
particular movement
 Antagonists – the muscles that oppose or
reverse a movement
 Synergists – help the prime movement by
producing the same movement or by
reducing undesirable movements
 Fixators – specialized synergists that hold a
bone still or stabilize the origin of the
prime mover so all the tension is used for
the movement













Flexion
Extension
Rotation
Abduction
Adduction
Circumduction
Dorsiflexion
Plantar flexion
Inversion
Eversion
Supination
Pronation
Opposition
 Now
that you have defined these different
movements, I now want you to make a video
demonstrating these movements.
 It can be a serious exercise video or a spoof,
but it must include all of the movements.
 You should also film the video in one shot, so
that no editing is required.