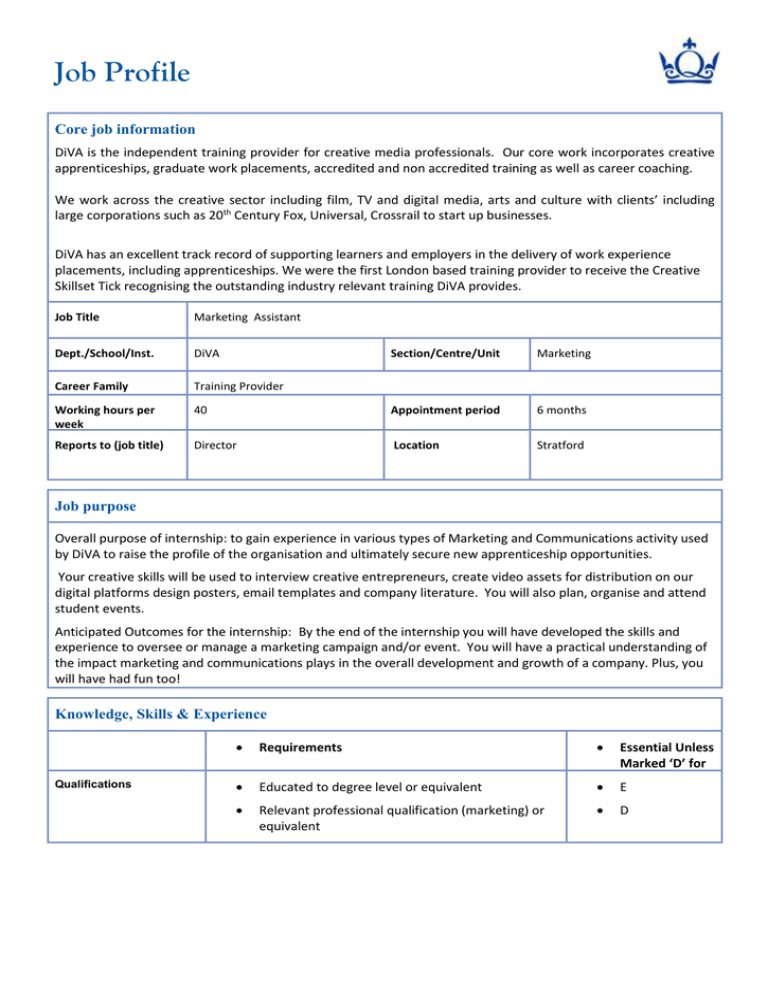 Job Profile
Core job information
DiVA is the independent training provider for creative media professionals. Our core work incorporates creative
apprenticeships, graduate work placements, accredited and non accredited training as well as career coaching.
We work across the creative sector including film, TV and digital media, arts and culture with clients' including
large corporations such as 20th Century Fox, Universal, Crossrail to start up businesses.
DiVA has an excellent track record of supporting learners and employers in the delivery of work experience
placements, including apprenticeships. We were the first London based training provider to receive the Creative
Skillset Tick recognising the outstanding industry relevant training DiVA provides.
Job Title
Marketing Assistant
Dept./School/Inst.
DiVA
Career Family
Training Provider
Working hours per
week
Reports to (job title)
Section/Centre/Unit
Marketing
40
Appointment period
6 months
Director
Location
Stratford
Job purpose
Overall purpose of internship: to gain experience in various types of Marketing and Communications activity used
by DiVA to raise the profile of the organisation and ultimately secure new apprenticeship opportunities.
Your creative skills will be used to interview creative entrepreneurs, create video assets for distribution on our
digital platforms design posters, email templates and company literature. You will also plan, organise and attend
student events.
Anticipated Outcomes for the internship: By the end of the internship you will have developed the skills and
experience to oversee or manage a marketing campaign and/or event. You will have a practical understanding of
the impact marketing and communications plays in the overall development and growth of a company. Plus, you
will have had fun too!
Knowledge, Skills & Experience
Qualifications

Requirements


Educated to degree level or equivalent

Essential Unless
Marked 'D' for
Desirable
E

Relevant professional qualification (marketing) or
equivalent

D
Experience
Knowledge, skills &
abilities

Substantial experience in marketing

E

Experienced writer / blogger

E

Computer literate - must have a good working
knowledge of Word, Excel, Powerpoint

E


E
Knowledge and experience using design software


E
Knowledge and experience editing software


E
Knowledge and experience of WordPress


E
Substantial office experience

Experience of social media networking tools
(Facebook, Twitter, LinkedIn
Excellent spelling, grammar and writing abilities
Excellent Customer Service skills
Organised
Inquisitive - must have the desire to solve problems
on their own if need be
Can work to tight deadlines
Team player
Pro-active

E

E

E

E

E

E

E
Personable attitude
A good sense of humour!
Self motivated
Confident - not afraid to ask questions, particularly
if you're not sure what is required of you!
Hard working
Creatively minded – ready to put forward ideas and
run with them!

E

E

E

E

E







Attitude & disposition






Freedom to Act & Decision Making (depth of control, supervision received, use of judgement &
Main
Duties and
Responsibilities
of the Role
initiative,
analytical
ability)
Daily tasks include, but are not limited to:









General customer service – telephony, responding to enquiries regarding our training programmes
Designing marketing and promotional material, including evaluation forms, company presentations
Updating social media portals and the company website on a daily basis
Researching content for our social media platforms
Help manage company events; e.g securing venues, manage guest lists, booking speakers etc
Explore links with partner organisations to deliver collaborated events
Manage client communication tools such as bi-monthly business-to-business e-newsletter and events
Recording, editing and uploading video content to our website and social media pages
Keep the website up-to-date
Working Environment
This is an office based position. The right candidate will be able to develop the role according to their strengths.
DiVA is a great company to work for. We're a small close knit team which means you'll get to know the business
inside and out and see first-hand the contribution you make. All ideas are welcomed. All opinions are heard and
respected. When we're busy be prepared to juggle several tasks simultaneously and work to short deadlines as
and when required. Above all, have fun while you get the job done!