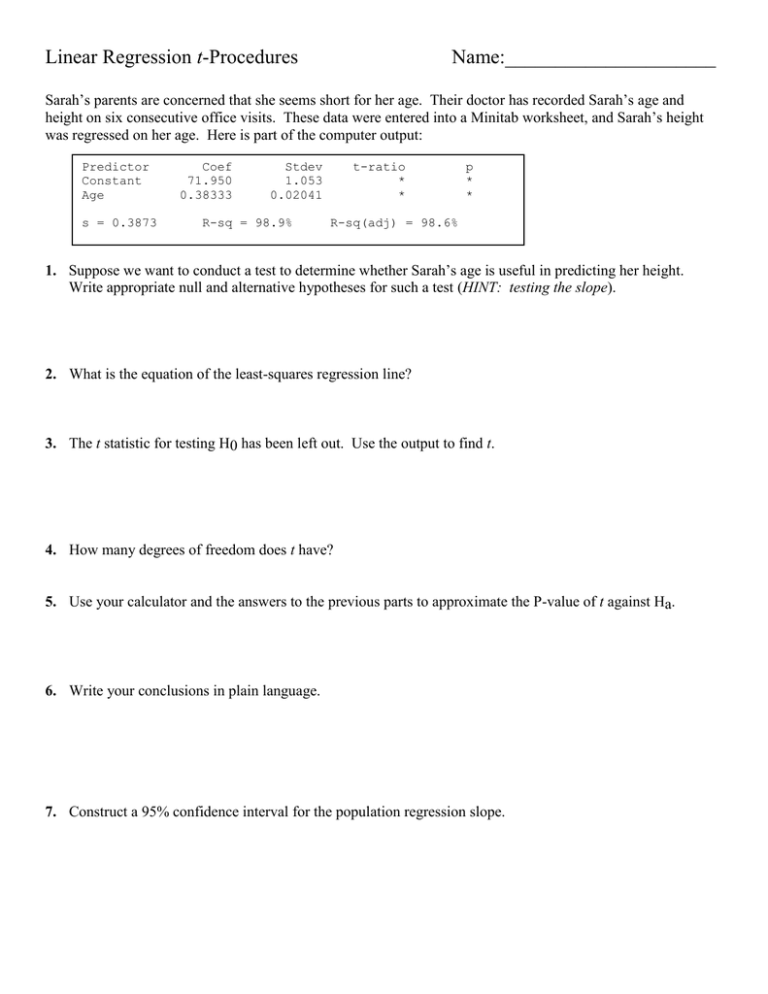 Linear Regression t-Procedures
Name:_____________________
Sarah's parents are concerned that she seems short for her age. Their doctor has recorded Sarah's age and
height on six consecutive office visits. These data were entered into a Minitab worksheet, and Sarah's height
was regressed on her age. Here is part of the computer output:
Predictor
Constant
Age
s = 0.3873
Coef
71.950
0.38333
Stdev
1.053
0.02041
R-sq = 98.9%
t-ratio
*
*
p
*
*
R-sq(adj) = 98.6%
1. Suppose we want to conduct a test to determine whether Sarah's age is useful in predicting her height.
Write appropriate null and alternative hypotheses for such a test (HINT: testing the slope).
2. What is the equation of the least-squares regression line?
3. The t statistic for testing H0 has been left out. Use the output to find t.
4. How many degrees of freedom does t have?
5. Use your calculator and the answers to the previous parts to approximate the P-value of t against Ha.
6. Write your conclusions in plain language.
7. Construct a 95% confidence interval for the population regression slope.