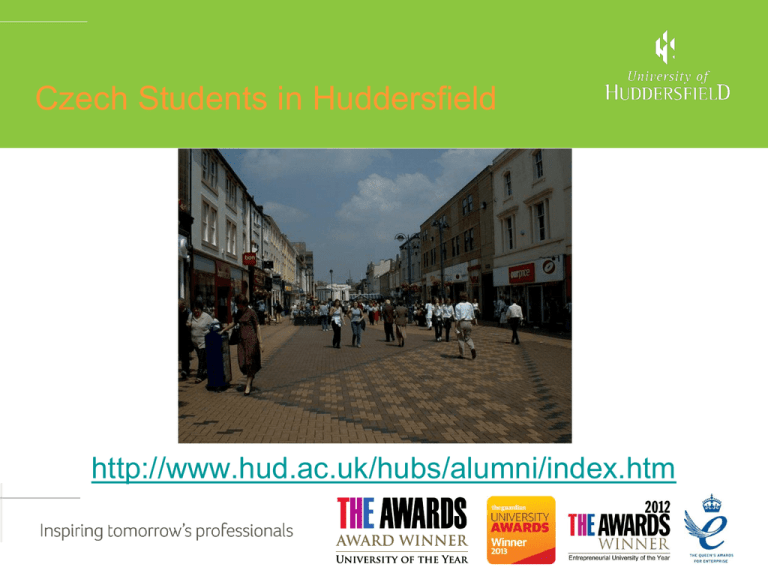 Czech Students in Huddersfield
http://www.hud.ac.uk/hubs/alumni/index.htm
Where is Huddersfield?
n
Centrally located in the UK
Excellent links – motorways, rail and airports
n
Picturesque surroundings
n
Edinburgh
Newcastle
Huddersfield
Leeds
Huddersfield
Manchester
London
Huddersfield ranked 3rd in the UK in
satisfaction survey
• It's official! Huddersfield is a great place to live
and people are far happier in Huddersfield than
in other parts of the country, according to a
national survey http://www.hud.ac.uk/staff/headline,37377,en.php
• The study confirmed people in the North of
England are far happier than people who live in
the South of England – apparently, according to
the report, people living in London are very
unhappy!
WHY STUDY IN UK?
1. Two degrees – UK Masters (MSc)
Czech "Masters" (Ing/Mgr)
2. Internationalise CV
3. Improve English language
WHY UNIVERSITY OF HUDDERSFIELD?
• Top 10 in England for teaching excellence
(Sunday Times newspaper) out of 122 in the UK.
• Top 10 among mainstream Universities for
student satisfaction in the National Student
Survey - 85% satisfaction rate
• Top 10 in England for getting students into jobs 94% go onto work or further study within 6
months of graduating. Average starting salary is
£21,000 per year.
WHY UNIVERSITY OF
HUDDERSFIELD BUSINESS
SCHOOL?
-
Working with Czech partners since 1991
- faculty development
- curriculum development
- student exchange
- staff exchange
- 350 'normal' students since May 2004
MSc International Business
Management
•
•
•
•
•
•
•
Core modules
BMS0025 Strategic Management7.5ECTS
BME0003 International Economics 7.5ECTS
BMS0024 International Business Environment 7.5ECTS
BMS0021 International Business Strategy 7.5ECTS
BMS0020 Corporate Governance & Business Ethics 7.5
BMS0005 Research Methods & Techniques 7.5 ECTS
Options – all 7.5 ECTS (x2)
• Functional areas (e.g. BMK0104 International Marketing,
BMO0072 International Human Resource Management,
BMK0018 International Trade Operations, BMA0034
International Business Finance)
• Sectoral areas (e.g. SMT1013 International Tourism
Management and Development, BMS0053 Emerging
and Alternative Financial Markets, BME0005
Globalisation and Financial Crises)
Semester 3 – May to September
• BMS0013 Dissertation 30 ECTS
The Dissertation
This is your largest single task (30/90 ECTS
credits)!!
You choose a business topic and develop a
research question
You need a lot of academic and other
information sources about your topic
You investigate various methods of "original"
research (eg questionnaires, interviews) and
you collect data by your chosen method(s)
The Dissertation (cont')
• Apply your practical findings to the published material
and make your conclusions ("Theory into Practice"!!)
• The length of the dissertation should be normally 15000
words
• Regular meetings and/or e-mail contact with your
Supervisor is essential
Please note that to qualify for the
programme you must have been
awarded a Bachelor degree (180
ECTS).
Academic Study
Czech students have been very pleased
with computer facilities at Huddersfield:
• Many internet computers available, including a large
24/7 365-day facility in the main building. No queues!
• The library has many thousands of books.
• Library books can be taken and returned using automatic
equipment.
• Online journal articles on all subjects are available to
students using SUMMON system.
It means…….FLEXIBLE LEARNING!!!!
- only 10 hours per week in classroom
- but 30 hours per week in private study/library
Academic Skills
• The Business School has three Academic
Skills Tutors, who are specialists and who
have been very helpful to Czech students in
terms of academic writing in English.
Social Life
ACCOMMODATION
After sending your application, you will
receive Joining Instructions offering
accommodation.
There are various sites offered by private
companies but we advise you to say that
you will find local private accommodation.
Costs = DIGS = £100 per week
(total for year = £4,500 per academic
year)
= private sector = £50 per week
(total for year = £2,100 per year)
Employment
It is sometimes difficult to obtain
administrative jobs.
There is usually plenty of bar and restaurant
work.
Factories are another possibility.
UK minimum wage = £6.50 per hour from October 2014.
Insurance
• National Insurance
• National Health Service
Tuition Fees – what will it cost?
£4,460 for the whole programme – 3
semesters.
The Huddersfield fee is lower than that of
any other university in the top half of the
"Times" league table.
Financial Support from the Czech
Government/your University
As a result of the agreement signed between our
two universities, you may be able to obtain
further financial support of up to KČ 10,000 per
month = 90,000 KČ per year
Arrival
It is recommended to come to Huddersfield
by 1 September 2015 if possible - certainly not later than
14 September 2015 – in order to settle in.
It is recommended that you arrive earlier than this if
possible in order to get the best jobs – if you want one!
Huddersfield is popular - and international!
We want YOU to join our 80 other nationalities in the Business School
• For further informati pleae contact
HOW DO I APPLY
http://www.hud.ac.uk/international/apply/
http://www.hud.ac.uk/international/apply/
If you have any questions please feel free to contact International Office, Ms Lyndsey
European Recruitment
Officer for
University who will be happy to help.
•Ashton,
Department
of Strategy
& the
Marketing
•ForUniversity
of Huddersfield
further information, please contact
Dr Eleanor Davies, Department of Strategy, Marketing and Economics, University of
Huddersfield Business School
e.davies@hud.ac.uk
See
you
in
Huddersfield!
See you in Huddersfield!