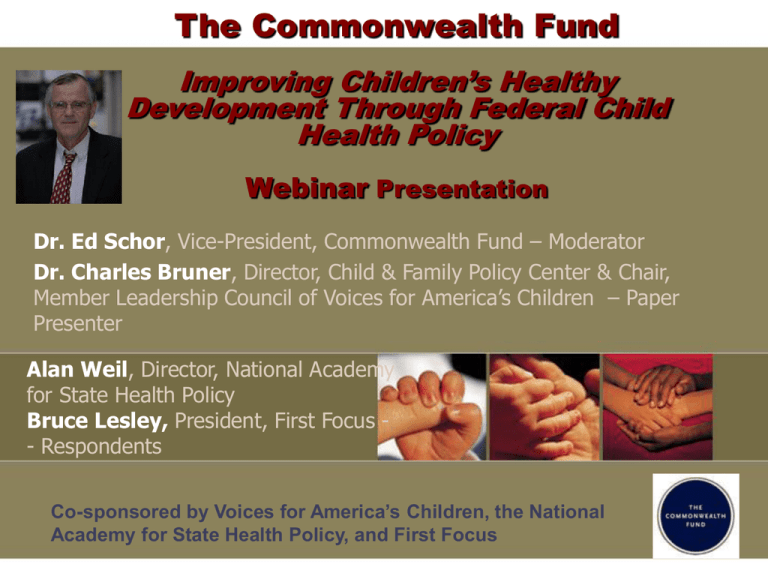 The Commonwealth Fund
Improving Children's Healthy
Development Through Federal Child
Health Policy
Webinar Presentation
Dr. Ed Schor, Vice-President, Commonwealth Fund – Moderator
Dr. Charles Bruner, Director, Child & Family Policy Center & Chair,
Member Leadership Council of Voices for America's Children – Paper
Presenter
Alan Weil, Director, National Academy
for State Health Policy
Bruce Lesley, President, First Focus - Respondents
Co-sponsored by Voices for America's Children, the National
Academy for State Health Policy, and First Focus
The Case for Federal Leadership in Promoting Comprehensive
Well-Child, Preventive and Developmental Health Services
•
Child health insurance coverage improves access to health care
•
Children's healthy development can be improved through comprehensive
primary, preventive, and developmental health services provided through
that coverage
•
Exemplary health services and recognized practice guidelines (Bright
Futures) exist for providing such primary care but are not yet part of
routine practice
•
The federal government finances primary health care for a large share of
America's children, including the majority of the most vulnerable children
•
The federal government can play a leadership role in promoting the
adoption of exemplary primary, preventive, and developmental health
practices
Improving Children's Healthy Development – A Multi-Part Strategy
Health
Insurance
Coverage
Providing access
to coverage
(Medicaid, SCHIP,
and private
insurance)
Getting children
enrolled (outreach
and easy
enrollment)
Use of
Primary
Health
Services
Providing a
medical home and
well-child visits
Providing
comprehensive
screening
(physical, dental,
mental,
environmental)
Follow-up for
Needed
Medical and
Other Services
Providing effective
referrals to further
assess and treat
medical and other
health-related
needs
=
Healthy Child
Development
Higher health
trajectory and
greater safety and
success
Reduced need for
remediation and
chronic disease
management
% of All Children Involved
in Following Services
88.5%
The Importance of Well-Child Care as an
Early Detector of Young Children's Needs
39.4%
24.3%
28.6%
3.8%
Preventive
Health Care
Visit (0-5)
EPSDT Visit
(0-2)
WIC
Formal Child
Participation
Care
(0-5)
Arrangement
(0-4)
Head
Start/Early
Head Start
(0-5)
5.8%
2.3%
Part B of IDEA Part C of IDEA
(3-5)
(0-2)
Sources:
Preventive Health Visit: National Survey of Children's Health; EPSDT 416 Forms, Centers for Medicare and Medicaid Services (CMS); WIC FDA, Food and Nutrition Services, Office of Analysis, Nutrition, and Evaluation; Formal Child Care: Census Bureau Special Report: Who's
Minding the Kids?; Head Start: National Head Start Association, Program Fact Sheets; Part B:
U.S. Department of Education, Office of Special Education Programs, Data Analysis System; Part C: IDEAdata.org Data Tables for Office of
Special Education Programs State Reported Data
The Importance of Medicaid and SCHIP
in Providing Child Health Coverage
Children Enrolled in Medicaid or SCHIP by Child Age, Nation 2007
40%
35%
30%
25%
20%
15%
10%
5%
0%
34.8%
31.6%
26.8%
26.5%
20.9%
Under 19
Birth to 1
Ages 1-5
Ages 6-12
Child Age
Source: 2007 ASEC supplement to the Current Population Survey
Ages 13-18
The Evidence Base for Improving Children's Healthy Development
through Primary Developmental Services
ABCD
Initiatives
Assuring
Better Child
Health &
Development
Help Me Grow
Current Federal Proposals on Child Health Coverage and Quality
•
HR976. SCHIP reauthorization contains "quality" provisions that speak
primarily to developing child health quality measures
•
S1226. Children's Health Care Quality Act speaks primarily to hospital and
chronic health care services for children
•
S2376 Medical Home Act has a primary focus upon children with chronic
health conditions
•
Limited emphasis upon primary, preventive and developmental child health
services within these proposals.
Expanding Federal Policy Leadership to
Improving Children's Healthy Development
•
Core set of primary care child health service outcomes
•
Structure within CMS focusing upon strengthening primary and
preventive child health
•
Additional research on child health quality and outcomes in primary
care
•
Incentives to states to promote evidenced-based practices in
primary care
•
Coverage of services and care coordination that lead to improved
child health
Opportunities Are to Affect the Trajectory of Children's Health,
with Long-Term Benefits to Children and Society
Children's Health and
Development
Risk Factors
Protective
Factors
0
Age
Improving the trajectory of child
health and development involves
increasing protective factors and
reducing risk factors -- which requires
a broad definition of child health
services.