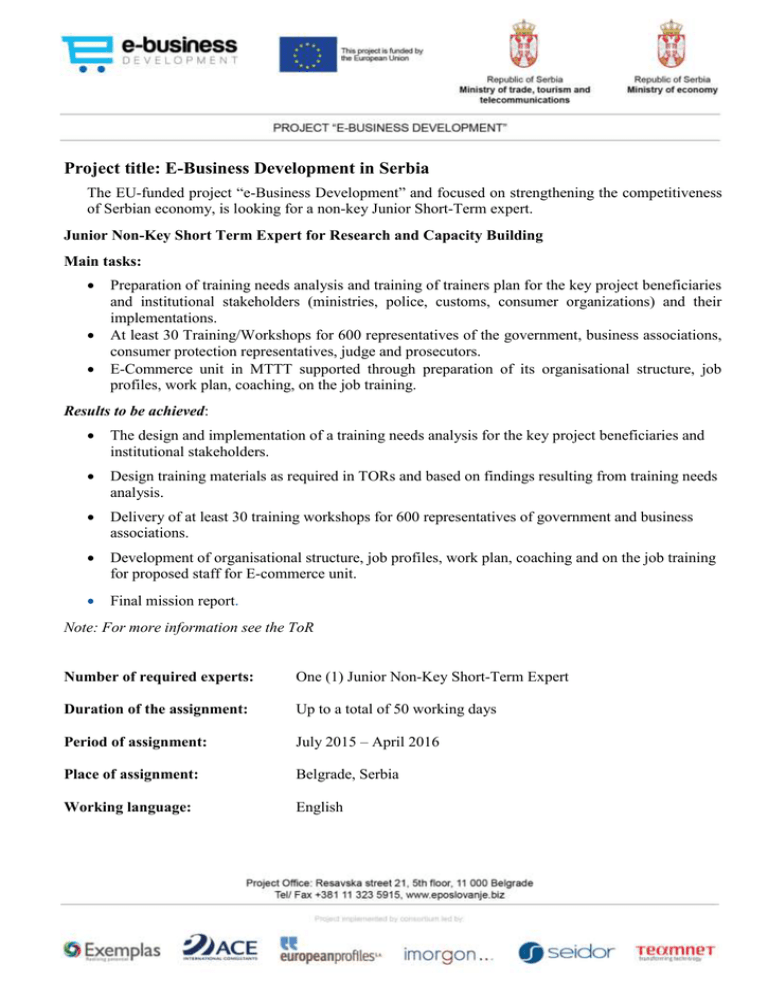 Project title: E-Business Development in Serbia
The EU-funded project "e-Business Development" and focused on strengthening the competitiveness
of Serbian economy, is looking for a non-key Junior Short-Term expert.
Junior Non-Key Short Term Expert for Research and Capacity Building
Main tasks:



Preparation of training needs analysis and training of trainers plan for the key project beneficiaries
and institutional stakeholders (ministries, police, customs, consumer organizations) and their
implementations.
At least 30 Training/Workshops for 600 representatives of the government, business associations,
consumer protection representatives, judge and prosecutors.
E-Commerce unit in MTTT supported through preparation of its organisational structure, job
profiles, work plan, coaching, on the job training.
Results to be achieved:

The design and implementation of a training needs analysis for the key project beneficiaries and
institutional stakeholders.

Design training materials as required in TORs and based on findings resulting from training needs
analysis.

Delivery of at least 30 training workshops for 600 representatives of government and business
associations.

Development of organisational structure, job profiles, work plan, coaching and on the job training
for proposed staff for E-commerce unit.

Final mission report.
Note: For more information see the ToR
Number of required experts:
One (1) Junior Non-Key Short-Term Expert
Duration of the assignment:
Up to a total of 50 working days
Period of assignment:
July 2015 – April 2016
Place of assignment:
Belgrade, Serbia
Working language:
English
Requirements for the position
Qualifications and skills
 A bachelor's degree (where a university degree has been awarded on completion of three years
study in a university or equivalent institution) in management, business and social studies or other
field relevant to business or organisational development;
 Fluency in English (written and spoken);
 Excellent communication, analytical, report writing and presentation skills;
General professional experience
 Minimum 5 years of post-graduate professional experience in the areas of institutional research
and consulting.
Specific professional experience
 Minimum 3, preferably 5 years, of post-graduate experience relevant to research, analysis and
institutional frameworks related to Private Sector Development.
 Hands on experience working with institutional actors involved in improving the business
environment for innovative businesses as demonstrated by participation in at least one EU project
would be an advantage;
Further requirements:

The selected expert is not a Civil Servant or other staff of the public administration of the
beneficiary country.
The deadline for application is:
15th July 2015, 17:00
Only short-listed applicants will be contacted.
Please submit the application: CV (EU format), relevant diplomas and employment certificates by email
to:
Ms Sarah Shreeves, Exemplas Ltd., sarahs@exemplas.com
Exemplas is an equal opportunity employer and will not discriminate against any individual, employee, or
application for employment on the basis of race, colour, marital status, religion, age, sex, sexual orientation,
national origin, or handicap.