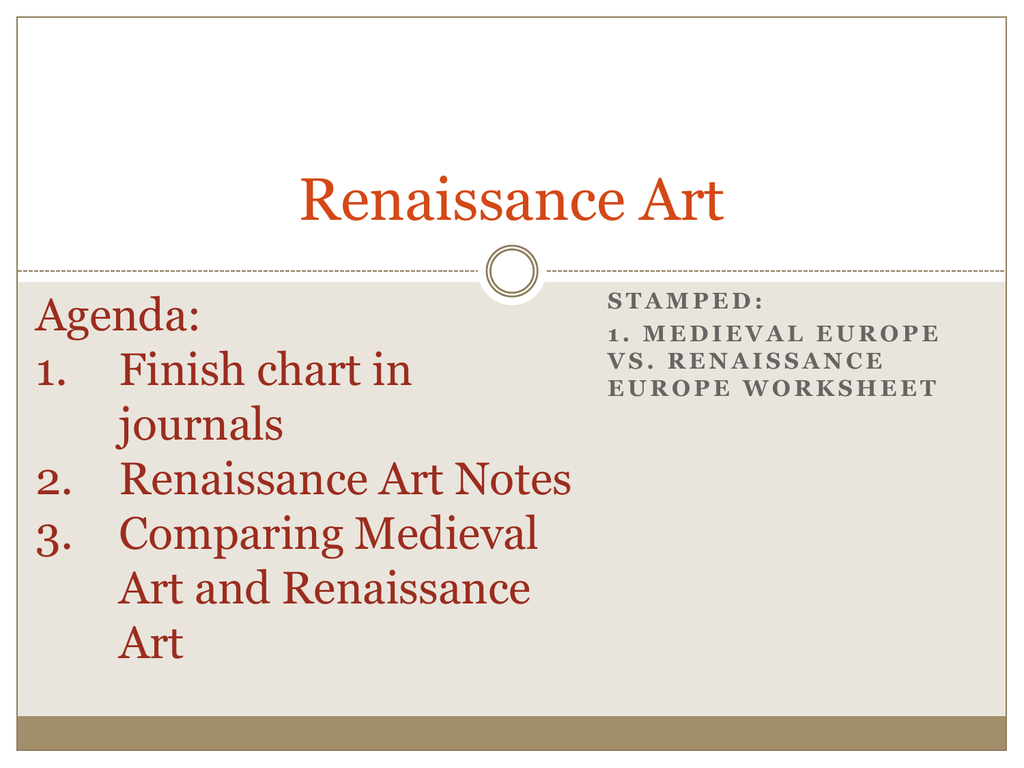 Renaissance Art
Agenda:
1. Finish chart in
journals
2. Renaissance Art Notes
3. Comparing Medieval
Art and Renaissance
Art
STAMPED:
1. MEDIEVAL EUROPE
VS. RENAISSANCE
EUROPE WORKSHEET
Today's Goals:
• Analyze Medieval and Renaissance Art
• Compare artistic styles and themes in Medieval
and Renaissance Art
• Analyze how art imitates life
The Renaissance
REVOLUTIONIZES ART!
Pre-Renaissance Art
 Religious Subjects
 Portray the ideal, not reality
English 1120-1145
Revolutions in Arts
1. Perspective
 The use of perspective
became popular in
Renaissance art
 What is perspective?

Use of 3 dimensions on a
flat surface
2. Realism
 Renaissance artists
began using more
realism in art
 More emphasis on the
individual
 Characters took on more
human qualities

Emotions, Feelings
Teenage Mutant Ninja Turtles of Renaissance Art
1. Donatello
 Sculptor
 Created natural postures
and expressions
Donatello sculpted
the marble David ca.
1409; the bronze
David ca.
1430. Cosimo de'
Medici
commissioned the
bronze David and
placed it in the
courtyard of the
Medici Palazzo in
Florence.
2. Raphael
 Advanced Realism
 First to really use 2 point
perspective
 Commissioned by Pope
Julius II to fill his library
with paintings
Raphael St. George
Fighting the Dragon
1504-06 (220 Kb); Oil
on wood, 28.5 x 21.5 cm
(11 1/8 x 8 3/8 in);
National Gallery of Art,
Washington
3. Michelangelo
 Sculptor
 Poet
 Architect
 Painter
David, 1504
Sistine Chapel Ceiling,
1508
St. Peter's Basilica,
Vatican City
Michelangelo oversaw
the construction and
changed the
architecture
4. Leonardo da Vinci
 A true renaissance man
 Painter
 Sculptor
 Inventor
 Scientist
Mona Lisa or La
Gioconda (1503–
1505/1507)—Louvre,
Paris, France
The Last Supper
(1498)—Convent of Sta.
Maria delle Grazie,
Milan, Italy
Italian vs. Northern
Renaissance
ARTISTIC STYLES
 What are the key differences you see between Italian
and Northern Renaissance Art?
Renaissance in Northern Europe
 Northern art
 More realism than Italian art
Focused
on scenes from everyday life
People looked more 'real' than in Italian Renaissance art
Added small details
Different color pallet
Flanders – artistic center for northern Europe (Flemish
artists)

Comparing Medieval and
Renaissance Art
What are some things you might think
about when looking at artwork?
 What you see in the piece
 What you think the meaning/theme of the piece is
 How the piece of art reflects life during the time
period it was created
 If you like the piece of art or not
"Madonna and
Child in Glory" Jacopo
di Cione
Activity
 Choose artwork from the list:
 2 Medieval
 4 Renaissance
You may choose any!
 Some have comparable themes, which will help you in your
analysis.

 Complete the graphic organizer for each piece of
artwork

May be bullet points, but fully address each category.