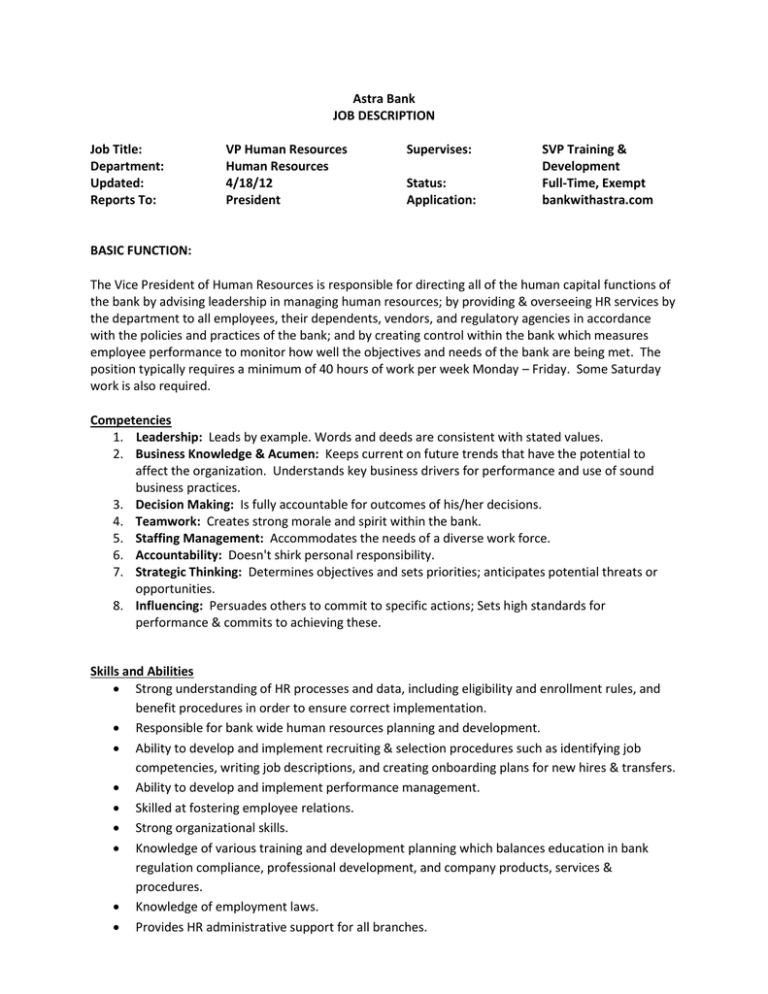 Astra Bank
JOB DESCRIPTION
Job Title:
Department:
Updated:
Reports To:
VP Human Resources
Human Resources
4/18/12
President
Supervises:
Status:
Application:
SVP Training &
Development
Full-Time, Exempt
bankwithastra.com
BASIC FUNCTION:
The Vice President of Human Resources is responsible for directing all of the human capital functions of
the bank by advising leadership in managing human resources; by providing & overseeing HR services by
the department to all employees, their dependents, vendors, and regulatory agencies in accordance
with the policies and practices of the bank; and by creating control within the bank which measures
employee performance to monitor how well the objectives and needs of the bank are being met. The
position typically requires a minimum of 40 hours of work per week Monday – Friday. Some Saturday
work is also required.
Competencies
1. Leadership: Leads by example. Words and deeds are consistent with stated values.
2. Business Knowledge & Acumen: Keeps current on future trends that have the potential to
affect the organization. Understands key business drivers for performance and use of sound
business practices.
3. Decision Making: Is fully accountable for outcomes of his/her decisions.
4. Teamwork: Creates strong morale and spirit within the bank.
5. Staffing Management: Accommodates the needs of a diverse work force.
6. Accountability: Doesn't shirk personal responsibility.
7. Strategic Thinking: Determines objectives and sets priorities; anticipates potential threats or
opportunities.
8. Influencing: Persuades others to commit to specific actions; Sets high standards for
performance & commits to achieving these.
Skills and Abilities
 Strong understanding of HR processes and data, including eligibility and enrollment rules, and
benefit procedures in order to ensure correct implementation.
 Responsible for bank wide human resources planning and development.
 Ability to develop and implement recruiting & selection procedures such as identifying job
competencies, writing job descriptions, and creating onboarding plans for new hires & transfers.
 Ability to develop and implement performance management.
 Skilled at fostering employee relations.
 Strong organizational skills.
 Knowledge of various training and development planning which balances education in bank
regulation compliance, professional development, and company products, services &
procedures.
 Knowledge of employment laws.
 Provides HR administrative support for all branches.





Ability to manage projects, change, third-party contractors, and manage technology (HRIS, etc.)
Ability to utilize personal computer including spreadsheet and word processing software, copy
machine, fax machine, 10-key calculator and telephone
Ability to assess current HR processes and procedures and implement improvements. Is able to
develop department action plans.
Able to travel to branches as job requires.
While performing the duties of this position, the employee is regularly required to alternate
sitting and standing. Must also regularly use hands to finger, handle, or feel objects, tools, or
controls. The employee frequently is required to reach with hands and arms and talk or hear.
The employee is occasionally required to walk and periodically lift 20-40 lbs.
Duties
 Develops and administers various human resource plans and procedures for all company
personnel including strategic business management, workforce planning & employment, HR
development, compensation and benefits, employee relations, and risk management.
 Leads in developing department goals, objectives, and systems. Plans, organizes, and controls
all activities of the department.
 Evaluates reports, decisions, and results of department in relation to established goals.
 Maintains personnel files in compliance with applicable legal requirements.
 Establishes and maintains department records and reports.
 Develops and proposes HR budget.
 Develops, recommends and implements new approaches, policies, and procedures to effect
continual improvements in efficiency of department and services performed.
 Implements and annually updates compensation program; rewrites job descriptions as
necessary; conducts annual salary surveys and develops merit pool (salary budget); analyzes
compensation and develops salary ranges; develops & monitors performance evaluation
program and revises as necessary.
 Selects and develops the HRMS (ADP), which includes implementing new modules.
 Negotiates & manages contracts for benefits and all the related HR 3rd parties up to predetermined authority levels.
 Conducts recruitment effort for all exempt and nonexempt personnel, students, and temporary
employees; writes advertisements (DrakeP3).
 Assists the VP Finance Officer in completing payroll.
 Monitors training program.
 Conducts employee relations counseling.
 Provides career transition counseling.
 Leads department through mergers and acquisitions.
 Performs other duties as assigned.
Qualifications
 A bachelor's degree and five (5) years' Human Resources experience.
 MBA, MA, PHR or SPHR preferred, but not required.
 Banking experience preferred, but not required.
Astra Bank is an equal opportunity employer.