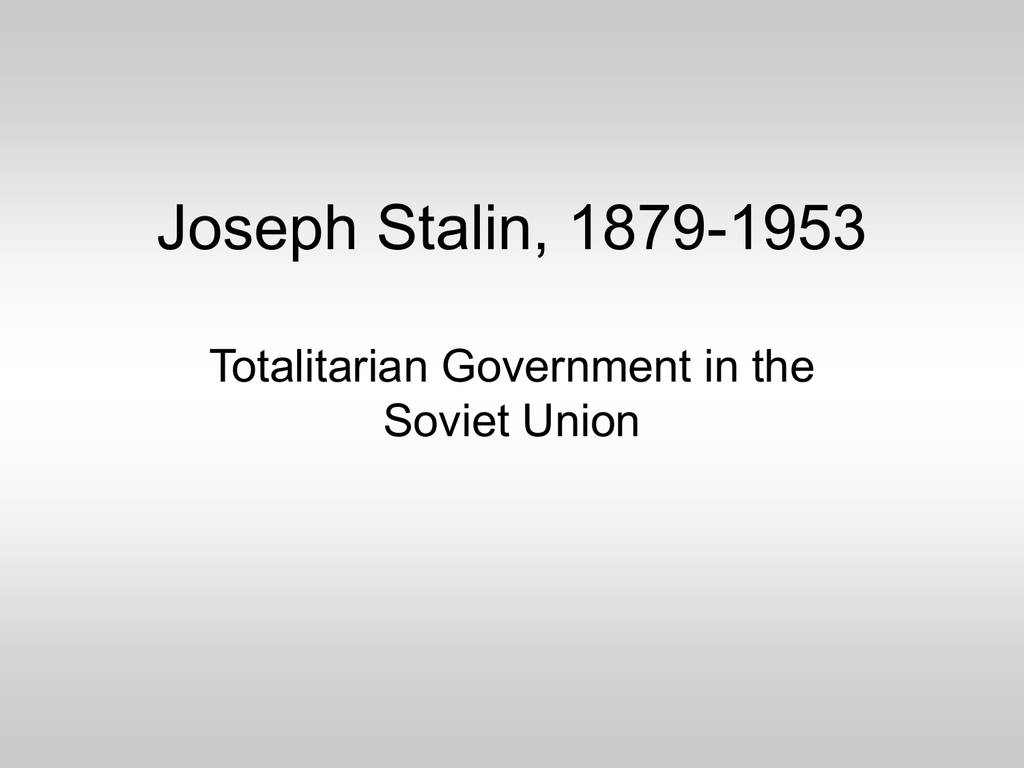 Joseph Stalin, 1879-1953
Totalitarian Government in the
Soviet Union
Totalitarian government is the exact opposite
of liberal democracy…
•
•
•
•
Suppress individual liberties
Abolish all competing political parties
Eliminate or regulate private property
Use the bureaucracy and technology to
impose its ideology and enforce its
commands
-the ultimate goal of a totalitarian state is…
• Total control of the individual- what is
believed, what values are held…
• There are no private moral judgements,
no individual thought, no individual
conscience…
• People have no natural rights…, they are
building blocks for a new social order...
Iosef
Vissarionovich
Dzhugashavili
1879-1953
• Stalin transformed
the Soviet Union
from a poor,
undeveloped
agricultural country
into one of the
world's industrial
and military giants.
• Stalin's early
years…
1888-1894
attended local
church school
• Tiflis Theological Seminary
Stalin arrest records…
As a revolutionary, Stalin .…
• helped organize workers' strikes…
• set up a secret press to spread Marxist
ideas…distributed illegal pamphlets…
• participated in train and bank robberies…
• by 1912, was a member of the inner circle
of the Bolshevik party.
• Lenin
and
Stalin
in
Finland
Stalin's "second death" strategy
• 1927 expelled from
the Communist party
• 1928 exiled to Siberia
• 1929 deported to
Turkey/Mexico
• 1940 murdered
Planned Economy or Command Economy
Stalin's Industrial policies
• Initiated five year plans
to promote the
production of heavy
machinery
• Focused on building
steel mills, cement
plants and oil
refineries.
• Limited production of
consumer goods like
clothing and
cosmetics.
Stalin's Agricultural policies
• Eliminated wealthy,
land-owning kulaks
• Initiated
Collectivizationlarge government
farms called
"collectives"
replaced private
plots.
Stalin's Political policiesDictatorship of the Communist Party
• Created a secret police with unlimited power to
crush dissenters critical of Soviet life
• Strictly controlled the minority nationalities
• Used "show trials" to eliminate and intimidate all
potential rivals
• Used art & literature to glorify himself and the
Communist State
Stalin's Social/Cultural policies…
"The Cult of personality"
• Mandated & expanded education at all levels
• Promoted educational opportunities for women
• Censored all forms of creative thinking and
expression
• Replaced religious teachings with Communist
ideals
• THE END…….
any questions
my comrades?
Any Questions?
The End
• Read: A. 0. Advienko- "Cult of Stalin"
• Russian religious tradition: worship of the
saints and veneration of the Tsar were
common practices…
• Stalin intensified this tradition, leading to
the "cult of personality" – the deliberate
fixation on an all powerful leader, whose
personality exemplified the challenge of
extraordinary times.