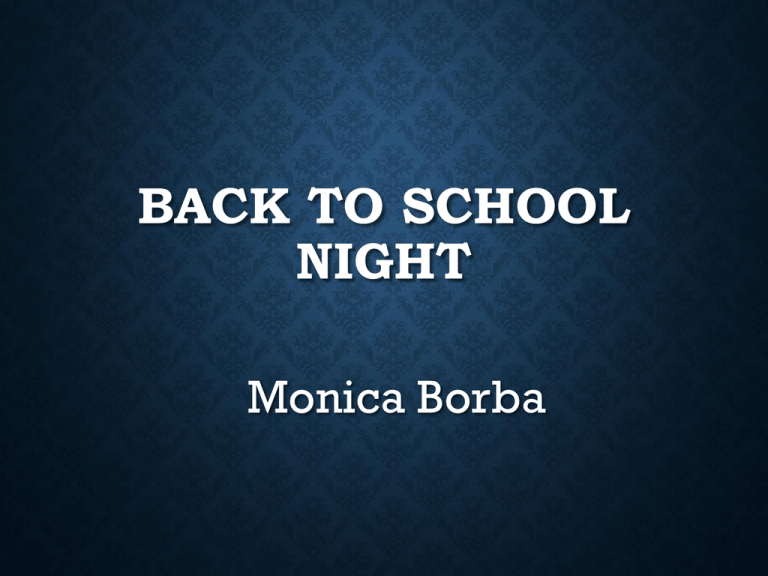 BACK TO SCHOOL
NIGHT
Monica Borba
FALLON'S MISSION STATEMENT
The Fallon School community serves
life-long student learners
within a positive and nurturing environment,
where diversity is embraced,
and the individual is empowered to reach toward academic
excellence, enriched by opportunities in sports, fine arts,
and community service.
BRIEF INTRODUCTION
• Education:
• UC Santa Barbara
• BA in History, minors in English
Literature & Education
• Brandman/Chapman University
• Credential & post graduate work
• Experience:
• Substitute Teaching in DUSD, MUSD, TUSD
• Long term subbing at Discovery Charter
School
• Private Tutoring
CONTACT INFORMATION
CONTACT INFORMATION
EMAIL:
borbamonica@dublinusd.net
PHONE:
(925) 875 – 9376 ext 6368
THE 7TH & 8TH GRADE
HUMANITIES TEAM:
7th Grade Teachers:
8th Grade Teachers:
Mr. Chapman
Mr. Yovino
Mrs. Jones
Ms. Andrews
Ms. Harris
Mr. Chapman
Mr. Yovino
Mrs. Sharbach
Mr. Ruegg
Ms. Richards
Opportunities to Collaborate:
- Department level
- Grade level
- Collaboration Wednesdays
SOCIAL STUDIES
• Rome
• Islam
• West Africa
• China
• Japan
• Medieval Europe
• Renaissance
• Reformation
• Scientific
Revolution
• Exploration
• Enlightenment
COMMON CORE STANDARDS!
•"Beyond the Bubble Tests"
• http://www.corestandards.org/assets/CCSSI_ELA%20Standards.pdf
• Do not fear, because….
Key Focus: Making students college & career
ready in reading, writing, speaking, & listening
They demonstrate independence
They build strong content knowledge
They respond to the varying demands of audience,
task, & purpose
They comprehend & critique
They value EVIDENCE
They use technology strategically & capably
They come to understand other perspectives &
cultures
LANGUAGE ARTS
• Reading Comprehension
• Writing
• Vocabulary
• Grammar
LANGUAGE ARTS: READING
• Short Stories: Fiction & Nonfiction
• The Outsiders
• Poetry
• The Giver
• Literature Circles
LANGUAGE ARTS: WRITING
• Personal Narrative
• Response to Literature
• Argumentative
• Research (ties in with social studies)
• College Project
• SIX TRAITS OF EFFECTIVE WRITING
• Ideas, Organization, Voice, Word Choice, Sentence Fluency, and
Conventions.
How can I best help my child with their academics?
• Communication:
• Open & Frequent Communication
between students, teachers &
parents
• Organization:
• Minder Binders
• Absences
• Website
• Preparation:
• Materials
• Study Skills
HOMEWORK
• Either preview or review
• Studying notes for a quiz or test
• A medium to long term project that has been
started in class
• An essay that has been worked on in class
ASSESSMENTS
• Tests:
• study guides will ALWAYS be given in advance
• Review in class the day before
• I will offer an additional after school review session
• Quizzes:
• no study guide, but always told in advance to study
• 20 points or less
• Informal Assessments:
• The most ignored but the most valuable!!!
HOW YOU CAN HELP AT HOME
• Writing: go through the RUBRIC and
CHECKLISTS together and edit
together (six traits)
• Checking the Minder Binder
• Asking questions!