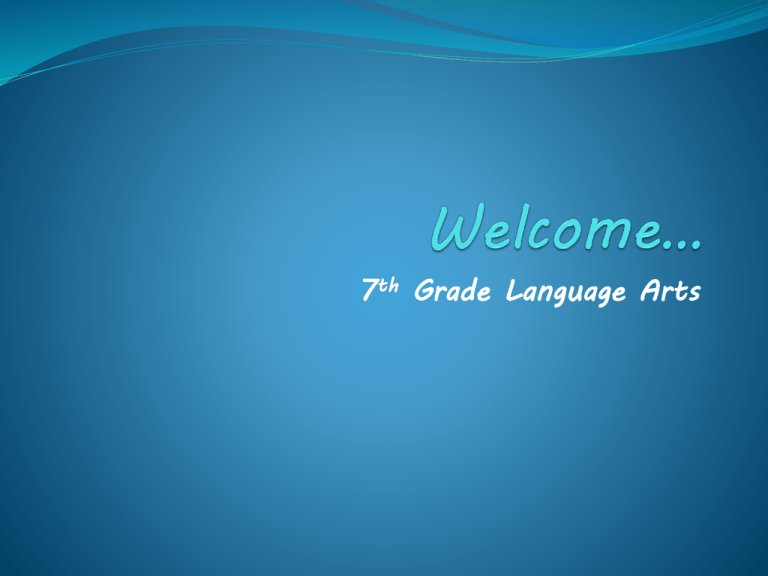 7th Grade Language Arts
Relationships . Relevance . Rigor
Getting to know students
Challenging students to write
to high expectations
Connecting students to why
reading matters
Inspiring Independence
Parent Communication Tools
 SharePoint
 Online Grades
 Look for
 Track student progress
announcements,
assignments, due
dates, and links to
important information
 Access through the
TFMS website:
http://tfms.svsd410.org/
using the Skyward
Online Grading System
 Access through the
TFMS website or the
Family Access tab on
the SVSD website:
http://svsd410.org/
Email
Email is the most
effective way to
communicate with all
7th grade teachers.
lawrences@svsd410.org
Writing
Expository & Persuasive: 1-2 Five Paragraph
Essays per month, MSP in May
Grammar & Vocabulary
Parts of Speech, Diagramming, Latin & Greek
Roots, Quizzes every Wednesday
Literature
The Little Prince, A Christmas Carol, Literary
Circles, Poetry
•Homework
•Tests
•Late/Absent Work
•Special Projects
•Beginning in January 2012
Volunteers needed!
•Fridays - Two 30 minute sessions (we think)
•Approximately mid-January through April
•This is a great experience! If you are
interested in learning more, please add your
name to the sign-up list
Thank you for being here
in support of your kids!