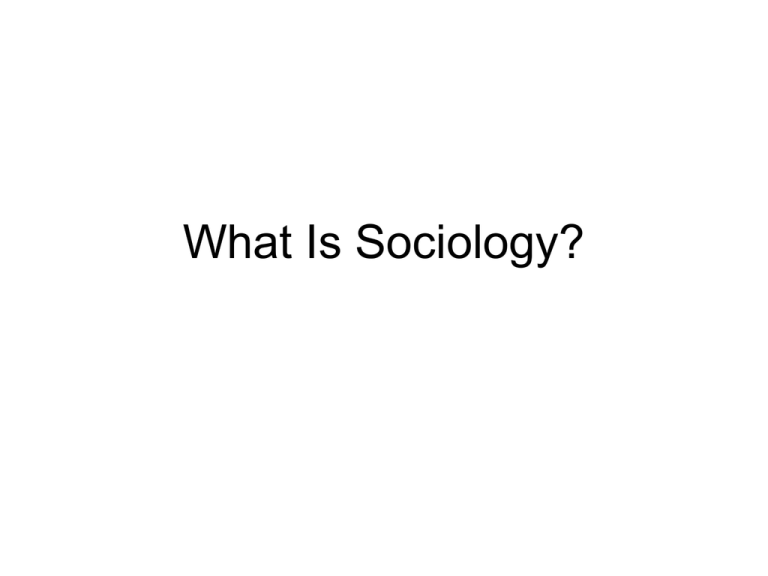 What Is Sociology?
Purpose
"The unexamined life is not worth living."
- Socrates
What influences our behavior?
Family
Peers
School
Religion
TV
Media
Fashion
Video Games
How are people different?
Race
Gender
Religion
Politics
Location
Physical Features
Personality
What do people have in common?
Basic Needs
Cultural universals
Laws. Rules
Food
Shelter
Beliefs
What is the relationship between
the individual and society?
Group dynamics- diffusion of responsibility
Expectations of each other
Laws
Norms
Codes, unwritten rules
How is society possible?
Government
Rules
Laws
Carrying out responsibility
Sociology is…
Understanding human behavior by placing it
within a proper social context.
Social Facts
Any social activity or situation that can be
measured or observed.
Examples:
Marriage rates, Unemployment, Crime Patterns
Buzz Word**
Durkheim
Emile Durkheim used social facts to study the personal
issue of suicide.
In his work Suicide (published 1897), he concluded that
suicide was heavily influenced by outside patterns
(divorce, religious affiliation, economic changes)
Social integration
(how connected individuals are to society)
Social Location
Where are you located in society?
How does you location influence who you
are?