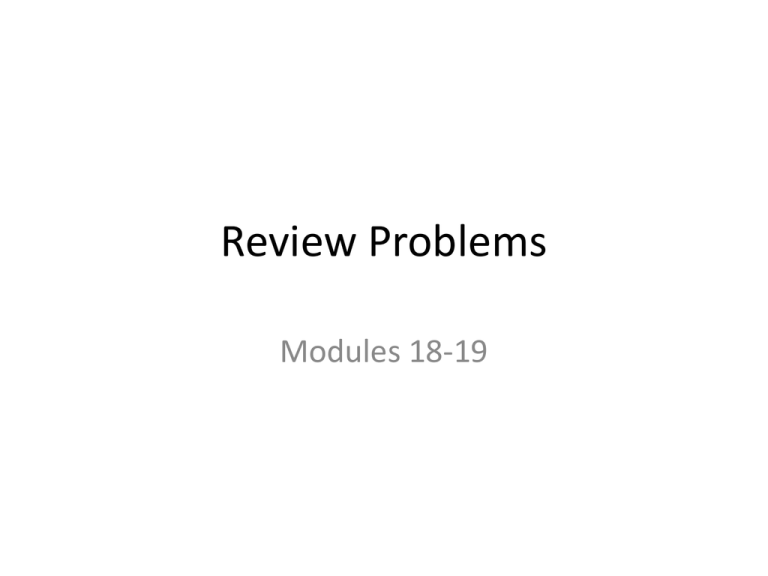 Review Problems
Modules 18-19
Changes in Short Run Equilibrium
For the each event indicate whether AD or SRAS would change
and in what direction. Also indicate changes in aggregate output
and aggregate price level
1. Most recent jobs report indicates an
improving economic situation in 2015
2. A copper shortage sends prices soaring
Changes in Short Run Equilibrium
3. Increasing prices throughout the economy
spark fears of inflation
4. The Federal Reserve sells bonds to increase
interest rates.
5. New "smart" robots dramatically cut
manufacturing times for a range of goods.
Sketch and Explain
6. Sketch short-run macroeconomic equilibrium
7. Next, on the same graph illustrate a situation
where the above short-run macroeconomic
equilibrium results in an inflationary gap.
8. Describe what would happen "naturally" that
would result in long-run macroeconomic
equilibrium and what would happen to the price
level.
Example
Agg.
Price
Leve
l
LRAS
AD
SRAS2
SRAS
E2
E
P1
YP
Y1
Real GDP
As a result of rising
nominal wages, the
SRAS curve will shift left
and there will be a new
long-run equilibrium at
a higher price level
Example
LRAS
Agg.
Price
Leve
l
P1
AD
SRAS
E
Y1
YP
Real GDP
1.
2.
3.
4.
Short run equilibrium?
Long run equilibrium?
What kind of gap?
If Y1 = 160 and YP= 200
what is the output
gap?
5. What will happen over
time?