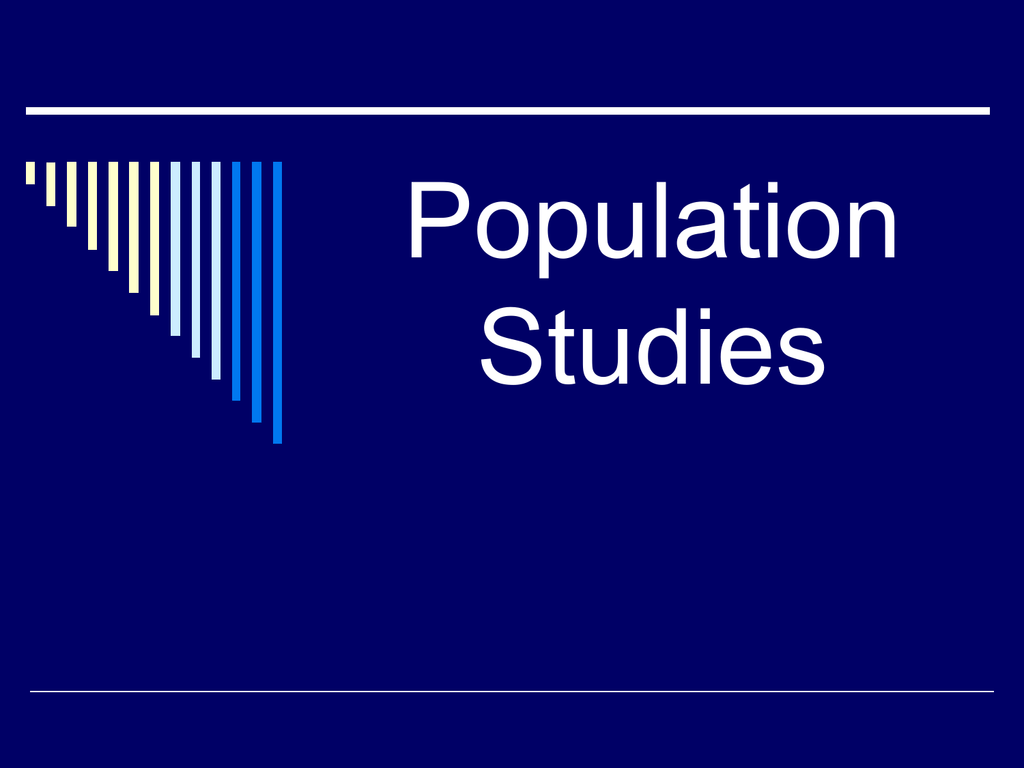 Population
Studies
Pre-Assessment:
1. What is a population?
2. What might influence population
#'s (give 3 things)?
3. How many people are there on
Earth?
4. Do you think that the human
population can continue to grow
forever? Why or why not?
 http://video.nationalgeographic.com/vide
o/player/specials/sitewide-redesign/ngm7billion.html
World Population Growth Through History
12
11
2100
10
9
Old
Stone
7 Age
8
Billions
New Stone Age
Bronze
Age
Iron
Age
6
Modern
Age
Middle
Ages
2000
Future
5
4
1975
3
1950
2
1
Black Death —The Plague
1900
1800
1+ million 7000 6000 5000 4000 3000 2000 1000 A.D. A.D. A.D. A.D. A.D. A.D.
years B.C. B.C. B.C. B.C. B.C. B.C. B.C. 1 1000 2000 3000 4000 5000
Source: Population Reference Bureau; and United Nations, World Population Projections to 2100 (1998).
AN ECOSYSTEM IS…
All the populations and
abiotic factors in an area.
SO WHAT'S A POPULATION?
A population is….
a group of organisms of the
SAME species living in a
specific area
What is a Species?
organisms that are
able to interbreed
POPULATION
ECOLOGY
 This is the study of how and why populations
change and grow.
 Ecologists try to identify the factors limiting
population growth; understanding this helps
predict future growth.
 For populations to survive, many different
factors must stay in balance.
Limiting Factors for
Populations
Limiting Factors can affect
the number of organisms (i.e.
population of people, animal,
or plants) in a region/country
Limiting Factors for
Populations, cont.
Limiting factors can be:
 a.
Density Dependent or
 b. Density Independent
 Density = number of individuals per
unit of area
(Ex. = 65 people per square mile)
Density Dependent Limiting
Factors
 Density dependent factors (factors
affected by the number of people/animals
/plants living in the particular area.)
 Amount of food available
 Living space
 Disease
 Competition
 Predation
Density Independent Limiting
Factors
Density independent factors (these
have nothing to do with the number of
people/ animals/plants living in a given
area)
 Weather
 Seasonal cycles
 Natural disasters
 Human activities
Specific examples of Density
Independent factors
 Natural disasters
Drought
 Fire
 Volcanic eruption

 Human activities
Housing development
 Road building
 Farming

How do we show populations?
 In a GRAPH!!
 What are some factors to compare about
populations?
1. Total number of individuals during any year
2. Number of women vs number of men
3. Number of individuals that are young,
middle aged, or old
HOW do we get all this info on 1 graph???
 Japan FEMALE Pop (in millions) in year 2000

Japan MALE pop (in millions) in 2000

Comparison of Male & Female Pop in Japan
 Which parts of the population INCREASE
the size of the population?
 Which part of the poulation DECREASES
the size of the population?
Population pyramids/ age
structure graphs.
CARRYING CAPACITY
 Carrying capacity is the number of
# of
organisms
individuals in a population that an
ecosystem can support over a
relatively long period of time.
time
TYPES OF POPULATION
GROWTH
 Exponential growth – "J - curve"
Carrying
capacity
# of
organisms
time
TYPES OF POPULATION
GROWTH (cont.)
 S – curve population growth
Carrying capacity
# of
organisms
time
POPULATION GROWTH (cont.)
 Most populations have limited resources –
these become limiting factors to population
growth.
 Food
 Space
 Water
 When limiting factors exist, S – curve
population growth occurs.
 When does J – curve population growth
occur?
Quick Quiz: 8 pts
1. Explain what a population pyramid/age
structure graph shows. (think x and y axis).
2. How is it able to predict how a population
will change over time?
3. Look at the graph of Mexico:
a. Is Mexico stable, increasing or decreasing
in the future?
b. How do you know?