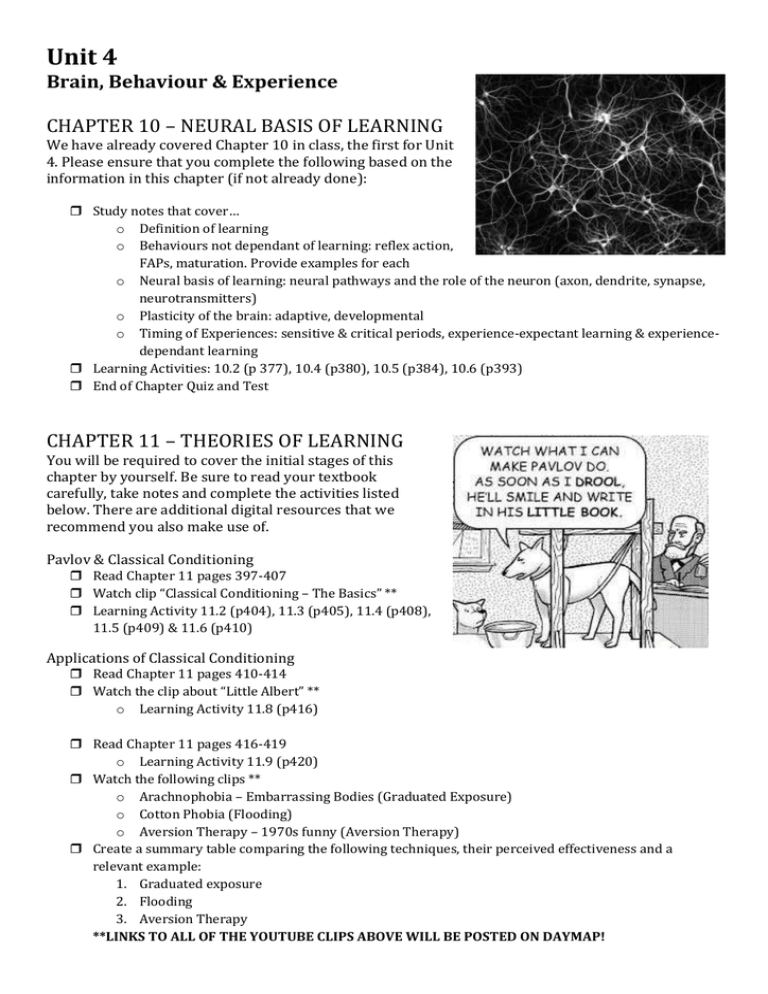 Unit 4
Brain, Behaviour & Experience
CHAPTER 10 – NEURAL BASIS OF LEARNING
We have already covered Chapter 10 in class, the first for Unit
4. Please ensure that you complete the following based on the
information in this chapter (if not already done):
 Study notes that cover…
o Definition of learning
o Behaviours not dependant of learning: reflex action,
FAPs, maturation. Provide examples for each
o Neural basis of learning: neural pathways and the role of the neuron (axon, dendrite, synapse,
neurotransmitters)
o Plasticity of the brain: adaptive, developmental
o Timing of Experiences: sensitive & critical periods, experience-expectant learning & experiencedependant learning
 Learning Activities: 10.2 (p 377), 10.4 (p380), 10.5 (p384), 10.6 (p393)
 End of Chapter Quiz and Test
CHAPTER 11 – THEORIES OF LEARNING
You will be required to cover the initial stages of this
chapter by yourself. Be sure to read your textbook
carefully, take notes and complete the activities listed
below. There are additional digital resources that we
recommend you also make use of.
Pavlov & Classical Conditioning
 Read Chapter 11 pages 397-407
 Watch clip "Classical Conditioning – The Basics" **
 Learning Activity 11.2 (p404), 11.3 (p405), 11.4 (p408),
11.5 (p409) & 11.6 (p410)
Applications of Classical Conditioning
 Read Chapter 11 pages 410-414
 Watch the clip about "Little Albert" **
o Learning Activity 11.8 (p416)
 Read Chapter 11 pages 416-419
o Learning Activity 11.9 (p420)
 Watch the following clips **
o Arachnophobia – Embarrassing Bodies (Graduated Exposure)
o Cotton Phobia (Flooding)
o Aversion Therapy – 1970s funny (Aversion Therapy)
 Create a summary table comparing the following techniques, their perceived effectiveness and a
relevant example:
1. Graduated exposure
2. Flooding
3. Aversion Therapy
**LINKS TO ALL OF THE YOUTUBE CLIPS ABOVE WILL BE POSTED ON DAYMAP!