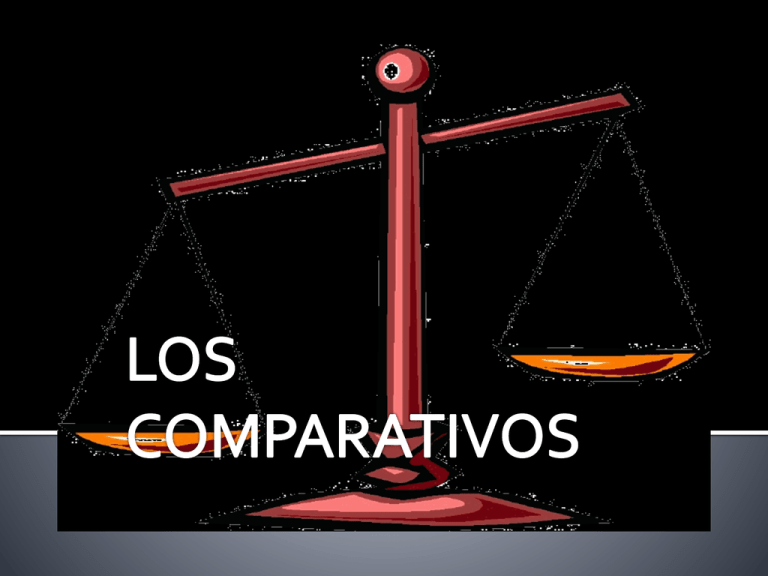 



When one person or thing is more or less than
another person or thing.
EX: Spanish is more fun than history.
EX: Spanish is less difficult than math.
EX: Marco is taller than Adriana.




Most comparisons are made by adding –er to
an adjective.
Person #1 is ______-er than Person #2.
Choose two classmates and practice making
a few comparisons now.
Did you run across any adjectives that don't
work with –ER on the end? What were they?





-ER doesn't exist so Spanish speakers use:
"MÁS + adjective + que" for more than
han "MENOS + adjective + que" for less than
This formula works for almost every adjective
in the whole language.  Español es más
fácil que inglés.
 Español tiene menos excepciones que
inglés. 
DONALD TRUMP
DONALD DRIVER
TAYLOR SWIFT
ADELE
LEBRON JAMES
KOBE BRYANT
EL MONSTRUO DE BIZCOCHOS
EL PÁJARO GRANDE

In English we don't use "gooder" or "badder"
or "funner" or "difficulter" or many other
adjectives that require modification. These
are called EXCEPTIONS.

Spanish has only 4 exceptions. These four
adjectives change completely, and never take
MÁS or MENOS in front of them.




BUENO  MEJOR (BETTER)
MALO  PEOR (WORSE)
JOVEN  MENOR (YOUNGER)
VIEJO  MAYOR (OLDER)


A couple of tricks to help you remember them:
Mayor (old) Mayors of cities are older people.
Menor (young) like minor. Minors can't vote,
drink, smoke or see "R" movies bc they are
young!

Taco Bell es peor que Subway.
(Taco Bell is worse than Subway.)

Burger King es mejor que McDonalds.
(Burger King is better than McDonalds)

Yo soy mayor que mi hermana.
(I am older than my sister)

Notice, no MÁS or MENOS in these sentences!
RIHANNA
BEYONCÉ
SUBWAY
PIZZA HUT
BETTY WHITE
JUSTIN BIEBER
When the comparing is between 2 people or
things that are equitable we have to make
some choices.
 First, ask yourself if what you are comparing
is "countable" (noun) or not countable
(adverb, adjective)
 If it is not countable, the formula is:
Person #1 +TAN + adj./adverb + COMO +
person #2.

JESSICA SIMPSON
BRITNEY SPEARS
LEBRON JAMES
SHAQUILLE O'NEAL
TAYLOR LAUTNER
ROBERT PATTERSON

If what you are comparing is countable, there
are choices for the formula. Since most things
in Spanish agree, we have 4 choices:

Tanto + single masc. nouns
Tanta + single femin. nouns
Tantos + plural masc. nouns
Tantas + plural femin. nouns



YO
ÉL
YO
PACO
ELLOS
YO





Más/menos + que for unequal comparisons
Bueno, malo, joven, viejo are exceptions
change forms. (mejor,peor,mayor,menor)
These 4 exceptions don't use a más or menos.
Tan + como for equal comparisons of things
you can't count.
Tanto/a, tantos/as for things you can count.