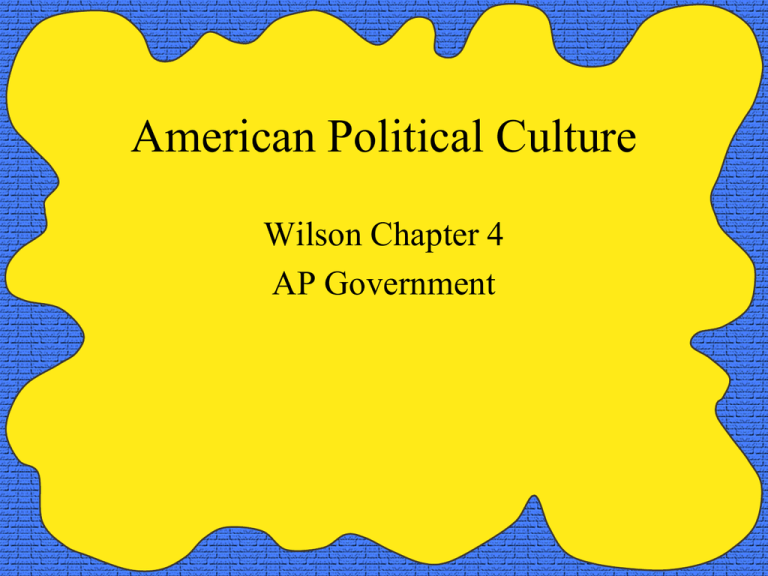 American Political Culture
Wilson Chapter 4
AP Government
What is Political Culture?
• The widely-shared beliefs, values, and
norms that citizens share about their
government
• A distinctive and patterned way of thinking
about how political and economic life ought
to be carried out.
CHARACTERISTICS
• Liberty
• Rugged individualism (is this always the case?)
• Equality
–
–
–
–
–
Opportunity more than result
Political more than economic equality
American Dream
FDR's second bill of rights
Conflict between liberty ( capitalism) and equality
(democracy): Progressive Era; New Deal; Great Society
CHARACTERISTICS
• Democracy
• Civic Duty (but we don't know much about
political affairs)
• Mistrust of Government (since 1960s)
• Political Efficacy-capacity to understand
(individual) and influence (external) political
events.
• Political tolerance- in the abstract vs. concrete
• Pragmatism - we're less ideological
• Justice- "government of laws, not men"
More on Justice…
• Policies and laws that adhere to the rule of
law must adhere to these rules:
–
–
–
–
–
Generality
Prospectivity (apply to the future)
Publicity (cannot be secret)
Authority
Due Process
Sources of Political Culture
• History
• Religion
• Family
What has shaped your political identity and
culture?
Culture War
• Cultural clash over values vs. economic clash over
wealth
– Orthodox (morality)
– Progressive (personal freedom)
– Clash over: abortion, gay rights, drug use, school prayer
and pornography.
How is this war different than political disputes?
Why has this war grown in recent years?
Mistrust of Government
• The "American Malaise" - crisis of
confidence evident in Americans' growing
disrespect for government, schools,
churches, and institutions.
– Jimmy Carter
Why don't we trust our government? What
don't we trust about it?
America vs. the World
• Swedes - deferential in nature; harmony; equality
in results more important than equality in
opportunity
• Japanese - Respect authority; group decisions
• British- sense of civic duty; rectify unjust laws
• Americans- strong sense of religion in politics
IS THE U.S. REALLY APATHETIC?