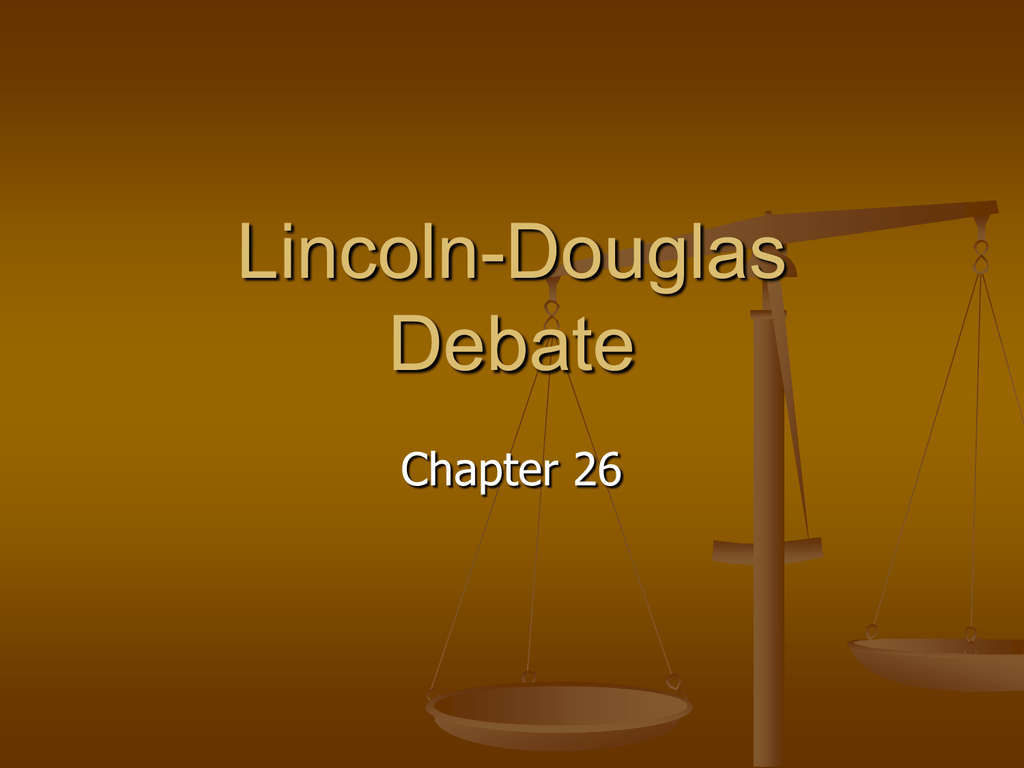 Lincoln-Douglas
Debate
Chapter 26
Historical Perspective




Abraham Lincoln debated Stephen
Douglas
On such issues as slavery and states rights
These debates are value based
For example: Resolved: that slavery in
the south is morally wrong.
Background Research-Same







Define terms
Define problem/controversy
Questioning
Develop arguments (prepare case)
Gather evidence
Rebuttals
Delivery-more important in this debate
style
Evidence


Should focus on evidence that supports
your philosophical values
Focus less on "how much evidence
supports" and more on "how you support
your values" with the evidence and logic
Values





"the preference placed upon an action,
object, idea, or person based on individual
or social worth"
Values are neither right or wrong
Description of what is preferable or ideal
We all have a set of values that contain:
social, political, religious influences
Conflicts occur with others because of
values
Category of Values




Moral-judgments of good/bad, right/wrong
Artistic- what is beautiful or ugly,
pleasing/displeasing
Pragmatic-what is practical or efficient
Political-democracy, justice, and rights
Values




Terminal-your core values that deal with
peace, freedom, salvation,
accomplishments
Instrumental-help achieve core values
Example: Peace can be achieved through
courage and self-control.
Values are arranged in the order of
importance to you
Values

Common debated values are:
achievement, democracy,
equality, freedom,
justice, liberty,
privacy, progress, pursuit of happiness,
and security.
Values




They are preferences for how the world
ought to be.
Context influences our value system. (the
environment we are operating in)
Values are universal (basic needs and
motivations the same)
Individuals act upon their values-by
voting, treatment of others, etc.
Wording of Value Proposition



Use "should" or "ought" in the proposition.
The ideal will be supported by the
affirmative.
The negative will counter this "ideal" with
a different world view or "ideal."
Policy versus Value



No affirmative plan
No stock issues
Base your debate on differing definitions,
real-world models, premises, criteria, and
refutation of opponent's analysis
Two types of L-D Debates

Philosophical-comparison of two "core"
values
Example:
 Resolved: Liberty is more precious than
law.
Two types of L-D Debates

This second type of debate topic asks for
the resolution of judgmental declarations
or statements of fact.
Example:
 In a democratic society, felons ought to
retain the right to vote.
Format of Debate



Two people
Affirmative has one more speech than the
negative
Each speaker get gets equal time though
Format of Debate





Affirm construct – 6 minutes (Scripted
speech- try to memorize)
Cross-exam by neg- 3 minutes
Negative Construct- 7 minutes (scripted
speech plus some rebuttal)
Cross-exam by affirm- 3 minutes
Break 5 minutes
Format of Debate



Affirmative rebuttal – 4 minutes
Negative rebuttal – 6 minutes (plus
summary of arguments
Affirm rebuttal – 3 minutes (plus summary
and end with a "bang")
To Prepare for Debate


List values that relate to the proposition
Write the strengths and weakness of each
value in terms of defending or opposing
the proposition
To Prepare for Debate-Choose
Model



Develop a model-What is this?
A way of looking at the world!
Any issues that deal with laws in the
constitution should use the constitution as
his or her model, etc.
To Prepare for Debate-Choose
Your Criteria

Ask the question: Why is this value
good?
1.
2.
3.
4.
5.
6.
Constitutionality
Anteriority (supersedes/priority over all)
Cost-Benefit Analysis
Ends-Means Analysis
Exigence and Salience (most
urgent/threatened)
Freedom/Liberty Maximization
To Prepare for Debate-Choose
Your Criteria
7.
8.
9.
10.
11.
12.
13.
14.
Futurism (Benefits)
Hypothesis Testing (scientifically be proven)
Maslow's Hierarchy (self-actualization)
Normative Standard (moral to all in all
situations)
Social Values (benefits)
Universality (accepted by all rational people)
Utilitarianism (most utilized/welfare of all)
Value Maximization (most of value wins)
Big Three



Value Comparison-you compare values
that you are defending with your partnerWhy are your values better than your
partners?
Value Criteria-defend these versus your
partners criteria selected
Value Application-How does this relate to
what is going on in the our political,
religious, or social system?