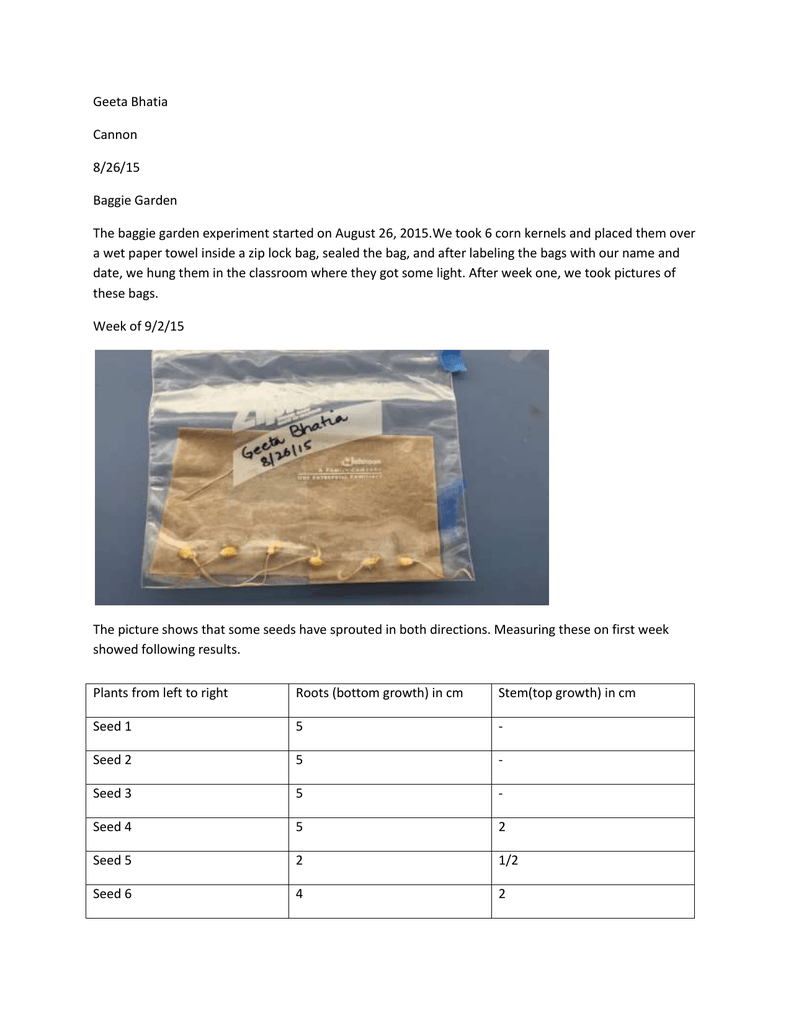 Geeta Bhatia
Cannon
8/26/15
Baggie Garden
The baggie garden experiment started on August 26, 2015.We took 6 corn kernels and placed them over
a wet paper towel inside a zip lock bag, sealed the bag, and after labeling the bags with our name and
date, we hung them in the classroom where they got some light. After week one, we took pictures of
these bags.
Week of 9/2/15
The picture shows that some seeds have sprouted in both directions. Measuring these on first week
showed following results.
Plants from left to right
Roots (bottom growth) in cm
Stem(top growth) in cm
Seed 1
5
-
Seed 2
5
-
Seed 3
5
-
Seed 4
5
2
Seed 5
2
1/2
Seed 6
4
2
Week of 9/9/15
Second week shows growth on all the seeds. Multiple root systems are observed on all the seeds. Some
leaves are significantly taller than others. There is hair on the roots. Roots and stem booth look healthy.
Plants from left to right
Roots (bottom growth) in cm
Stem(top growth) in cm
Seed 1
10
6
Seed 2
10
4
Seed 3
10
1/2
Seed 4
10
4
Seed 5
4
9
Seed 6
6
18
Week of 9/16/15
The seeds look normal and healthy; though not much change since last time.
Week of 9/23/15
The seeds are about a month old, and have started to rot. There is a growth of mold on most of them,
and the leaves are starting to brown. There is no more growth, only decay. Perhaps they were ready to
be planted.
The Second phase of Baggie garden
Week of 9/30/15
After baggie garden experiment, we planted six more seeds of corn inside a half cut 2 liter plastic bottle.
This picture was taken a week later, and it shows two seeds have germinated, and look healthy.
Week of 10/7/15
In one week the two seeds that sprouted have grown quite a bit. The tallest measured at 21 cm and the
other one measured at 18cm. The soil looked wet and the container stayed under the light, but no more
seeds have germinated yet.