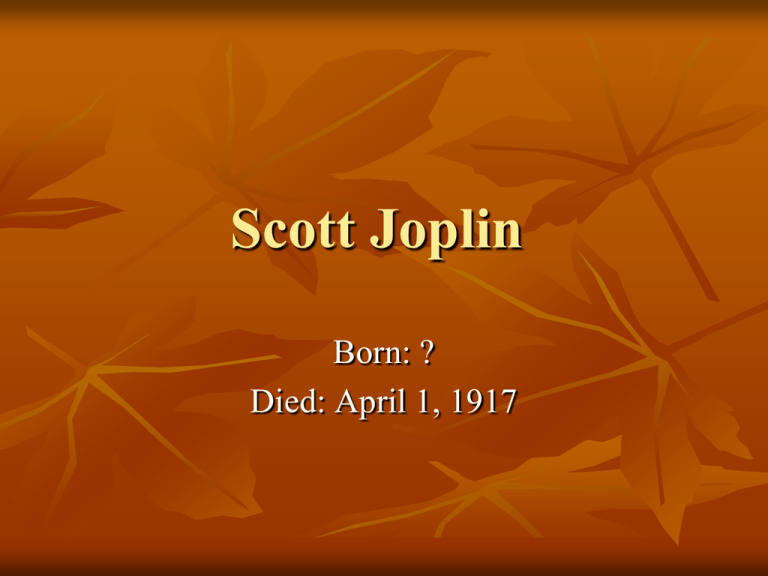 Scott Joplin
Born: ?
Died: April 1, 1917
Early Life



Parents were former slaves
A lot of mystery to his early life since there is
no documentation
Was born between June 1867 and mid-January
1868


He was on the 1870 census as a two year old
Moved to Texarkana
Musical Career


1891- first reported in the newspapers
First published songs:



1899- The Maple Leaf Rag



Please Say You Will
A Picture of Her Face
Greatest and most famous of piano rags
1 cent royalty on each sale
The Ragtime Dance

A stage work for dancers and singing narrator

1901



Sunflower Slow Drag
Peacherine Rag
The Easy Winners
1902


The Strenuous Life (tribute to President Roosevelt)
A Breeze From Alabama
The Entertainer
Operas

A Guest of Honor (1903)



Booker T Washington's at President Roosevelt's White
House in 1901
Someone associated with the company stole the box office
receipts and the tour ended with Joplin not being able to
meet payroll. All of his possessions were confiscated.
Copies of the score were never recovered.
Treemonisha (1911)

The only educated member of her community leads her
townspeople out of the bondage of ignorance and
superstition. Proposing the view that racial equality would
come with education.
Later Years



Called "The King of Ragtime"
Died on April 1, 1917 from syphilis
Revival of his music in 1970s


Treemonisha was successfully staged and finally
reached broadway
Joplin's music was used in the movie The Sting
What is Ragtime Music?

Ragtime- A style of jazz characterized by
syncopated rhythm in the melody and a steady
accompaniment.