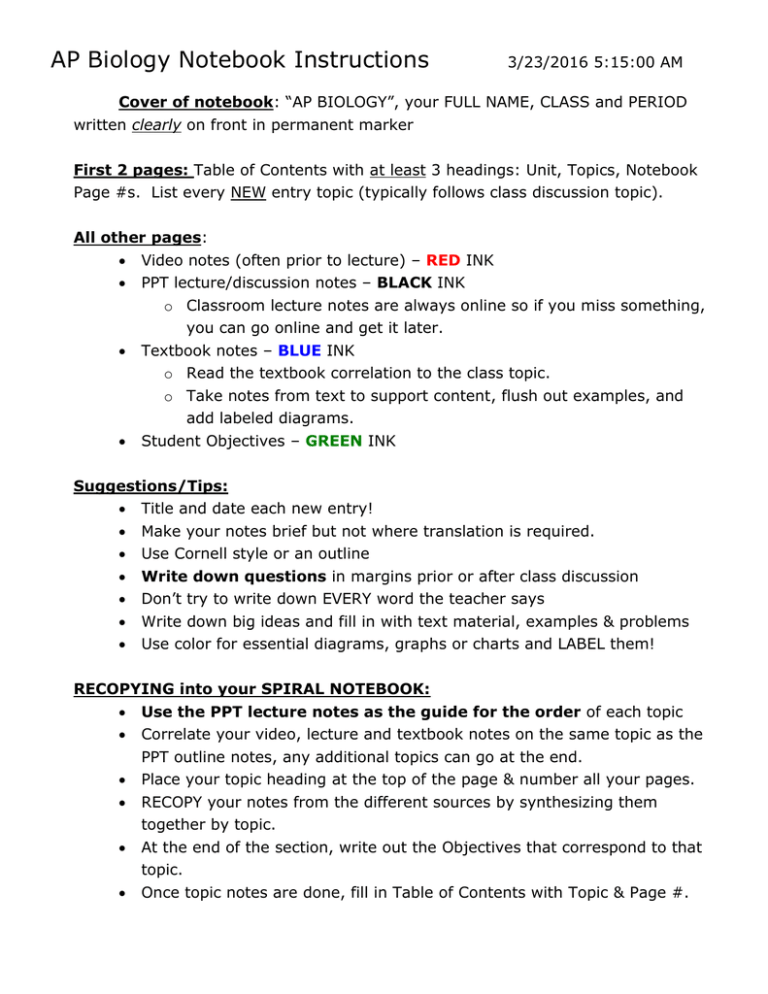 AP Biology Notebook Instructions
3/23/2016 5:15:00 AM
Cover of notebook: "AP BIOLOGY", your FULL NAME, CLASS and PERIOD
written clearly on front in permanent marker
First 2 pages: Table of Contents with at least 3 headings: Unit, Topics, Notebook
Page #s. List every NEW entry topic (typically follows class discussion topic).
All other pages:
 Video notes (often prior to lecture) – RED INK
 PPT lecture/discussion notes – BLACK INK
o Classroom lecture notes are always online so if you miss something,


you can go online and get it later.
Textbook notes – BLUE INK
o Read the textbook correlation to the class topic.
o Take notes from text to support content, flush out examples, and
add labeled diagrams.
Student Objectives – GREEN INK
Suggestions/Tips:
 Title and date each new entry!






Make your notes brief but not where translation is required.
Use Cornell style or an outline
Write down questions in margins prior or after class discussion
Don't try to write down EVERY word the teacher says
Write down big ideas and fill in with text material, examples & problems
Use color for essential diagrams, graphs or charts and LABEL them!
RECOPYING into your SPIRAL NOTEBOOK:
 Use the PPT lecture notes as the guide for the order of each topic





Correlate your video, lecture and textbook notes on the same topic as the
PPT outline notes, any additional topics can go at the end.
Place your topic heading at the top of the page & number all your pages.
RECOPY your notes from the different sources by synthesizing them
together by topic.
At the end of the section, write out the Objectives that correspond to that
topic.
Once topic notes are done, fill in Table of Contents with Topic & Page #.
8/28/2014 11:12:00 PM
Ex: UNIT 2 - BIOCHEMISTRY
1. Water properties
2. Biological Macromolecules
3. Metabolism & Enzymes
GRADE: ____________
NO LATE NOTEBOOKS.
I WILL CHECK FOR EFFORT AND COMPLETENESS IN ALL AREAS OF
THAT UNIT.
Scoring:
 Spiral notebooks are graded upon sufficient coverage of each lecture
topic/heading, effective incorporation of textbook and video notes,
neatness/organization, unit objectives, and labeled diagrams and figures
chosen.
 Extra credit can be earned for additional figures/diagrams and/or coloring
diagrams with purpose.
REVIEW your notes continuously! You may get test questions from
prior topics.
Bring your spiral each day; select quizzes/tests may be given on
which you may use your recopied spiral notebook.
Topic – Water Properties
8/28/2014 11:12:00 PM
Bozeman Video: "Water a Polar Molecule"
 Electronegativity means ……….
 Oxygen is unique because………………
 Why does water behave like a magnet?...................
 The bond between oxygen and hydrogen within a water
molecule is a _____________ bond
 The bond between oxygen and hydrogen on different water
molecules is a _________ bond
**Use the video guide to know what is important to take notes on.
Properties of Water:
 Universal solvent – dissolves everything
 Cohesive bonding – water with water
o Surface tension – water striders walk on water because…..
 Adhesive bonding – water with everything else
o Capillary action……example/further explanation
o Transpiration…….example
 High Specific Heat
o examples


Heat of Vaporization
o examples
Ice Floats
Why has this allowed life to exist?
o Answer to question from textbook
**Use the textbook as a source for further explanation of a topic.
Sometimes the only explanation is in the textbook.
Unit One Objectives – Biochemistry
1.
2.
3.
**You MUST write in complete sentences so you can use it as study tool.
THIS NOTEBOOK SHOULD BE YOUR ULTIMATE STUDY SOURCE!!