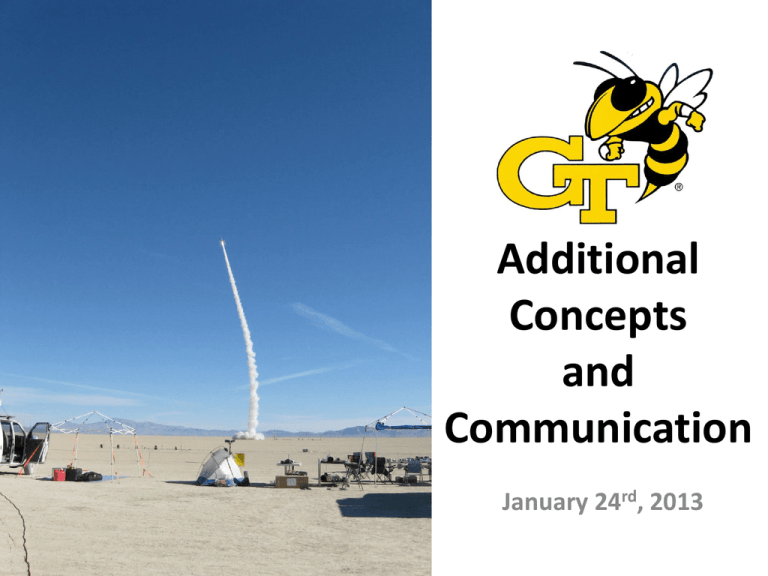 Additional
Concepts
and
Communication
January 24rd, 2013
Overview
• Concepts from Kumoh and Budapest
• Flexible/expandable wheel concepts
• Communication with International Teams
• SPECIFICATIONS
– For current version of specifications sheet, see
Google Document
Concepts from
Kumoh and
Budapest
Quadrotor with Solar Charger
• Solar cell in center of
quadrotor (enough
current to power
microprocessor?)
• Arms fold up to
protect during landing
Rolling Concept
• Motor powers inner ball,
which rolls on inside of
outer ball
Guiding Principles #1
• In order to avoid double effort on control design:
we should navigate on the ground or in the air
but not both
• If we want to navigate in the air, wings are better
than helicopter (rotor/propellers providing
downward thrust) concept from the viewpoint of
energy efficiency
Guiding Principles #2
• To avoid getting blown away by wind, the
parachute should be opened late in the
descent
• If we make a flying robot, it should be
naturally stable – flying robots can be very
difficult to control if they are too reliant on
fast/accurate feedback of pose (attitude)
Rover with Inflatable Wheels
Ornithopter
http://youtu.be/nn69_9X3aZ4
Rover with Compressed Air
Propulsion
Falling Propeller-Driven Robot
Flexible/Expand
ing Wheel
Concepts
One-Piece Wheel/Suspension System
http://www.societyofrobots.com/mechanics_rob
ot_suspension_system.shtml
Flapped Grinding Wheel
Dual Pod Transport
http://www.tuvie.com/dual-pod-transport-isa-two-wheeler-with-off-road-capabilities/
Segmented Wheel
http://www.apparatusgame.com/level.php?id=18366
Flexible Tape
http://www.qrbiz.com/product/384464/flexib
le-tape-and-sprocket-wheel.html
Beartex Polishing Wheel
http://www.jewelerstoystore.com/Beartex_Wheels_p/w556.htm
Team
Communication
Time Differences (Relative to Atlanta)
• Budapest, Hungary:
• Patras, Greece:
• Madras, India:
• Gumi City, South Korea:
+ 6 hours
+ 7 hours
+ 11 hours
+ 14 hours
Communication
• RescueBot website
• Online meeting software
• Weekly meeting (Skype? Phone? Other?)
– Assuming one country at a time
– Split each team of Tech students into two groups?
File Sharing
• RescueBot Website
• Dropbox account
• Google account (use Drive)
International Kickoff Meeting
• Describe RescueBot project in detail
• Find out interests/abilities
• How to split specialized teams?
– All EE (for example) from same country, or
– Students from multiple countries?
• How to split robot production?
– Two groups, each working on one design, or
– Farm-out tasks from both designs to specialties?