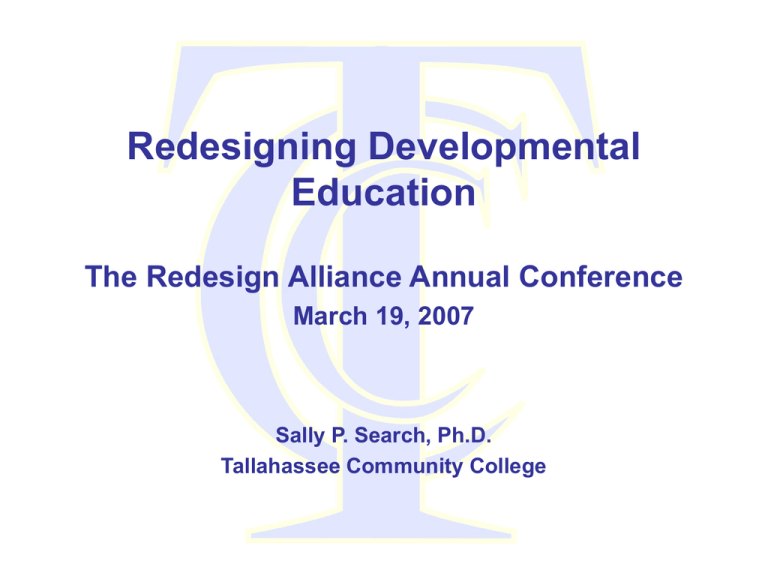 Redesigning Developmental
Education
The Redesign Alliance Annual Conference
March 19, 2007
Sally P. Search, Ph.D.
Tallahassee Community College
Interactive Mathematics Program
Goals
 An alternative learning
environment that:
•
models and reinforces
domain-specific and
metacognitive learning
strategies
•
provides opportunities for
collaboration
•
provides diagnostic
assessment
•
provides 24 hour access
•
•
provides a sound
mathematical foundation
•
fosters independence and
self-motivation
•
is student-centered
•
fosters individual
responsibility
•
promotes active learning
•
Provides flexibility
Instructional Model
Teaching
Assistant
Instructor
Interactive MultiMedia Math
Supplementary
Materials
Student
Study
Groups
Lab/Online Access
Leveraging Technology In Developmental
Education
 Let technology do what it
does best
• Access to learning
materials – any time, any
where
• Provide diagnostics and
options
• Practice, reinforcement,
assessment, feedback
• Tracking and monitoring
 Let faculty do what they do
best
• Provide engaging learning
experiences
• Collaborative activities
• Individualized and small
group assistance
• Develop and explore
concepts and ideas
• Model transferable
strategies
Conceptual Framework for Developmental
Studies Program and Course Redesign
Holistic Program Design
(addresses the whole program and the whole student)
Course Design,
Outcomes,
Content,
Assessment,
Instructional
Resources
Student
Development,
Student
Support
Services
Developmental Studies Program Redesign
Conceptual Framework
 Holistic - Learning College Principles (O'Banion)
 Course – Seven Principles of Good Practice in
Undergraduate Education (Gamson and Chickering)
 Student Development – Teacher/Learner Continuum
(Tallahassee Community College)
The "P" Word
(Plan! Plan! Plan!)
 Faculty driven.
 Assess the need – don't
redesign for the sake of it.
 Establish clear goals and
learning outcomes.
 Everyone can contribute and
benefit.
 Develop a conceptual
framework to guide the
process.
 Find common ground.
 Establish clear roles,
responsibilities, and time
lines.
 Research best practice and
examples with documented
outcomes – don't reinvent the
wheel.
 Leverage technology without
compromising human
interaction.
The "P" Word Continued
Recognize and address the broad
range of student characteristics.
Build on strengths - don't throw the
baby out with the bath water.
More Thoughts
 Recognize the effort that goes into meaningful
redesign and compensate accordingly.
 Allow time for generative thought.
 Recognize that design and redesign are iterative
processes.
 Measure yourself against your own progress.