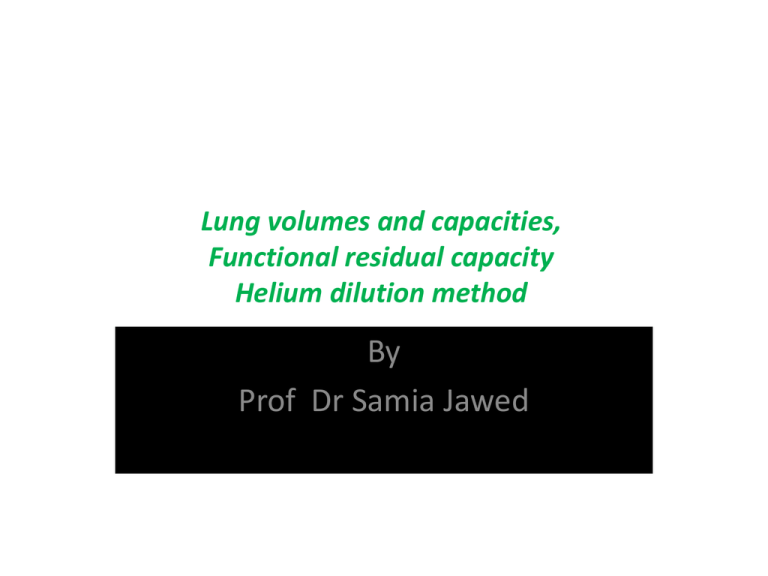 Lung volumes and capacities,
Functional residual capacity
Helium dilution method
By
Prof Dr Samia Jawed
Student spirometer.
• THE GRAPHICAL RELATIONSHIP
AMONG VARIOUS LUNG VOLUME
AND CAPACITIES.
Spirogram
• What are the advantages of
residual volume, FRC, dead space
air?
• Clinical measurements of specific
volumes and capacities provide
insights into lung function and
origin of disease processes.
•These tests are
screening and not
diagnostic.
• The VC is the maximum volume of air that an
individual can move in a single breath.
• The most useful assessment of VC is to expire
as quickly and forcefully as possible.
• This way we get timed vital capacity or forced
vital capacity.(FVC).
• During the FVC maneuver ,volume of air
exhaled in the first second is FEV1.
• From 0-20 years vital capacity increases
• From 20 -60 years it remains stable if there is
no pathology
• With more aging elasticity of lungs decreases
and residual volume increases
• Pathology affects vital capacity
• Like neuromuscular disorders,lower motor
neuron diseases,myasthenia gravis, kyphosis,
scoliosis,
• Lung infections, collapse, pleural effusion,
bronchial Asthma, emphysema, chronic
Brochitis etc.
• Males have more VC.Why?
• VC decreases in pregnancy and while lying
down.
Flow volume curves in different conditions
Helium dilution method
FRC and its measurement.
• What is the difference between
hyperventilation, hyperpnoea,
tachypnoea?