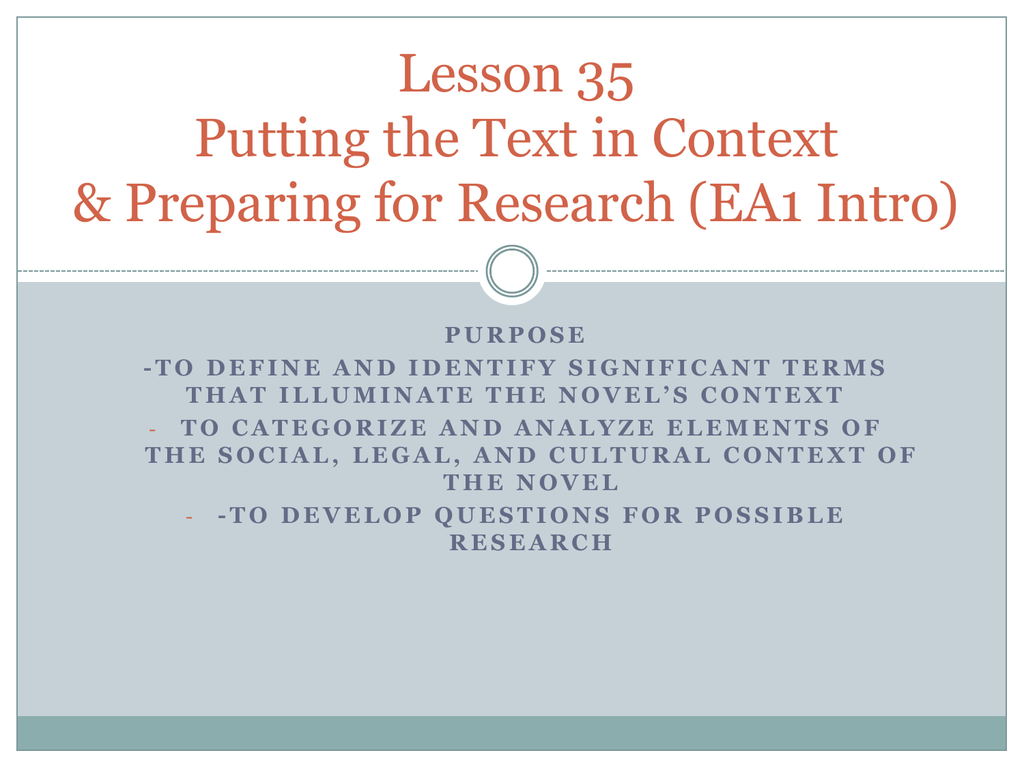 Lesson 35
Putting the Text in Context
& Preparing for Research (EA1 Intro)
PURPOSE
-TO DEFINE AND IDENTIFY SIGNIFICANT TERMS
THAT ILLUMINATE THE NOVEL'S CONTEXT
- TO CATEGORIZE AND ANALYZE ELEMENTS OF
THE SOCIAL, LEGAL, AND CULTURAL CONTEXT OF
THE NOVEL
- -TO DEVELOP QUESTIONS FOR POSSIBLE
RESEARCH
KWHL Chart
 Reflecting on the images from the previous lesson
and other information from class discussion, fill out
the first two columns of the chart on page 345.
Information Text
Jim Crow: Shorthand for Separation
 Read the short excerpt from the article "Shorthand
for Separation" aloud, and mark the text by
highlighting the statements that define the term
"Jim Crow."
 We will create a working definition of Jim Crow laws.
 As we read, write down questions you have about the
laws.
Word Connections
 A prefix is a stem of a word that comes "before"
 A root is the primary part of the word
 A suffix is a stem of word that comes "after"
 Flip back to page 342 – prejudice
 Pre (prefix) means before
 Judic (Latin root) means judge or decide
Back to page 349 – transportation
Prefix:
Root:
Now write down your own definition for each word in the final box after
understanding the parts of the word
Preparing for Research
 In your assigned groups, you will plan, organize, and
prepare research for a project. Your group will
investigate the historical, cultural, social, or
geographical context of the novel.
 Today, you and a group will be deciding, "what do we
want our peers to learn?"
 Therefore, today in your groups you are going to…
Possible Topics to Investigate and present
 Status of Women/women's Roles
 Education and Schools
 Economic Concerns
 Status of African Americans
 The Great Depression
 Class Divisions in the South
 Franklin Delano Roosevelt's presidency
 Supreme Court Case: Plessy v. Ferguson
 Harper Lee
 Supreme Court Case: Brown v. Board of Education of
Topeka
Possible Focus Questions
 Come up with a list of questions you want to answer
for your presentation







Who
What
When
Where
Why
How
Now, decide on ONE major question you want to answer. This
is your focus question. Your whole project will revolve around
trying to answer this question.
Prepare a Group Proposal Sheet
 Nominate one person to be the secretary. This person
will be in charge of holding on to all important
documents. Make sure this person is able to upload
information to the internet in case they are sick so you
are all able to access everything!
 Group Proposal Sheet





Group members names
Topic
Focus Question
Possible resources you might use to find answers
Individual responsibilities (who will look for what, including visuals)
Before you answer this though. Here are the requirements…
Presentation Requirements
 Let's look at the EA1 handout so everyone
understands the project requirements.
 Once we finish reading through this, assign
individual responsibilities for each person.
 Next class we will discuss research strategies
(including proper MLA citations, bibliographies,
annotations, etc.)
 For the remainder of class, you and your group are to
continue to discuss how you want your project to
look!